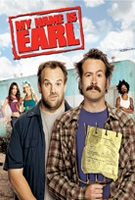 TV Info
---
Episode Premiere
November 01, 2007

Distributor
NBC

Genre
Comedy

Show Period
2005 - 2009

Production Company
Amigos de Garcia Prod., Fox TV


Cast and Crew
---
Director
Ken Whittingham
Screenwriter
Timothy Stack
Main Cast
Additional Cast
Synopsis
---
Life as a prison guard is tough, especially when Randy has to turn off the TV. After being pelted with shoes, Randy discovers the TV knob is missing just as Big Joey swallows it. When an episode of "COPS," starring Earl and the gang comes on, Randy runs to get his brother. On the show, cop Stuart's in charge, and it's Camden's first July 4th celebration since 9/11. The cops are on high alert, keeping a lookout for terrorists.
Chubby Officer Hoyne responds to a call from the Trailer Park, where Joy is attacking Earl with a weed whacker, after destroying a neighboring Sikh's garden. She sent Earl to the fair to make some money, and he wound up spending all their money on a patriotic sandwich press. Randy is thrilled to see "COPS" is back, and Joy apologizes to cameraman Kevin for last time, when she hit him with a brick. Earl calls Joy a ho, so she beats him with one.
It's free lap dances at Club Chubby for servicemen and women. Drunk Tim has been kicking strippers off the stage so he can perform his rendition of "Oklahoma!" Stuart picks up Kenny, who won a ride-along for a day at a silent charity auction. Kenny loves a man in uniform. At the fair, they head for the Cotton Candy Booth, a hot spot for trouble. Randy's head is encased in pink cotton, blinding him. When he smashes into a pole, the crowd rushes in to eat at his head.
When a car dealership backed out of donating a truck for the Hands on a Hard Body contest, Patty donated her own body, offering an hour of the full menu to the winner. Josh accuses a little guy of cheating, since he glued himself to Patty's thigh. Stuart asks about the rules, but there aren't any, so he tells the guys they can all use glue. The little guy pulls out the glue, and several guys take their hands off Patty, including Earl, who claims he was only doing it for Joy.
Hoyne reports to a call from Darnell. His grandma is mad that Darnell's girlfriend is married, so she has locked Joy in the bathroom. She bops Hoyne in the forehead with a hot curling iron, and then takes off running. He tries to give chase, but Grandma was a member of the 1946 Olympic team. Bowman returns to Club Chubby to investigate child endangerment. Catalina is babysitting, dancing with a baby strapped on.
Randy and Earl steal a lamb from the petting zoo, and try to sell it to IQ-Ball to use for meat at his food tent. Stuart and Kenny recognize the lamb, even though it's covered with a blanket. Earl bullied Kenny back in school, so he offers to cover for Stuart in case of violence. Earl and Randy run for it, Stuart fires his gun, and the lamb lives no more. Earl and Randy escape in a stolen, sparking bumper car, earning props from Bowman, who catches up to them on her electric scooter.
The Sikh calls the cops to the trailer park. Someone's in his trailer. Earl claims that he had to use the bathroom and Joy locked him out the house, where unbeknownst to him, she's carrying out her affair with Darnell. Back at the fair, Stuart begins a demonstration at the police tent. They have mistakenly received $50,000 of anti-terrorist equipment. Smiley proceeds to Club Chubby to break up a fight between Catalina and another stripper.
The anti-terrorism equipment has been stolen from the police tent, so Stuart and Hoyne struggle to put together a waterboard to interrogate suspects. Hoping to prevent panic, they announce the robbery, but when Hoyne tells his brother's family to run from the terrorist attack, a stampede results. Meanwhile, Earl and Randy play with the stolen camera helmets with thermo-imaging, pleased that they're about to make a fortune.
The terrorist attack has made Patty think about what's important; she's going to keep her next baby. The remaining guys desert her, but the little guy can't. Rather than read a huge manual about profiling terrorists, Hoyne stops by the paint store. Anyone whose skin color falls between two paint chips is a suspect. The town fireworks have been stolen too, upsetting Joy. Now what's Earl going to do tonight? She had plans!
Wearing the camera helmet, Randy hides in a dumpster, preparing to scare the garbage guys and record their facial expressions. A truck arrives to empty the dumpster, and Randy is dumped into the truck. Stuart and Kenny stop by the Crab Shack for a bite, and the food is terrible. Kenny offers to make a nice dinner for Stuart later that night. Darnell is happy that the terrorists are in town, because it will take police attention off him for once.
Stuart responds to another call from the trailer park, where Randy, Joy and Earl are throwing things at the Sikh's trailer, claiming that he was peeping. Earl describes what happened. When he returned home with the thermal imaging camera, he could see that Joy was in the mood. Unaware that naked Darnell was hiding behind a curtain with a towel around his head, Earl gets busy until he hears a noise. He sees Darnell running, and thinks he's the Sikh. Stuart recognizes the camera helmet, and Randy runs for it.
Randy runs into naked Darnell, who offers to help him escape. Joy punches Kenny, and Hoyne arrives to take down the Sikh, thinking he's the terrorist. The cops interrogate Earl by sticking a lipstick camera in his butt, and he confesses all. Kenny is taken away in an ambulance, while Joy and Earl are loaded into the squad car. They pass Tim riding in the sparking bumper car. Back at the fair, Stuart gets out of the squad car to take a call from his mother. Randy hops in and drives off.
Earl reveals to Joy that he told the cops she was going to blow up her favorite shoe store. Now that she's been betrayed, Joy feels free to betray him. Earl and Randy decide to drive to Canada, so cameraman Kevin asks if they'll drop him off. But he knows everything, so they lock him in the trunk back at the trailer park. The cops show up, and Tim's sparking bumper car lights the fireworks. The whole town watches the display with awe.
The fair gets back underway, and Stuart and Kenny celebrate another day on the beat with corn dogs. Kenny wonders if Stuart would like to celebrate with him, but Stuart claims he's Catholic. Luckily, Earl has agreed not to sue for being tortured. In the trunk of the squad car, Kevin mistakenly lights a flare, and this episode of "COPS" comes to an end. Back in prison, Randy finally wins the respect of the inmates.