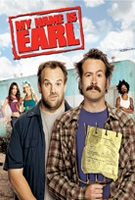 TV Info
---
Episode Premiere
October 18, 2007

Distributor
NBC

Genre
Comedy

Show Period
2005 - 2009

Production Company
Amigos de Garcia Prod., Fox TV


Cast and Crew
---
Director
Chris Koch
Screenwriter
Bobby Bowman
Main Cast
Additional Cast
John Edmund Parcher
Van Snowde
Leo Fitzpatrick
Daniel Taylor
Synopsis
---
Prisoners like to complain, but they're not the only ones who feel trapped. For instance, Darnell feels trapped in a crab-killing job that doesn't reflect his gentle nature; Catalina's trapped by being too pretty; Joy is trapped in motherhood; and Randy's hand is trapped in the pickle jar. The prison writing teacher challenges her class to escape into their imagination by writing a story about themselves where they can do anything they want.
Earl's bunkmate Sonny is writing a story about beating up a gymnast, but Earl can't get a word on paper. Sonny tells him to close his eyes like he's driving on meth, and enter his imagination. Earl's imagination is totally white - the only thing there is the pesky gymnast, who won't leave until Earl stops thinking about him. Randy thinks writing sounds cool. He's already living in a world of his own, and has lots of story ideas.
Randy's a superhero in his story. His right hand is H.R. Pufnstuf, and orangutan Richard is their driver. Evil Mr. Horn has kidnapped Earl and Catalina, and is holding them in the Crab Shack, which is guarded by a sumo guy with a bazooka and a puppet sniper. Randy shrinks himself to break in, then does battle with a bunch of ninjas to unmask Joy. He would never hurt a lady. Snap! Randy breaks Joy's neck. Lucky for him she's not a lady.
Joy's having trouble with the boys, so Randy suggests that she write a story to cheer herself up. Once upon a time, there were two whiny brats who wouldn't do their homework. Their hot mother flies the boys through the air to meet someone who didn't do their homework, a giant dummy, who looks just like Earl. She asks Earl a math question - when will the train arrive? Standing on the railroad tracks, Earl gets it wrong and is smashed by a train. His bloody head pops off and the kids scream.
Joy takes the boys to visit a big slob, who looks just like Randy. He's so nasty that moss grows on him, and things start sticking to him. First crumbs, then mice, then cars and buildings, Canada, etc., until he gets so heavy he falls off the Earth onto God's desk. God squishes Randy with his coffee cup. Joy tells the frightened boys the moral of the story: listen to what she says or God will kill them.
Earl's bummed that everyone is more creative than him. Even Darnell writes a song to help him cope with the horror of killing crabs. Catalina writes her own Latin soap opera, "Catalina, Woman of 1000 Tears." On the eve of her wedding to rich Javier, Catalina risks it all. She has to spend one more night stripping in order to free her kidnapped brother. If Javier finds out, she will lose him.
Evil Joy tips off Javier. When he sees Catalina dancing, he leaves, but she runs after him, to explain that she was just trying to free her brother. She didn't tell him because she's not interested in his money, only his heart. Javier forgives, and Catalina is finally able to cry tears of happiness for the first time.
Earl tries everything to write a story, even using everyone else's stories. But nothing works, and ultimately God squishes him with his coffee cup. Finally he decides to stop trying to write something cool, and just write about regular stuff, like hanging out with the gang at the Crab Shack. Suddenly the words flow. Everyone can feel trapped in their everyday life, but when you're in jail, everyday life is the best fantasy of all. The class loves Earl's story and gives him a standing ovation.