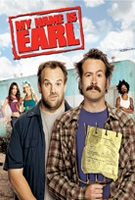 TV Info
---
Episode Premiere
October 11, 2007

Distributor
NBC

Genre
Comedy

Show Period
2005 - 2009

Production Company
Amigos de Garcia Prod., Fox TV


Cast and Crew
---
Director
Greg Garcia
Screenwriter
Greg Garcia
Main Cast
Additional Cast
Alejandro Patino
Charles Howerton
Raymond Cruz
Dana Cuomo
Duane Shepard Sr
Julia Vera
Synopsis
---
Feeling guilty, Joy visits Earl in prison, bearing gifts. Earl and Joy are delighted to spot their old pal Frank, whom they haven't seen in seven years, about the same time Earl and Randy got kicked out of their parents' house. They take up residence on a couch someone threw on the sidewalk, as a girl they haven't met yet - Joy - deals with her own problems. Impregnated by a one night stand who didn't leave his number, Joy's parents kick her out when her baby bump starts to show.
Joy takes up residence at the motel, which smells so bad, she resolves to find a sugar daddy and fast. When Earl and Randy's couch is taken away on big trash pick-up day, they are once again homeless. Earl spots Frank's flyer offering a room for rent. The room in question is the kitchen of his one bedroom apartment. Muscled Paco, who likes to dance and sing in his underwear has the parlor. Overjoyed that they'll be able to pee in a half bath [the kitchen sink], Earl and Randy move in.
Frank tells the boys that Paco is overcome with grief, having had to leave his woman, Catalina behind. She's convinced that Paco will return to take her to America. Earl and Randy love living with Frank, who drives a cool El Camino, and has a great job at the Crab Shack. The job will eventually become Darnell's, but at this time, he is still in the witness protection program.
Earl and Randy need to get some money for the rent by the end of the week. At the Crab Shack, hooker Patty introduces her wealthy john, Yoshimitsu, who wears a giant diamond watch. Earl and Randy break into Yoshimitsu's motel room to steal the watch, delighted to find that Frank and Paco are thieves, too. Randy punches them both out, but all is forgiven - it's just the price of doing business.
Meanwhile, Joy latches on to Tim, who wants to sample the milk before buying the cow. She's fine with that, even if her milk hasn't come in yet. Tim comes out of the bathroom dressed as a baby in diapers, and Joy knows it's not going to work out. Meanwhile, Catalina begins her journey to the U.S.
The guys split the watch money four ways. Frank and Paco are going to invest their money in big guns to aid in their plan to rob an Indian casino, the same evening that Howie Mandel is scheduled to perform. Then Paco can send for Catalina and they'll be rich. Randy and Earl want to invest in their future too, so Frank cuts them in on the job, thinking that if there's four of them, his chances of getting killed will lessen.
On the day of the big job, Paco and Frank leave to steal a van, so Randy and Earl chill at the Crab Shack, where they meet Joy for the first time. After his twelfth margarita, Earl decides to blow off the robbery for a quickie wedding in Vegas. Randy takes in an H.R. Pufnstuf marathon and forgets to go to the casino. Frank never comes back from the robbery, so Earl and Joy move into his bedroom and start driving his car, figuring he's on a beach somewhere.
Frank admits that although the robbery went off without a hitch, things didn't go the way he planned. Catching a glimpse of Catalina, Paco crashes into an FBI van that has just dropped Darnell on the side of the road to start his new life. Their hostage, Howie Mandel escapes, and the jig is up. Realizing that if she hadn't taken Earl to Vegas he'd be doing 20 years, Joy finally feels guilt free.