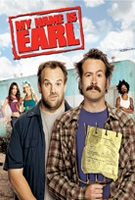 TV Info
---
Episode Premiere
May 11, 2006

Distributor
NBC

Genre
Comedy

Show Period
2005 - 2009

Production Company
Amigos de Garcia Prod., Fox TV


Cast and Crew
---
Director
Greg Garcia
Screenwriter
Greg Garcia
Main Cast
Additional Cast
Yetta Ginsburg
Dennis Burkley
Abdul Goznobi
Max Perlich
Lin Shaye
Synopsis
---
Every time Earl crossed something off his list, Darnell gave him and Randy a free beer. Earl had just gotten to #57, 'Gave Randy a swirly when he was five.' In order to cross it off the list, Randy had to turn the tables and give Earl a swirly.
Earl let Darnell choose what to cross off next. Darnell chose Earl's first item on the list, 'Stole ten dollars from a guy at the Camden Market.' At the time, Earl used that money to buy his winning lottery ticket. Now he felt that he should give back the lottery money, because it had been won with the man's stolen ten dollars.
Earl gave the lottery money back to Paul, the man he stole the ten dollars from. Now Earl and Randy had no money. They were homeless, hungry, and their car had no gas. Earl was still determined to cross items off his list for good karma.
Earl crossed off #9 on his list, 'Ruined Joy's chances of getting into art school.' When they were married, Joy had tried to get into art school, but Earl had ruined her artwork so she wouldn't be accepted. Earl made it up to Joy by being a guinea pig for her work in beauty school.
Earl's car refused to run without gas, so he walked for miles to cross off #206 on his list, 'Refused to dance with too-tall Maggie at the 8th grade dance.' After a make-up dance with Maggie, Earl walked back to his deserted car, where he and Randy fell asleep. The next morning a man offered them $1,200 for their car, and Earl sold it.
Earl was on his way to give Paul the remainder of his lottery winnings, but Paul had been hit by a bus and was in the hospital. He wanted Earl to keep all the lottery money. Turns out Paul had tried to steal Earl's lottery ticket a year ago when Earl had been hit by the car. As Paul tried to flee the scene, the same car that had hit Earl, hit him! His stolen ticket had flown away and landed back in Earl's hands.
Earl discovered that Paul didn't want any of the lottery money that Earl had tried to give back. He told Earl that the money made him act differently. He was buying ridiculous outfits and treating people badly.
When Earl and Randy got their money back from Paul, the first thing they did was buy back the El Camino and move back into the motel. They went out to celebrate at the Crab Shack with Catalina and Joy. Joy had her own reason to celebrate: She had gotten her beautician's license.