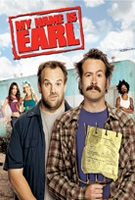 TV Info
---
Episode Premiere
March 02, 2006

Distributor
NBC

Genre
Comedy

Show Period
2005 - 2009

Production Company
Amigos de Garcia Prod., Fox TV


Cast and Crew
---
Director
Craig Zisk
Screenwriter
Michael Pennie
Main Cast
Additional Cast
Countrified Wedman
Tim DeKay as Hank Lange
Thomas Crawford
Yvette Cruise
Seth Sultan
Synopsis
---
Earl enjoys the fact that the list is his only job because he likes setting his own work schedule. Unfortunately Catalina's work gets in the way. However, while cleaning, they find a paycheck made out to Randy from a construction company.
When they used to be low on money, they'd take odd jobs. Of course they never paid taxes on any of their old jobs. Earl decides to put "cheated the government" on his list and he has to pay taxes. Randy however doesn't pay taxes and instead buys a moped.
Earl goes to the IRS but they tell him because they didn't send him a form - he doesn't owe them any money. He decides to instead drop his money in the suggestion box - but a few days later he gets a letter back from the government telling him they don't have a record of him owing $500.
Earl needs to figure out how to make things right but then Randy hits a pothole in the road and crashes his moped. Earl decides to fill the pothole to pay back the government. The police stop him and say that potholes can only be filled by authorized government workers.
Earl then finds a local chain gang and convinces a guard to let him join the crew. He works a full day - but when the bus arrives - a different guard thinks Earl is part of the crew and he takes him to prison with the rest of the gang.
Because there's no cell for Earl to go to - he's brought into solitary confinement. After a while, the guards finally realize he's not supposed to be there and he's let out.
Earl thinks if he just does something bad - the government can fine him for it and he'll use that to make up for paying the government. He and Randy decide to trespass on top of a water tower but no cops come by. They accidentally fall through the roof and they notice there's no water in the water tower. Unfortunately, they're now stuck in the tower.
They wait in the tower but no one comes to find them. A few days go by and they're still stuck. Catalina and Joy finally figure out what they've been up to and get the government to come and help pull them out. Firemen, police, city workers, etc all helped. Earl ends up paying a $500 fine and repaid his debt. The government is officially off the list.