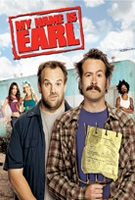 TV Info
---
Episode Premiere
February 02, 2006

Distributor
NBC

Genre
Comedy

Show Period
2005 - 2009

Production Company
Amigos de Garcia Prod., Fox TV


Cast and Crew
---
Director
Marc Buckland
Screenwriter
Kat Likkel, John Hoberg
Main Cast
Additional Cast
Synopsis
---
Earl and Randy avoid exercise at all costs, but when Earl's car breaks down, they're forced to push it. Earl thinks it's karma telling him it's time to address No. 62 on the list, 'Stealing gas from another car.'
Earl and Randy drive to the trailer park to look for the car from which they stole gas. Earl finds the car's owner, Philo (Adam Goldberg), and brings him gasoline. The guy says it's fine for Earl to cross him off the list. But as they leave the trailer park, they see Philo try to commit suicide.
Philo tried to kill himself before by using his car's exhaust fumes. But because Earl and Randy kept stealing his gas, he always ran out before he died.
Earl and Randy think they should stop Philo from killing himself. They need to find him a reason to live. They take Philo to the Crab Shack and find out he wants to kill himself because he has no job, no friends, his shoes hurt and he lives in a trailer with no heat.
Earl needs to find Philo a way to get him out of his funk. He tries small talk, motel hockey, and even goes to a bookstore to look for ways to help. He winds up buying Philo a self-help tape. Philo tells Earl that he has a girl he loves, but he's never met her. Earl thinks if he can get this girl to like Philo, then they won't have to make sure he doesn't kill himself.
Earl and Randy clean Philo up and try to get him to meet the girl ' only it turns out to be Joy. Earl decides to ask Joy for help, even though the idea is crazy. Joy decides to meet Philo at the Crab Shack so she can make Darnell jealous after finding all his porn magazines.
Joy comes into the shack looking like a hooker. She sits next to Philo and asks him to rub her leg. Darnell gets instantly jealous and he and Joy make up. Philo takes off and Earl and Randy lose him.
Earl and Randy finally find Philo in his car listening to the self-help tape that Earl got him. He says there's no reason to kill himself now that he has friends ' Earl and Randy.