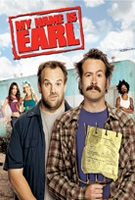 TV Info
---
Episode Premiere
January 19, 2006

Distributor
NBC

Genre
Comedy

Show Period
2005 - 2009

Production Company
Amigos de Garcia Prod., Fox TV


Cast and Crew
---
Director
Chris Koch
Screenwriter
J.B. Cook
Main Cast
Additional Cast
Lou Wagner
Patricia Belcher
Terence Bernie Hines
Mary K. Devault
Synopsis
---
The gang gets together for Earl Jr.'s birthday party and they all reminisce about how much fun it used to be when they were stealing stuff. Ralph, Joy and Randy gang up on Earl and say he's no fun now that he found karma. Ralph then tells a story about how he and Earl once stole a hot dog cart for $200.
A few years ago the Winky Dinky Dog hot dog chain opened a new store but they didn't get any customers because people were used to going to Pops Wieners. The owner of Winky offered Earl and Ralph $200 to steal Pops' cart and get rid of it. It's now No. 159 on the list.
Earl finds the cart he hid in the woods and brings it back to Pops. Pops is ecstatic but putting him back in business is a little harder. Earl tries to do some promotional campaigns and offers two-for-one dogs to bring people back. It works and Pops is as busy as ever.
Earl feels good and decides to cross Pops off his list. Unfortunately, Ralph lights Pops' cart on fire and destroys it. (Ralph got paid by Winky Dinky again to destroy the cart.)
Earl wants to go to the police but he can't because the Winky Dinky owner threatens to tell them that Earl stole the cart in the first place. He then decides to go to Winky Dinky's corporate headquarters ' but he can't get inside without an appointment.
Earl finds out that the company is in desperate need of a secretary and he gets the job so he can get inside and find the CEO, Mr. Covington. Earl finally gets his chance to talk to Covington, but when he tells him about the fire, Covington says he doesn't want to hear about it so he can claim ignorance in a court case.
Earl thinks the only way he can get the money for a new cart is to start stealing from the office. Unfortunately, he can't bring home $10,000 worth of pens and paper. He needs to steal more stuff, so he decides to get the gang back together for one last heist.
Earl recruits Joy, Darnell, Randy, Catalina and Ralph to help with the heist. He gets Kenny to take typing tests for all of them and gets everyone hired at the company. They all get inside and when the office shuts down for the night, they try to steal a copy machine. Unfortunately they get the copier stuck in the door and trap themselves inside.
The next morning, security arrives and they try to talk their way out of it. When that doesn't work, they make a run for it and all get away. They regroup at the Crab Shack, and Ralph apologizes to everyone for screwing up. He then offers to cut off his pinky toe and put it in a Winky Dog
Darnell nearly bites into Ralph's toe and the gang is able to sue the company and get $10,000 for a new cart for Pops. Earl gets to cross him off the list, and the gang is happy again because they have a place to hang out besides the Crab Shack.