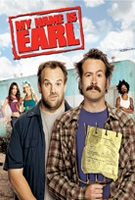 TV Info
---
Episode Premiere
December 06, 2005

Distributor
NBC

Genre
Comedy

Show Period
2005 - 2009

Production Company
Amigos de Garcia Prod., Fox TV


Cast and Crew
---
Director
Marc Buckland
Screenwriter
Timothy Stack
Main Cast
Additional Cast
Charles Noland
Harland Williams
Blake Clark
Brett Butler
Synopsis
---
Earl and Randy enter a radio competition to try and win a car. It's for the list: #74 "Always ruined Joys Christmas". He wants to make it up for her so he's trying to win the car for her.
The competition begins and they have to keep their hands on the car the longest. Earl gets eliminated right away but Randy and Catalina remain in the race. Earl decides to then take care of more on the list. He didn't just disappoint Joy on Christmas, but the boys as well.
When he arrives at Joy's house, her parents are there and they think Earl has been off fighting the war in Iraq. Earl helps Joy keep up the ruse because she doesn't want her parents to know about Darnell.
Earl doesn't want to lie to her parents but Joy can't stand her racist parents and because she won't get a dime in their will. Earl agrees to go along with it when Joy says if he doesn't - he'll ruin Christmas.
Meanwhile, Randy and Catalina keep their hands on the car. After a few days, only she and Randy have their hands left on the car. They win! Unfortunately, Catalina is entering the competition for herself. Randy finally drops and Catalina wins the car. Unfortunately for her, she's an illegal alien and isn't eligible to win the car because she's not a citizen. Randy wins the car!
Earl brings Joy's kids presents for Christmas but then walks in on Joy's mother jumping around. She lied about being in a wheel chair and she's a compulsive gambler. She doesn't want anyone to know and Earl still doesn't want to ruin Christmas.
The night before Christmas - Earl keeps everyone's secrets and leaves the car out for Joy's surprise in the morning. Unfortunately, Joy's mother steals the car to go to the local Indian casino. Earl takes one of the boy's bikes to follow her. But when he catches up, Connie lost the car gambling.
When they get back to the house, Connie walks in and gets caught. But then Darnell walks out and Joy gets caught. Earl then tells everyone he's not a war veteran. Buzz also had a secret of his own and he'd been having affairs with black women for years. By the time morning rolled around, everyone stopped fighting when they saw how happy the kids were when they saw all their new toys.
Joy ends up having the best Christmas and Earl gets to cross her off the list.