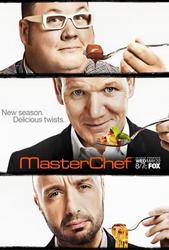 TV Info
---
Episode Premiere
September 10, 2012

Distributor
FOX

Genre
Reality

Show Period
2010 - now

Production Company
Reveille, Shine TV, One Potato Two Potato


Cast and Crew
---
Main Cast
Gordon Ramsay as Himself - Host / Judge
Joe Bastianich
Graham Elliot Bowles
Christina Tosi
Synopsis
---
It's the season finale, and Josh and Christine are the final two home cooks to go head-to-head for the top prize - $250,000, their own cookbook and the title of MasterChef.
Josh is a 24-year-old Army contract specialist from Jackson, Mississippi. He's been blowing the judges away with his bold flavors as well as his guts and determination. He was a force to be reckoned with early on, but was eliminated from the competition in a previous round. However, Josh earned a second chance to compete, which has led him all the way to the finale.
Josh is up against Christine, a blind 32-year-old creative-writing student from Houston, Texas. Her authentic Asian flavors and techniques captivated the judges from the start. She has staked her claim for the title by relying on her instincts and her palette.
Judges Gordon Ramsay, Graham Elliot and Joe Bastianich welcome the final two contestants to the MasterChef kitchen. All of the eliminated home cooks are there to cheer them on, as are their families. Josh's mother tells him to follow his dreams, while Christine's husband expresses pride in his wife.
The contestants are given their final challenge. They will have two hours to cook the most sensational three-course meal of their lives. The judges are looking for the most stunning appetizer, the most amazing entree and the most delicious dessert.
Josh and Christine head to the MasterChef pantry to choose their ingredients. While Josh is known as a Southern soul food cook, he decides not to play it safe. He'll make a lobster and grits appetizer, a rack of lamb with a green curry spice for his entree and a bacon-crusted pecan pie for dessert. He says he wants to continue to "punch the judges in the mouth with flavor."
Christine plans to make dishes that will evoke her childhood and her mom's home cooking - only elevated. Her appetizer will be a Thai vegetable salad, her entrée is a braised pork belly and her dessert is a coconut-lime sorbet with a ginger tuile. Even though the ingredients are simple, she believes the flavors will be bold.
The final two begin cooking side by side. Josh is taking big risks by showing a variety of skills, but Gordon is concerned that his menu sounds heavy. Joe believes that Christine's techniques have to be attributed to her handicap, which are leading her to choose options like steaming and braising where the visual is less important. At this point, Graham's money is on Christine. Joe is voting on Josh. Gordon is on the fence.
When Chef Ramsay checks in, Christine says she feels the pressure of making the most important meal of her life. In the meantime, Joe is caught off guard when he learns that Josh is putting bacon in the crust of his pecan pie.
With just 30 minutes left, Josh shocks the judges when he decides to puree his lobster shell. Joe says it's a technical mistake, which might cost him the appetizer course. But they are all happy to see that his lamb is cooked to perfection.
As the clock ticks down, Josh and Christine focus on their plating. Josh is extremely proud of his final results, and Christine is also very happy with all of her dishes. The two competitors are finally ready to serve the judges in the MasterChef restaurant.
First they present their appetizers. Josh explains that his butter-poached lobster with grits and sweet potato puree is an upscale version of shrimp and grits. Luckily for Josh, the lobster shells did not ruin his sauce. Unfortunately, the lobster is undercooked.
Christine serves Thai papaya salad with crab and mixed vegetables. Gordon warns her that when she presents something so simple, the flavor needs to be complex. Joe says the star of the dish is the dressing. Graham wishes there was more crab. Gordon wishes it was more luxurious.
Next up are the entrees. Josh has prepared a rack of lamb with green curry sauce, spring peas and carrots. It is accompanied by a parsnip puree. Gordon says it has great flavor and is cooked absolutely beautifully. But he questions the choice of combining spring vegetables with the more wintery parsnips. Joe compares his blended items to Vivaldi's "Four Seasons" and declares the dish "an orchestral composition of mythical proportion."
Christine's braised pork belly with rice, crispy kale and maitake mushrooms is topped with a fried quail egg. Gordon declares that she has cooked the dish perfectly. Graham says that what it lacks in appearances, it makes up for in spades with flavor. Joe thinks the dish is slightly sweet and wishes there was something acidic on it, but he commends her interpretation.
Josh serves his bacon-crusted pecan pie with vanilla and cinnamon ice cream. Graham says the crust seems a little oily but the ice cream is great. Joe and Gordon also love the ice cream, but they don't see the point in adding the bacon to the pie.
Finally, Christine presents her coconut-lime sorbet with ginger tuile, which Graham says is beautiful - although he feels the lime flavor isn't strong enough in the sorbet. Joe comments that there's a lightness to the dessert and the texture is right, while Gordon calls it fragrant and cooling.
The judges have a difficult decision to make. While they applaud Josh's natural talent, they appreciate that Christine played to her roots. But, after weighing all of the dishes, the judges conclude the competition when they declare Christine victorious as this season's MasterChef.