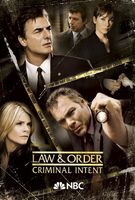 TV Info
---
Episode Premiere
March 30, 2010

Distributor
NBC, USA Network

Genre
Drama, Crime

Show Period
2001 - 2011

Production Company
NBC Universal, Studios USA TV, Universal Network


Cast and Crew
---
Director
Jean de Segonzac
Screenwriter
Walon Green
Main Cast
Synopsis
---
A tourist yacht cruising the coast of Somalia opens fire on an unarmed boat, killing a sheikh and his wife. The incident sets off an international grab for power, an illegal arms deal and a hunt for terrorists. Captain Ross finds himself at the center of the conflict, galvanizing the assistance of Major Case detectives Goren, Eames and Nichols.
In Manhattan, Somali-born HASSAN and KADRA absorb the death of their father, as BROIDY, LOFTIN and VAN DEKKER celebrate the completion of a well-executed plan. With the sheikh gone, they are free to proceed with an elaborate arms deal. The deal is partially dependant on establishing a police force within the small African region, under their control. Posing as an international businessman, Loftin meets with Captain Ross, and makes him an offer he can't refuse. Broidy and his mistress MARYA have a final night of celebration before they wind up shot through the head and washing up on the shores of Pelham Park.
Goren and Eames discover Broidy was an arms dealer who ran a security company with Van Dekker. They also uncover that he was the target of a federal RICO case. When the detectives take their case to Ross, the captain tells them that FBI is watching Brody and that they should drop it. Intrigued, the detectives dig deeper and become suspicious when they find an email from Broidy to Loftin approving a payout to Ross for $2 million.
Meanwhile, Hassan studies with a Mullah in an effort to quickly brush up on the history of his country and his religion. He faces pressure from his sister, Kadra, to break off his long-term relationship with American-born, JILL PEAK.
Goren, concerned about Ross's possible involvement, pays an unscheduled visit to Loftin, posing as a civilian. Goren narrowly escapes, but he and Eames only become further entangled in their dangerous quest for answers. Soon, the case takes a tragic turn, threatening to forever alter their lives.