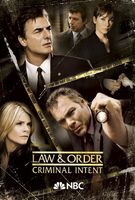 TV Info
---
Episode Premiere
April 19, 2009

Distributor
NBC, USA Network

Genre
Drama, Crime

Show Period
2001 - 2011

Production Company
NBC Universal, Studios USA TV, Universal Network


Cast and Crew
---
Director
Michael Smith
Screenwriter
Antoinette Stella
Main Cast
Additional Cast
Janel Moloney
Leland Orser
Robert Farrior
Jennifer Wiener
Katheryn Winnick as Carrie Conlon / Karyn Barrett
Synopsis
---
The drug-addicted daughter of a city politician, Stacy, survives a hit by "playing dead". Her black-mailing, dealer-boyfriend, Rick, isn't so lucky. Goren and Eames uncover a trail of deception that leads all the way to City Hall.
Stacy and Rick, both crack-addicted, pack for Aruba and await a visitor who Rick says is going to "pay-out". But when the door opens, bullets fly. Rick is hit and goes down over Stacy, whose survival instincts tell her to "play dead". Stacy "plays dead" beneath Rick's body for hours, not stirring until her mother arrives knocking on the door in the morning.
Goren and Eames visit Stacy in the hospital, where she is going through withdrawal. She explains her odd behavior by saying that she "went away". Goren and Eames wonder if the drugs she was taking may have engendered the behavior.
Back in the squad room, the detectives learn more about Stacy's powerful family. Her stepfather Neil Fitzgerald Hayes is an ascendant councilman with an eye on the mayoral election, and currently skirting a contracting scandal. A look into Rick's computer suggests that Rick hacked into the councilman's emails and is likely behind the scandal dogging the councilman.
Goren and Eames question Neil, who apparently had no knowledge that Stacy and Rick sold the emails to the tabloids that created the contracting scandal.
Meanwhile, Stacy has recovered enough to leave the hospital and intends to return to her own apartment (where Rick was killed). Her mother, Josie, appeals to Stacy to come home. But it's her grandmother, Camille, also a politician and Neil's campaign manager, who strong-arms Stacy into returning home to remain under the family's care.
The ID of a black van in the vicinity of the murder leads the detectives to a trucking company in Williamsburg, and Di Rogga. A visit to the small 2nd-story office tells that the trucking company is a front. Further investigations reveals that Di Rogga recently purchased a $19,000 boat. Goren and Eames question Di Rogga about where the money came from to buy the boat. His bank accounts show no record of this sum. Di Rogga claims it was a token of appreciation from a grateful client for moving some antiques.
Meanwhile, Camille approaches Neil with concerns about Stacy, who she fears is a loose cannon and not to be trusted. She says that Neil needs to control her better, and that he alone knows how to do that.
Neil enters Stacy's bedroom, and then her bathroom where she is in the bathtub. Neil proceeds to bathe her and we finally learn why Stacy left home and turned to drugs: sexual abuse.
Following this, Stacy attempts suicide, and it's enough to induce Goren to start looking into Stacy's past. High school records tell that shortly after Stacy's mom married Neil she began to act out, and then was promptly taken to Europe for a year abroad with the family. Goren starts to profile Stacy, and induces that her odd behavior at the murder may be understood better if she had a history of abuse. He wonders if she was taken abroad because she was pregnant.
The detectives approach Stacy for the truth. She admits to the abuse and the pregnancy, but is fearful of confronting her family - who have all colluded in order to protect the councilman. She also tells that she confided in Rick. Goren believes that Rick was likely blackmailing the family with this information and it got him killed.
In the aria, Goren confronts Neil and Camille and uncovers dysfunctional mother-son dynamics. Ultimately it is revealed that the ambitions of Camille over-reached the limitations of the son. Camille concealed the sexual abuse perpetrated by Neil, and had Rick killed to clear the way for her son's shot at the mayorship.