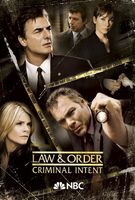 TV Info
---
Episode Premiere
June 29, 2008

Distributor
NBC, USA Network

Genre
Drama, Crime

Show Period
2001 - 2011

Production Company
NBC Universal, Studios USA TV, Universal Network


Cast and Crew
---
Director
Norberto Barba
Screenwriter
Julie Martin, Eric Overmyer, Warren Leight
Main Cast
Additional Cast
Stephen Schnetzer
Waleed Zuaiter
Synopsis
---
When Bela Khan, an influential woman bent on creating a Free Tamil Homeland returns to the United States, she is greeted with an assassination attempt on her life. In the chaos, her assistant Rosemary sacrificed her own young life, diving in front of Bela to take her bullet.
Logan and Wheeler investigate the scene and find the body of the shooter, taken out by Bela's bodyguard, but not before the assassin could get off two shots, one of which felled Rosemary. Though Bela had scores of enemies, Logan's initial suspicions are levied against her bodyguard. Nonetheless, Bela's family completely trusts their hired security, and laughs at the possibility that he was somehow complicit in the assassination attempt. While Logan interviews Gil, the bodyguard, an ID has come back on the shooter. It turns out that he and Bela hailed from the same village, and a family slight against him caused the animosity that resulted in the attempted assassination. Unable to connect the dots at this point, Logan and Wheeler decide to place Bela under strict surveillance for her protection.
Wheeler soon discovers that Gil's brother was recently pardoned from his death sentence in Sri Lanka, and the cops turn up the heat on the bodyguard to see what deal he brokered to gain his brother's freedom. Logan and Wheeler break Gil into admitting he agreed to a deal, but he insists that no one was supposed to get killed. The attempt on Bela's life was only meant to curb her political aspirations. Meanwhile, FBI Agent Corbett learns of an assassin who has entered the country and whom he suspects of putting together another attempt on Bela's life. Security is ramped up to a fever pitch at Bela's next public appearance: a memorial speech for Rosemary. However, the detectives are surprised when instead, Gil is gunned down by a sniper, far removed from Bela's cemetery speech.
As Logan and Wheeler delve deeper into the Khans' family history, they discover that Bela's brother Davi was killed in a plane crash some years earlier. In addition, a large family fortune looms for Bela or her brother Rani. As suspicions of motivations for financial gain paint the detectives' investigation, another attempt is made on Bela, this time killing her brother Rani in the process. When Logan and Wheeler capture Nik, the hired assassin, he points them in a direction that surprises the cops. The person who hired the killers may have come from an unexpected source: the intended target.