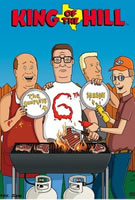 TV Info
---
Episode Premiere
November 23, 2003

Distributor
Fox TV

Genre
Animation, Comedy

Show Period
1997 - 2009

Production Company
Deedle-Dee, Judgmental, 3 Art, Film Roman, Fox TV


Cast and Crew
---
Director
Wesley Archer
Screenwriter
Mike Judge, Greg Daniels
Main Cast
Mike Judge
Kathy Najimy
Pamela Adlon as Bobby Hill (voice)
Brittany Murphy as Luanne Platter/Joseph Gribble (Age 12)
Johnny Hardwick
Stephen Root
Toby Huss
Additional Cast
Synopsis
---
An increasingly irritable Hank takes Bobby to the doctor to check his testosterone levels after learning Bobby is failing P.E. Hank is annoyed, however when the doctor suggests that Hank may be suffering from irritable male syndrome and may require testosterone himself, while Bobby is completely healthy.
Unwilling to accept the doctor's suggestion, a furious Hank leaves the hospital, while Peggy stays behind and retrieves the prescription the doctor has written for Hank. Unable to deal with Hank's moodiness, Peggy secretly begins doping Hank and he quickly becomes a new person. This newfound energy causes Hank to take an interest in the "Viva Los Arlentinos Day" planning committee which Peggy is a part of and he signs himself up for Arlen's running of the bulls.
Meanwhile, Bobby admits the reason he was failing P.E. is because he refused to shower with the other boys, but with new Hank's encouragement, Bobby promises to give it another try. Thrilled at Hank's new attitude, Peggy ups the testosterone she is administering until Hank becomes overly aggressive, challenging the guys to wrestling matches in the alley, while developing acne like a teenager. Worried that it's gone too far, Peggy confesses what she's done. Hank is angry, but determined to run with the bulls without the testosterone and face his fears, just like Bobby did when he showered in gym class even though he didn't want to.
Bobby admits he never actually showered, but Hank runs with the bulls anyway to prove that not everyone in the Hill family is a liar.