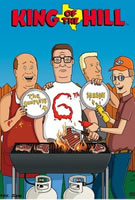 TV Info
---
Episode Premiere
November 17, 2002

Distributor
Fox TV

Genre
Animation, Comedy

Show Period
1997 - 2009

Production Company
Deedle-Dee, Judgmental, 3 Art, Film Roman, Fox TV


Cast and Crew
---
Director
Boo Hwan Lim, Kyoung Hee Lim
Screenwriter
Kell Cahoon, Greg Daniels
Main Cast
Mike Judge
Kathy Najimy
Pamela Adlon as Bobby Hill (voice)
Brittany Murphy as Luanne Platter/Joseph Gribble (Age 12)
Johnny Hardwick
Stephen Root
Toby Huss
Additional Cast
Synopsis
---
When they find graffiti on their fence, the guys, especially Dale, fear that gangs have infested Arlen. But the graffiti turns out to be the work of Tid Pao, Connie's hot, rebellious cousin, who is spending the semester in Arlen.
Bobby is instantly smitten with Tid Pao because, although she's very smart, she's also wild and reckless - two qualities that Connie is not. Tid Pao tells an unsuspecting Bobby she needs propane to put together a candy machine. When Bobby catches on that Tid Pao's candy machine is really a meth lab, he turns to Connie, who tells him that he wanted excitement. Connie tells Bobby he has to deal with the consequences.
Soon Peggy sees the complex contraption in a garage and assumes that it is a project Tid Pao is not entering in the science fair because she has low self-esteem. Not knowing the real purpose of Tid Pao's candy machine, Peggy re-assembles the meth lab and enters it in the fair.
When Connie sees the meth lab, she destroys it with a potato gun so the cops won't see it. Everyone assumes that Connie destroyed the machine out of jealousy, but Bobby knows the truth and is excited that Connie has shown a wild side. Not wanting to deal with the wild child any longer, Kahn sends Tid Pao to Exeter.