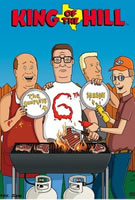 TV Info
---
Episode Premiere
May 14, 2000

Distributor
Fox TV

Genre
Animation, Comedy

Show Period
1997 - 2009

Production Company
Deedle-Dee, Judgmental, 3 Art, Film Roman, Fox TV


Cast and Crew
---
Director
Cyndi Tang-Loveland
Screenwriter
Jonathan Collier, Greg Daniels
Main Cast
Mike Judge
Kathy Najimy
Pamela Adlon as Bobby Hill (voice)
Brittany Murphy as Luanne Platter/Joseph Gribble (Age 12)
Johnny Hardwick
Stephen Root
Toby Huss
Additional Cast
Joanna Gleason
Sydney Pollack
Synopsis
---
Peggy unwittingly tapes a video for an online fetish site
When Peggy and Hank's double date with Nancy and Dale gets switched from dinner to bowling, Peggy is completely unnerved. She reluctantly goes along, and is forced to confide her shameful secret to the shoe clerk: She wears a size 16! The clerk is shocked and Peggy flees the alley in shame.
Later, Peggy's getting fitted for a custom pair of bowling shoes and finds out her feet have actually grown to size 16 and a half! As she sits in her car, sobbing, another big-footed woman approaches and refers Peggy to Grant Trimble. She assures Peggy that Trimble can make her troubles go away.
Peggy visits Trimble, who showers her with compliments about her "vibrant" feet. He asks her to participate in an educational film for other women with foot issues. At last, Peggy feels her feet are an asset and she is overjoyed at the chance to help other women regain their self-esteem. She spends the rest of the afternoon posing in various "foot situations."
At home, Hank is impressed with Peggy's new attitude until Dale, Bill and Boomhauer call him to Bill's computer. They show him a fetish Web site called peggysfeet.com, which features Peggy's video. They explain that most fetishists will seek sick pleasure from watching Peggy stomp on eggs or walk in mud. Hank is appalled and pays Trimble a visit at his studio. Hank demands that Trimble delete Peggy from the Internet. Trimble refuses, and starts to take an interest in Hank's feet. Hank leaves in disgust and goes home to tell Peg.
Disappointed and ashamed, Peggy goes to confront Trimble herself. He convinces her to break through the big foot prejudice and create a better world. Peggy sees herself as Rosa Parks, with foot videos as her bus! However, when Peggy tries to offer creative input, Trimble gets mad and blurts out the truth. Peggy's feet are ugly, ugly, ugly! Devastated, Peggy returns home, vowing to never show her hideous feet again.
Hank tries to console her, but it's Bobby who winds up helping. He tells her that maybe her feet are ugly, but so what. After all, he's fat, but he's also a lot of other things like funny and nice. Peggy knows Bobby is right and begins to take pride in her unique feet. Her first order of business? Announcing over the bowling alley P.A. system that she will need size 16 and a half shoes!