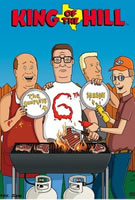 TV Info
---
Episode Premiere
April 30, 2000

Distributor
Fox TV

Genre
Animation, Comedy

Show Period
1997 - 2009

Production Company
Deedle-Dee, Judgmental, 3 Art, Film Roman, Fox TV


Cast and Crew
---
Director
Tricia Garcia
Screenwriter
Jonathan Aibel, Glenn Berger
Main Cast
Mike Judge
Kathy Najimy
Pamela Adlon as Bobby Hill (voice)
Brittany Murphy as Luanne Platter/Joseph Gribble (Age 12)
Johnny Hardwick
Stephen Root
Toby Huss
Additional Cast
Synopsis
---
A romantic double date with Hank and Peggy rekindles Dale and Nancy's marriage
Hank goes on an unannounced service call to a local restaurant and unwittingly frees the trapped manager from the freezer. In gratitude, the manager offers Hank a free dinner for four at "That's Amore." Hank wants to invite the guys, but Peggy insists that they double date with another couple. To Peggy's dismay, Hank invites Dale and Nancy.
Dale, who still doesn't know about Nancy's ongoing affair with John Redcorn, is looking forward to the night out. Nancy is upset that she has to cancel her "massage appointment" with John, but he is actually grateful for a night off. At dinner, Nancy heads straight for the bar, leaving Dale, Hank and Peggy in uncomfortable silence. Dale tracks her down and sweet-talks her onto the dance floor. Later, his smooth moves get them into the bedroom for the first time in years. The next day, Nancy confesses to Peggy that she's worried John Redcorn will find out how she "cheated" with her husband. Peggy thinks it's the perfect chance for Nancy to put the affair behind her. Dale, meanwhile, thinks that the reason Nancy has been spending so much time with John is that Dale has been ignoring her. He vows to treat her with more respect, which inspires Nancy to break things off with John.
To everyone's surprise, the Gribbles start acting like a couple of newlyweds. Late one night, while Nancy and Dale sleep in each other's arms, John sneaks into Nancy's bedroom--and is shocked to find Dale there. Dale, thinking John's a burglar, hits him with a lamp and knocks him out. The next day, Dale goes to apologize and offers to help John fight the government over illegally seized Indian land. While he's there, Nancy shows up claiming to have a migraine. Dale thinks he caused the headache and insists that she start seeing John again for "treatments." John and Nancy, realizing that things between them are really over, refuse Dale's offer. Back at home, Dale tries his hand at sensual massage as he and Nancy jump-start their relationship.