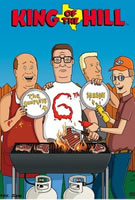 TV Info
---
Episode Premiere
May 11, 1999

Distributor
Fox TV

Genre
Animation, Comedy

Show Period
1997 - 2009

Production Company
Deedle-Dee, Judgmental, 3 Art, Film Roman, Fox TV


Cast and Crew
---
Director
Chris Moeller
Screenwriter
Alan R. Cohen, Greg Daniels
Main Cast
Mike Judge
Kathy Najimy
Pamela Adlon as Bobby Hill (voice)
Brittany Murphy as Luanne Platter/Joseph Gribble (Age 12)
Johnny Hardwick
Stephen Root
Toby Huss
Additional Cast
Jane Wiedlin
Chuck Mangione
Synopsis
---
Hank is picked to coach the company's softball team, causing friction with pitcher Peggy.
Strickland tells Hank that the Chamber of Commerce is forming a coed softball league. He asks Hank to act as the head coach for his company's team. Moments later, Thatherton introduces them to Mrs. Rita Bevacqua, wife of former Texas Rangers outfielder Kurt Bevacqua. Thatherton points out that "husband" falls under the category of "immediate family" (meaning he plans to put a ringer on his team). Hank informs Peggy about the coed league's "women-must-pitch" rule. Peggy declines Hank's offer to pitch for the team, as she is already a pitcher for a "serious" league. Meanwhile, at the middle school, Bobby and Connie line up to receive their copy of the new school yearbook. A page headlined "couples" features a photograph of Connie and Bobby slow dancing. Later, Bobby rides his bike to the supermarket, where Connie and her fellow Arrow Girls are selling boxes of cookies. Bobby accidentally topples a display. Katie asks Connie to send her "boyfriend" away. Connie counters that just because she and Bobby were on the "couples" page, it doesn't mean they are dating. Bobby nervously begins eating the cookies. He labels them "waxy and stale." Meanwhile, Hank realizes his team is in serious trouble. Peggy overhears a discussion between Thatherton and Coach Kleehammer. Thatherton brags that he found a female pitcher who can "get it over the plate," meaning he is having sex with her. Outraged, Peggy joins Hank's team. Her arm leads the Strickland Bobtails to victory. Hank grows jealous when everyone congratulates Peggy for the win.
Tension between Hank and Peggy builds. Despite their differences, the Strickland Bobtails win game after game. During one game, umpire Boomhauer kicks Hank off the field. Hank blames Peggy for his embarrassment, believing that if she hadn't overruled one of his instructions, he would not have been kicked out. Later, Hank chastises Dale for not wanting to run too fast (he fears his hat will fall off and reveal his bald spot). Meanwhile, Bobby bakes his own cookies and sets up a competing stand near the Arrow Girls. Julie samples one and declares that they taste like mud. As another game gets underway, Hank tells Peggy how to pitch to Bill. Peggy is rattled by his interference, and even more so when he reminds her that he is her husband. So distracted is Peggy that her pitches begin going wild. She inadvertently strikes Bill in the head, and later hits him in the groin.
After the game, Hank wraps Bobby in plastic bubble wrap and uses him as a practice batter. Eventually, Peggy regains control. The next day, the Bobtails face off against the Thatherton Fuels team. As the game gets under way, both Bobby and the Arrow Girls sell cookies in the stands. The girls attack Bobby and smash his cookies-all save Connie, who dares sample one of Bobby's efforts. The cookies are surprisingly delicious. She pronounces Bobby a "cookie genius." Meanwhile, as the game reaches its final inning, the Thatherton Fuels load the bases-and Bevacqua steps up to the plate. Strickland tells Hank to pull Peggy out of the game and replace her with a new pitcher. Hank, however, makes his way to the stands. He tells Bobby that taking himself out of the game-and letting Peggy pitch-is the best decision he ever made as coach. His instincts prove correct: Peggy gets two more strikes. But on the third throw, Bevacqua connects. Dale, who is playing left field without his glove, sees the ball sailing towards the fence. He removes his cap-exposing his bald spot-and uses it to catch the ball. Team Strickland wins the game.