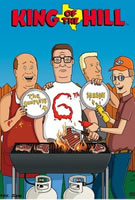 TV Info
---
Episode Premiere
May 04, 1999

Distributor
Fox TV

Genre
Animation, Comedy

Show Period
1997 - 2009

Production Company
Deedle-Dee, Judgmental, 3 Art, Film Roman, Fox TV


Cast and Crew
---
Director
Cyndi Tang-Loveland
Screenwriter
Greg Daniels, Johnny Hardwick
Main Cast
Mike Judge
Kathy Najimy
Pamela Adlon as Bobby Hill (voice)
Brittany Murphy as Luanne Platter/Joseph Gribble (Age 12)
Johnny Hardwick
Stephen Root
Toby Huss
Additional Cast
Synopsis
---
Hank's friends become believers in Luanne's claim that she was visited by Buckley's angel.
Luanne pays her beauty academy teacher, Mr. Kremzer, three hundred dollars for enrollment in the upcoming semester. Kremzer reminds Luanne that she must first pass a complicated hair dyeing exam before she can even begin thinking about the final semester. Meanwhile, Hank and his friends peer over a fence in the common alley, taking note of a trampoline in Kahn's backyard. Kahn had purchased the trampoline from Buckley's estate, and has since let it slowly fade into a sad state of disrepair. The men attempt to use reverse psychology on Kahn, hoping he will allow them to restore it. Ultimately, Kahn gives his consent--provided the men also mow his lawn for two months. Meanwhile, one of Luanne's exams gets under way. She and her classmates dye horse tails by dunking them into buckets. Luanne's efforts prove disastrous, and the hair on her horse's tail falls out. When Luanne returns home, she notices the men working on the trampoline. Reminded of Buckley, she sobs and runs into the house. That night, Luanne uses her chemicals to dye the hair on one of her puppets. She hears a noise emanating from outside, and wanders into the backyard to investigate. She discovers Buckley, dressed in his Mega Lo Mart smock, standing on the trampoline, a pair of tiny wings on his back. She realizes that Buckley is now an angel.
Buckley and Luanne enjoy themselves by jumping up and down on the trampoline. The next morning, when Luanne enters the kitchen, her face as aglow. She announces that she was visited by Buckley's angel. In private, Peggy suspects the incident was triggered by exposure to the hair-dyeing chemicals, and is somewhat unnerved. But Hank is overjoyed, as Luanne has finally stopped sobbing. He even tells his friends about Luanne's "guardian angel." As Hank turns his attention to repairing the trampoline, he comes across a note stuck in one of the springs. On the paper is a message from Bill, who asks Buckley's angel to bring him a woman. Hank grows annoyed. He tells his friends there is no such thing as a "Buckley's angel." But it soon becomes apparent that Boomhauer and Dale also believe it. Hank storms off in disgust. He makes his way to Luanne's room, where he tells Luanne that once she passes the test, Buckley's good deed will be done and he will return to heaven for good. That night, Luanne awakens to the sound of trampoline springs. She makes her way into the backyard, where she uses the trampoline as a makeshift desk. Peggy tells Luanne that, this time, she must pass the exam all on her own. Luanne spends the night practicing for the exam by dying Peggy's hair. The next morning, as she drives to school, Buckley's angel again visits. He tells her that she will fail the test. An argument ensues, and Luanne loses control of the car, nearly colliding with a Weinermobile.
Luanne's car skids into a ditch. Three girls come running to her rescue. The girls erroneously assume that Luanne is a student at the nearby Arlen Community College. Luanne collects her wits and drives to the beauty school. Meanwhile, Hank finds another note on the trampoline. He reads it aloud. The message, supposedly written by Buckley's angel, addresses Bill, Boomhauer and Dale's wishes. Hank concludes that Buckley's angel is no more. Bill takes a closer look at the note--and realizes it isn't in Buckley's handwriting. With that, Hank sprays his friends with a water hose. When Luanne returns home, she proudly announces that she has received a tuition refund from the beauty school and has enrolled in Arlen Community College. Later, Luanne says her final goodbyes to Buckley.