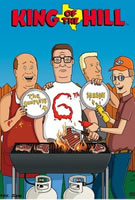 TV Info
---
Episode Premiere
April 27, 1999

Distributor
Fox TV

Genre
Animation, Comedy

Show Period
1997 - 2009

Production Company
Deedle-Dee, Judgmental, 3 Art, Film Roman, Fox TV


Cast and Crew
---
Director
Wesley Archer
Screenwriter
John Altschuler, Greg Daniels
Main Cast
Mike Judge
Kathy Najimy
Pamela Adlon as Bobby Hill (voice)
Brittany Murphy as Luanne Platter/Joseph Gribble (Age 12)
Johnny Hardwick
Stephen Root
Toby Huss
Additional Cast
Toby Huss
Ashley Gardner
Stephen Root
Synopsis
---
Despite Hank's disapproval, Peggy assists a prisoner on death row--only to realize she was tricked into smuggling drugs.
Peggy receives a letter from Wesley Martin Archer, an alleged former student now on death row. In the letter, Wesley credits Peggy as being the most positive influence on his life. Peggy considers Wesley's request to pay him a visit. As a substitute teacher, she moves in and out of people's lives and never feels as if she has made an impact. Hank joins his friends in the common alley, where he disapproves of the idea of his wife visiting a prison. The topic of death row appeals to Dale, who likens executions to his work as an exterminator. Despite Hank's concerns, Peggy makes a trip to the prison, where she meets with Wesley. When she returns home, Peggy makes it her business to collect a few books, which Wesley can use to expand his mind. When Hank realizes that Peggy gave a convict personal information, he accuses her of being nave. Undaunted, Peggy returns to the prison. That evening, Hank's temper flares when he realizes that Peggy gave Wesley their travel version of the Guinness Book of World Records. Hank forbids Peggy from returning to the prison.
Despite Hank's warning, Peggy again meets with Wesley. She uses her Boggle set as a creative approach to teaching him how to read. Wesley asks Peggy to retrieve his old Boggle set from his wife, Janette. Peggy is more than happy to help. When she returns with the set, Wesley is overjoyed. He shakes the timer with glee. The next day, he informs Peggy that the timer was destroyed during a prison riot. He asks her to retrieve another timer from Janette, this one filled with sand. During another visit, Wesley claims the "sand" fell out of the timer when the top fell off. Peggy retrieves some new "timer sand" from Janette, a brick-shaped package wrapped in plastic. Later, Wesley informs Peggy that she has been smuggling him cocaine all along. He threatens to alert authorities unless she brings him more of it.
Hank, Bobby and Luanne sense that something is wrong when Peggy forgets to add meat to their Sloppy Joe sandwiches. On the verge of a nervous breakdown, she sends Bobby and Luanne to get some pizza. After they leave, she tells Hank that she was duped into smuggling cocaine into the prison. When Wesley phones the house, Hank answers. He tells Wesley that his wife will no longer be supplying him with drugs. Wesley threatens to make good on his promise unless his demands are met. When the deadline passes, Peggy receives a phone from the prison warden. She is instructed to come to the prison. Peggy assumes that she will be jailed for her mistake. She and Hank break the news to the family. They then make their way to the prison, where they meet with the warden and Wesley. The warden asks Peggy if she was smuggling cocaine. Peggy looks scared--until Wesley sniffs. Filled with confidence, she asks to see the evidence against her. Wesley dramatically places the Boggle timer on the warden's desk. Peggy looks at it and remarks that it is completely empty. Hank wonders aloud who can be trusted: his wife, or a man who decapitated someone. Wesley leaps at Peggy, but his shackles prevent him from attacking her. As there is no evidence, Peggy is free to leave.