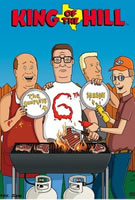 TV Info
---
Episode Premiere
May 04, 1997

Distributor
Fox TV

Genre
Animation, Comedy

Show Period
1997 - 2009

Production Company
Deedle-Dee, Judgmental, 3 Art, Film Roman, Fox TV


Cast and Crew
---
Director
Gary McCarver
Screenwriter
Greg Daniels, James Fino
Main Cast
Mike Judge
Kathy Najimy
Pamela Adlon as Bobby Hill (voice)
Brittany Murphy as Luanne Platter/Joseph Gribble (Age 12)
Johnny Hardwick
Stephen Root
Toby Huss
Additional Cast
Synopsis
---
Hank's expensive new lawn is overrun by fire ants.
Hank primps his lawn for an upcoming Cinco de Mayo block party. His ego is bruised when Kahn notes that his lawn is fuller and richer. Hank realizes his lawn does indeed pale in comparison...but can't pinpoint the problem. Shortly thereafter, Dale stops by the house and asks if he can spray the grass with pesticide (in an effort to keep fire ants away from the property). Hank approves the idea. But when Peggy hints that the lawn may be lagging from all the poisonous chemicals being sprayed on it, Hank has a change of heart. He instructs a crestfallen Dale not to touch his lawn ever again. Later, Hank stops by a nursery and falls in love with an especially lush patch of Raleigh Saint Augustine sod. Despite its enormous expense, Hank resods his entire lawn using the luxurious grass. But unbeknownst to him, Dale sabotages his efforts by deliberately dropping a clump of fire ants onto his property.
As the days grow closer to Cinco de Mayo, Hank notices an ant hill on his new lawn. Panicking, Hank uses a variety of methods in an attempt to destroy the insects, but his efforts are hampered by Dale's secret meddling. Meanwhile, Bobby falls victim to the Queen ant's hypnotic demands. Hank comes to regret firing Dale. He approaches his neighbor and apologizes for valuing his lawn more than their friendship. Ever grateful, Dale pumps massive amounts of insecticide onto Hank's lawn. The next morning, Hank discovers his lawn has been turned into a dirt landscape as barren as the surface of the moon.
His life shattered, Hank vows to cover his lawn with woodchips and gravel. Meanwhile, Peggy enters the Gribble's basement to retrieve some sugar for Nancy. When she descends into the eerie, poorly lit room, she comes upon a model of the Hill home, with miniature ant mounds surrounding the property. She realizes Dale deliberately introduced the ants to her husband's new sod. Under the hypnotic control of the Queen, Bobby releases some captured ants to a mound on the lawn. The ants communicate with one another, then suddenly swarm Bobby. Hank is outraged when Peggy tells him the truth about Dale. He rushes to his neighbor's home, intending to do him bodily harm. But before Hank makes good on his threats, Bobby calls out for help. The men turn around, only to see Bobby completely covered with fire ants. In an act of self-sacrifice, Dale clasps the boy's hand, and the fire ants crawl onto his body. Dale collapses on the ground as he is stung over and over by the insects. When Dale finally stops moving, the ants crawl off his body. Later, revelers show up at the Hill home holding lush green squares of lawn grass sod/Cinco de Mayo gifts for their neighbor. Hank is overcome with emotion.