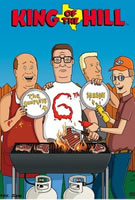 TV Info
---
Episode Premiere
April 27, 1997

Distributor
Fox TV

Genre
Animation, Comedy

Show Period
1997 - 2009

Production Company
Deedle-Dee, Judgmental, 3 Art, Film Roman, Fox TV


Cast and Crew
---
Director
John Rice
Screenwriter
Jonathan Collier, Greg Daniels
Main Cast
Mike Judge
Kathy Najimy
Pamela Adlon as Bobby Hill (voice)
Brittany Murphy as Luanne Platter/Joseph Gribble (Age 12)
Johnny Hardwick
Stephen Root
Toby Huss
Additional Cast
Synopsis
---
Hank's attempt to make Bobby dislike smoking backfires, leaving the entire family hooked on cigarettes.
Luanne is outraged when she discovers Ladybird eating her "cruelty-free" cosmetics. Later, while digging through an old dumpster, Bobby and Joseph come across an unsmoked cigarette. The boys sneak into a men's room at a gas station and light up. As luck would have it, Hank stops at the same station to use the bathroom. He pushes open the door and sees his son with a cigarette in his mouth. Determined to stop his son from becoming addicted, Hank forces Bobby to smoke an entire carton (thinking he won't be able to stand the sight of another cigarette when he is finished). As Bobby lights up, Hank grabs a cigarette away to show his boy how to inhale properly. As Hank takes a drag, a look of remembrance and relaxation washes over his face. By the end of the day, both Hank and his son are hopelessly addicted.
When Luanne catches Ladybird sniffing a makeup tin, she rattles a canister of pennies, scaring her off. Meanwhile, after sneaking cigarette after cigarette, Hank absentmindedly lights up in front of Peggy. Hank claims Bobby didn't finish a pack from the carton and insists he would hate to see them go to waste. Shortly thereafter, Hank and his wife go back to smoking cigarettes and feeling better than ever. Meanwhile, Bobby tricks a militant group of anti-smoking teenagers into allowing him to buy a pack from a bodega that sells cigarettes to teenagers. Despite everyone's best efforts, Bobby discovers that his parents are addicted to smoking and vice versa.
The Hills attend a Cigarenders meeting, but Hank quickly grows irritable and storms out with his family in tow. When they return home, Luanne attempts to make the Hills kick the habit by employing the same methods she used to keep Ladybird away from her cosmetics. When the family gets into a scuffle over a last remaining cigarette, Luanne locks them in a room together. The scuffle continues until Peggy, regaining her senses, throws the cigarette out a window. Despite experiencing a powerful nicotine withdrawal, the family makes it through a storm-filled night without smoking any cigarettes.