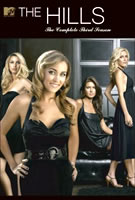 TV Info
---
Episode Premiere
December 22, 2008

Distributor
MTV

Genre
Reality

Show Period
2006 - 2010

Production Company
MTV


Synopsis
---
Last week on The Hills, Heidi and Spencer surprised everyone with their impromptu wedding in Cabo San Lucas, Mexico. But the honeymoon bliss wears off faster than their margarita-induced headaches and Heidi is left wondering where to turn.
Heidi immediately returns to her hectic work life at Bolthouse, and in the midst of organizing the upcoming black-tie SLS Hotel opening, she casually mentions her new Mrs. Pratt status to Brent and Kim. Brent and Kim can only exchange disapproving glances as Heidi prattles about the yummy margaritas and cute church that lured her and Spencer into saying their vows in the midst of their romantic vacation.
As Lauren and Lo head to the salon to be prepped for the Bolthouse event, they discuss wardrobe choices and their game plan for the inevitable run-in with Heidi. Lauren makes it clear that the main reason she and Heidi don't get along has now been made permanent with the wedding. She admits that she wishes she could talk to Heidi, but doesn't think she can get past the betrayal.
Justin brings Audrina to Viceroy in Palm Springs, for a relaxing get-away. They open a bottle of champagne to celebrate getting out of L.A., becoming drama-free and vow to make it a monthly ritual. Justin admits that he loves not having to worry about Audrina's girlfriends constantly bickering in her ear and he thinks these trips will strengthen their relationship.
Back in Los Angeles, Heidi walks in her apartment to find her mom, Darlene, silently waiting with Spencer. Heidi exclaims what a surprise it is to see her mom, but the look on her face is more worried than excited.
Darlene asks about Mexico, and can't hold her tears in any longer when Heidi admits she gave up her fairytale wedding to spontaneously elope. Heidi argues that it was her decision and she is happy with it, but Darlene insists that it deeply upset a lot of people who have always cared about Heidi. Darlene specifically points out that it's a mothers dream to be part of her daughter's wedding, but Heidi took that away from her.
Heidi ignores her mom's tears and insists that she just can't make everyone happy. She asks her Darlene to come with them to City Hall the next day, and support her in making the marriage legal.
Later that night in Palm Springs, Audrina and Justin enjoy a late-night picnic. They discuss how their feelings for each other have grown, and Justin muses whether the universe is in their favor before confessing that Audrina is one of the most important people in his life. Then, in true Justin Bobby style, he pulls a ring out of his mouth to put on Audrina's finger. It's not an engagement ring, but it's a sign of commitment Audrina's never seen before from Justin.
Meanwhile, at the SLS Hotel grand opening, Heidi marvels at how well everything is going, until she spots Lauren across the room. The girls awkwardly wave then discuss amongst their friends whether they should say something to the other. Finally, Heidi takes musters up the courage to greet Lauren. Heidi tells Lauren she misses her, and Lauren says that the only thing that matters is that Heidi is happy. Heidi begins to cry as she admits things are hard with her mom, and in a moment of renewed friendship, Lauren comforts Heidi with a hug.
Heidi admits that the only thing really missing in her life now is Lauren, but she knows that won't change any time soon. Lauren says that "it is what it is," but lets Heidi know she's always there for her if she needs anything.
The next day, as Darlene sips coffee at Spencer and Heidi's apartment, she asks Spencer to see some wedding pictures. She tells Spencer she knows that he manipulated and plotted the whole wedding all while knowing that it wasn't what Heidi wanted. She tells him she can't let him go to the courthouse to make the wedding legal, knowing that he's not putting Heidi's wishes first. But Spencer is stubborn, and says that within a matter of hours, she'll be his new mother-in-law.
Meanwhile in Palm Springs, Audrina and Justin cuddle in bed at Viceroy and talk about what a monumental step they took in their relationship that weekend.
Later at City Hall, Heidi and Spencer prepare to make their Mexican wedding official. As Heidi sneaks away to the ladies room to "freshen up," his sister Stephanie pleads with Spencer to wait just a little longer and give Heidi what she really wants. She tells Spencer he can't make Heidi get married in a little court room, without her mom or sister, who aren't even talking to her. But Spencer ignores Stephanie's pleas, takes Heidi's hand, and leads her to the judge.
The judge begins to go through the wedding ceremony, and Stephanie watches helplessly as Heidi says "I do." When the judge gets to Spencer, he pauses and asks Heidi if she has any doubts about what they're about to do. Heidi breaks down and admits she wishes her mom could be there, and Spencer decides to call the whole thing off, and wait to do the wedding exactly the way Heidi wants it.
And that wraps another season of The Hills!