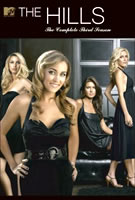 TV Info
---
Episode Premiere
December 08, 2008

Distributor
MTV

Genre
Reality

Show Period
2006 - 2010

Production Company
MTV


Synopsis
---
While working at People's Revolution, Kelly Cutrone calls Whitney into her office for a chat. She tells Whitney that there is a position open doing PR in-house for Diane von Furstenberg, and she's set up an interview for her in New York.
Kelly tells her the job would be perfect for her, but there's one catch: she would have to move to New York City. After a little more urging from Kelly, Whitney decides she has to give it a shot.
Audrina stops by Lauren's house for the first time after their fight over Justin. She tells Lauren it's slow-going decorating her new house, but when it's done, it will be the perfect bachelorette pad. Lauren tells Audrina her parents are moving out of her old house in Laguna, and she's going home the next day to pack up her stuff. When Lauren admits she's upset since she'll have no reason to visit Laguna, Audrina suggests that it's just a part of growing up.
Stephanie meets Spencer for lunch, and as they talk about her boyfriend troubles with Cameron, Spencer's 'nice' brotherly side begins to shine through. He tells her she deserves more than how Cameron is treating her, and from an outside perspective, the whole relationship sounds immature.
Whitney tells Lauren about her conversation with Kelly Cutrone, and her upcoming interview with Diane von Furstenberg. When Lauren finds out the job would require Whitney to move to New York, she's upset, but excited for her friend. Looking for the silver lining, Lauren suggests that Whitney might be able to see Jay while she's in New York for the interview, and Whitney says it's definitely on her to-do list. But, Whitney insists that if she's moving to New York, she's doing it purely for the job, not for a boy.
Stephanie brings Cameron to dinner with Spencer and Heidi, and Spencer immediately makes her regret it. He tells Cameron he's heard all about his downfalls from Stephanie, and wants to know how things have changed. Cameron insists they're starting over, but Spencer isn't easily convinced.
Lauren returns home to Laguna to visit her parents and pack her room up with Lo. Although her parents explain that it's just silly to live in a big house with all the kids gone, it's still hard for Lauren to accept the change.
Whitney arrives at Diane von Furstenberg's office, and has what she thinks is a successful interview with Alixe Boyer. After listing all of her good qualities and experiences in fashion, Whitney stresses that she's ready for a change, and can begin immediately.
Later on, Cameron stops by Stephanie's apartment, and Stephanie tells him things just aren't working. Cameron asks her to compromise, but Stephanie says things have just gotten too bad, and she deserves to be happier.
As Lauren packs up her room, she reads Lo a few entries from her diary, a will she wrote in high school, and her old-school monstrous cell phone. The girls head out to the balcony overlooking the ocean, and reminisce about old times. Lauren decides that now it's time to make new memories in her home in LA, and make it her own home.
Jay meets Whitney after her interview, hoping that all went well and Whitney will be back to stay. Although it's hard for them to let go of each other, Whitney has to say goodbye, and tells Jay she'll hopefully see him sooner rather than later.