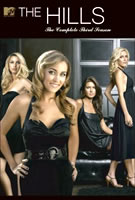 TV Info
---
Episode Premiere
November 17, 2008

Distributor
MTV

Genre
Reality

Show Period
2006 - 2010

Production Company
MTV


Cast and Crew
---
Director
Hisham Abed
Main Cast
Additional Cast
Casey Patridge
Justin Brescia
Sam Nazarian
Synopsis
---
Back from New York, Whitney and Lauren get settling into the groove of life in LA. But there have been some changes: Whitney has a new fairytale romance going with Jay, the boy she met in New York. Meanwhile, after getting kicked out of Heidi's apartment, Holly is crashing at Lauren's place. Lauren is glad that she can be a good friend to Holly, but worries that Spencer and Heidi will give Holly trouble for staying at her place.
As Audrina and Justin stroll along Venice Beach, they finally agree on one thing: it's nice to escape from Hollywood, if only for the day. Although Audrina is happy with her new, tension-free apartment, she marvels at how pretty and relaxing Venice, CA is. When Justin asks her to come away on a vacation to Mexico with him to make up for the Cabo trip, Audrina can't find a reason to say no.
Back at Heidi and Spencer's apartment, Spencer finds Heidi trying to occupy herself by organizing her closet. When Spencer asks her to take a break and come out with him for a little fun, Heidi snaps. She blames Spencer for her getting fired, and for chasing Holly away. While Heidi is worried about being unemployed and not knowing where her sister is, Spencer doesn't seem to be too sympathetic to his girlfriend's problems.
No longer roommates, Lauren and Audrina go out for drinks to catch up. Audrina tells Lauren that Justin is apparently over the Hollywood partying scene. The girls wonder what else Justin could possibly be doing. Audrina admits that although Justin has such a different lifestyle, they have a connection she doesn't have with anyone else, and he'll always be her number one.
Audrina's sister, Casey, comes for a visit to check out her new 'bachelorette pad,' and give some sisterly advice on Justin. She warns Audrina that although things with Justin seem to be going well at the moment, she has to remember all the times he's disappeared and treated her badly. Audrina argues that she loves him, and she's happy.
Heidi decides to take action in fixing her work situation, and goes to talk to Sam about getting her job back. Sam tells Heidi he just doesn't understand what is going on with her, because she's messed up majorly twice now, both times because of Spencer. After Heidi sincerely apologizes and stresses how much she loves the company, Sam agrees to let her back on a trial basis. But he warns her he won't tolerate any more mistakes, and especially won't tolerate Spencer being anywhere near the company.
Back at Lauren and Lo's house, Holly vents about getting kicked out by Holly. She doesn't understand how someone she was so close to could be so spiteful. Lauren thinks that Heidi is just in a bad place right now, but Holly is still upset about the situation.
When Stephanie drops by Heidi and Spencer's right in time for dinner, the night quickly goes downhill. Stephanie casually mentions that Holly is living with Lauren now, which sends Spencer into a rage. After calling Holly the 'mooch of the century,' Heidi's mom a 'stalker mom,' and insulting Stephanie, Lauren, and his girlfriend, Heidi's finally had enough. She tells Spencer he's the reason for all her problems.
Justin and Audrina meet for dinner, and Justin mentions that maturity is an important part of a relationship. To prove his point, he pulls out a surprise present for Audrina, and lets her know she's loved.