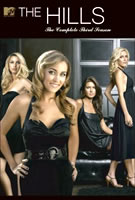 TV Info
---
Episode Premiere
November 03, 2008

Distributor
MTV

Genre
Reality

Show Period
2006 - 2010

Production Company
MTV


Cast and Crew
---
Director
Hisham Abed
Main Cast
Additional Cast
Brent Bolthouse
Lauren Bosworth
Synopsis
---
While getting ready for a Tokyo Police Club concert, Lauren asks Audrina for wardrobe advice. But instead of helping, Audrina sheepishly admits that she found a new place and is going to be moving out over the weekend. Lauren is shocked by the news, especially when Audrina says she hasn't even told Justin yet. Audrina ignores Lauren's hurt expression and gushes over how excited she is that the new place will bring her and Justin closer.
As Heidi and Kimberly prepare for a big Bolthouse event, Heidi tells Kimberly she plans on inviting Spencer. But Kimberly warns that the high-stress environment may not be the best place to bring her boyfriend Spencer. Heidi insists that Spencer won't cause any problems, but Kimberly clearly looks concerned.
During dinner with Justin, Audrina unveils the big news about her new place, hinting that she's not sure if she wants to live by herself. But Justin doesn't pick up on the vibe, leaving Audrina frustrated when he says she should just wait and see how it goes.
When Lauren and Lo discuss Audrina's plans to move, Lauren realizes that Audrina never considered their place a "home." The girls discuss the possibilities of what could happen if Justin moves in with Audrina. Lauren is sure they will still see Audrina, but Lo is not so sure.
At the Bolthouse event, Heidi has a few too many drinks. When Spencer shows up, Heidi loudly announces that she's wasted. Brent's business partner, Sam, walks over to Heidi and immediately realizes she is drunk. He suggests that he's a much happier boss when his employees are working rather than partying, so Heidi and Kimberly attempt to bounce back into work mode. The situation only gets more awkward when Spencer asks Justin and Audrina if they will be living together and Justin stays silent.
The next day at Bolthouse, big boss Brent calls Kimberly into his office to discuss Heidi's behavior at the event. He says he just received a phone call from Sam, informing him that she and Heidi were drinking at the XIV opening. Kimberly insists she would never be so disrespectful, and won't make any comments when it comes to Heidi's behavior.
When Brent confronts Heidi, she admits she was drinking, but only because she thought they were done with their work duties for the night. But Brent stands his ground that Heidi's behavior in front of his work partner, in addition to having Spencer there, took things too far. Without giving Heidi a chance to defend herself, he tells her to pack her things and leave the office ... for good.
Meanwhile, Lauren walks in on Audrina packing up her belongings and offers to help. As she packs away two years' worth of memories, Lauren tells Audrina to call whenever she needs her. As the girls reminisce about everything they've done together, they promise each other that the move isn't the end of the story, it's just "to be continued."