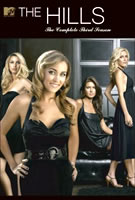 TV Info
---
Episode Premiere
September 29, 2008

Distributor
MTV

Genre
Reality

Show Period
2006 - 2010

Production Company
MTV


Cast and Crew
---
Director
Hisham Abed
Main Cast
Additional Cast
Lauren Bosworth
Darlene Montag
Synopsis
---
Still trying to make sense of the Doug and Stephanie situation, Lauren discusses it with Whitney and her trainer as she takes out her aggression at the gym. Everyone agrees that there's something shady going on and that it isn't cool to make a play for an ex before getting the stamp of approval. Lauren decides to see what Stephanie has to say about the whole thing -- she better have a good explanation!
At the Fashion Institute, Stephanie approaches Lauren like nothing happened. But Lauren asks about Doug right away. Tripping over her words, Stephanie claims Doug was just using her to get back at Lauren and that she just deletes all the messages he leaves. Despite the claim, Stephanie admits that she is going to Doug's pool party the next day. What's up with that?
Meanwhile, it's Heidi's birthday and Holly reveals she has a surprise for her sister. Just then, their mom, Darlene, walks through the door. But the happy reunion is short-lived when mom points out that Holly -- not Heidi -- told her that Spencer had moved back into the apartment. Spencer, who's sitting right there, is shocked that Heidi didn't disclose that they were back together. Heidi claims she kept the info to herself because she didn't want to be judged or told what to do.
When a heated discussion between Heidi and her mom starts to unfold, Spencer watches with glee. Mom is upset that Heidi kept her revived relationship under wraps, and Heidi admits she did it because she feels her family judges Spencer without really knowing him. To that, her mom asks Spencer to lunch so they can learn more about each other.
Elsewhere in The Hills, Doug and Stephanie meet for a drink, and Doug tells her not to worry about what Lauren or anyone else thinks. He says they should be able to hang out whenever they want. But Stephanie is afraid that Brody will throw her "under the bus" because he dislikes her so much. Doug tries to calm her down, saying everything's cool 'cause they're just friends. Then, the "friends" decide to go home and watch a movie together.
At lunch, Spencer is extremely rude and condescending to Heidi's mom. When she thanks him for letting Holly stay at the apartment, he says he doesn't want her there. Darlene then admits that she thinks he pushed Heidi into letting him move back in before they were ready for such a big step. When she calls him controlling and manipulative, Spencer says he hasn't done anything wrong.
At People's Revolution, Lauren admits to Whitney that she has just brushed the whole Doug debacle under the rug because there's no point in fighting with Stephanie about it. But while Lauren doesn't think Doug is worth losing a friend over, it seems like Stephanie feels otherwise. Giving it some thought, Lauren asks Whitney to come to Doug's party, with a caveat that she'll surely hate him!
Later, Brody calls Doug out for hanging with Stephanie, and Doug claims they're just friends. Trying to prove his point, Doug mockingly shows Brody a text message she sent asking to hang out. Doug says he just befriended her because he felt bad after the meltdown she had in Las Vegas. Brody tells him Lauren's tripping about their "friendship" and Doug points out that she broke up with him.
At Doug's party, Stephanie is lounging by the pool when Brody saunters over and gives her a hard time, saying she has a lot of nerve being there. When she acts all innocent and asks what he's talking about, he tells her that he saw the text messages she's been sending Doug. Yeah, he's onto her...
On the other side of The Hills, Heidi grabs a bite to eat with her mom and they once again get into why Heidi kept her rekindled relationship with Spencer a secret. Heidi defends her decision, saying she didn't think it was anyone's business just yet. Darlene thinks Spencer is trying to get in between Heidi and everyone else in her life. With tears in her tears, mom says she feels Heidi is choosing Spencer over family.
Back at the pool party, Brody tells Lauren he saw suggestive text messages from Stephanie to Doug. Overhearing their conversation, Doug once again says that they're just friends and that he is only being nice to her because she's such a mess. In a nutshell, he wants nothing to do with her romantically. Inside, Stephanie can overhear what Doug and Brody are saying.
The more Doug tries to defend himself, the more he rubs Lauren the wrong way. When he refers to Lauren as his "ex-fling," Lauren's had enough. She goes inside and finds Stephanie crying. Lauren helps Stephanie wipe away her tears, and Stephanie claims that Doug and Brody are just trying to break up her friendship with Lauren.
When Stephanie tries to act like she's just caught in the middle, Lauren gets annoyed and reiterates that what Stephanie did was wrong. When Stephanie says Doug was always calling her, Lauren shoots her a look and cuts her off. Stephanie apologizes but Lauren just walks away. Is this the end of another friendship?