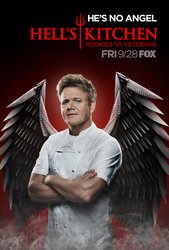 TV Info
---
Episode Premiere
June 29, 2010

Distributor
FOX

Genre
Reality

Show Period
2005 - now

Production Company
Upper Ground Enterprises, A. Smith & Co., Granada


Synopsis
---
10 Chefs Complete
As per Chef Ramsay's request after the most recent elimination, Benjamin must join the Red Team, but he's not too happy about it, calling the team fragmented and announcing, "I'm going to go hang myself."
The next morning, Chef Ramsay tells the remaining ten contestants that "Hell's Kitchen" is going to be holding a 50th wedding anniversary celebration. After the chefs meet the still-in-love golden couple, Sal and Marcy, they're given today's challenge: The teams will have 30 minutes to put a modern-day spin on three of the classic dishes served at couple's reception: Trout Amandine, Chicken Kiev, and Steak Diane.
Despite Benjamin's lack of enthusiasm about joining the ladies, he decides to step up and lead his new team, and amazingly, the women all start working together for once and churning out their dishes...without chaos! Unfortunately, things aren't going as well on the blue side, thanks to Salvatore, who, after deciding to roll the dice on Chicken Kiev meatballs, has undercooked them with time running out.
First, Sal and Marcy try the reinterpretations of the Steak Diane. When Nilka serves her dish, made with crab and mushroom reduction, Chef Ramsay calls her out for veering too far from the original dish, which includes cream, cognac, and mustard, though she admits to not being too familiar with a Steak Diane. Jay's steak includes elements of the classic dish, and the couple gives the point to the Blue Team.
Next up, Autumn serves the chicken Kiev meatballs, and Chef Ramsay notices one is undercooked. Holli's chicken dish, made with garlic lemon and parsley butter, is just like Marcy makes at home, and the Red Team gets the point, tying the game.
It all comes down to the trout. Benjamin presents the Red Team's dish, made with almonds, chanterelles, and vanilla, while Jay serves his team's trout with lemon, fennel leaves, and an almond streusel. It's a split decision! Marcy likes the Blue Team's trout variation, while her husband prefers the Red Team's dish, which means it's up to Chef Ramsay to break the tie. It's close, but he gives the win to the Red Team.
After a string of losses, the Red Team finally gets a reward and is whisked away to a '50s style diner complete with roller-skating waitresses, a hula-hoop contest, and giant cocktails. Back at "Hell's Kitchen," the Blue Team is charged with decorating the dining room for the anniversary party and baking a three-tier cake. Before getting started on their punishment, the guys let Salvatore have it over his chicken meatball debacle.
The next morning, both teams report downstairs, ready to prep for the big party. As Ben takes charge in the Red Kitchen, Jay, who's taken on the role of Blue Team leader, cuts his finger and nearly passes out, but is able to report back to service quickly. Just prior to opening the doors, Chef Ramsay announces that every Steak Diane will be cooked table-side tonight, just as was done in the 1950s. Nilka and Ed are given the honors.
The party gets off to a good start. Sal and Marcy are served their appetizers first, and then the kitchens begin cooking for the rest of the guests. But the night is teetering on trouble when Marcy notices that the cake is a bit wobbly and looks like the Leaning Tower of Pisa. Ed and Jay are sent to the rescue and are able to stabilize it.
Forty-five minutes into dinner service, the Red Team makes its first mistake, thanks to leader Benjamin, when he sends out cold crab cakes. After he burns his next few, Fran offers to help him make new ones. But she doesn't exactly get the appreciation she expected when he yells at her to get out of his way.
As the teams start cooking the entrees, the pressure is on as Salvatore tries to get a handle on the garnish station, but runs into his usual problem: he's not communicating, which causes mistakes, frustrating Chef Ramsay. His frustrations grow when Holli sends raw chicken to the pass and Fran stumbles on the garnish station. The curse of the garnish continues when Salvatore falls behind yet again, leaving a string of meat dishes waiting at the pass as he races to catch up.
Though the party was a success overall, Chef Ramsay explains that, at this stage, everyone should have been giving 110 percent. He calls out Fran, Salvatore, and Holli for their simple mistakes and declares the Red Team the losers.
Ben and the ladies must go to the dorm and choose two contestants to go on the chopping block. Not surprisingly, they have trouble agreeing but eventually settle on Holli and Fran. After some of the Blue Team members catch wind of the nominees, they put in their two cents: Holli isn't the worst cook on the team. The Red Team goes back to discuss who should be nominated all over again, and Benjamin changes his vote to Siobhan.
Downstairs, Holli tells Chef Ramsay that the team has nominated Fran and Siobhan. Benjamin explains that Siobhan lacks technical skills and a passion for food. So what do they have to say for themselves? Siobhan tells Chef Ramsay that she's young and ambitious and pushes herself very hard. Fran explains that she never makes the same mistake twice and is tough and determined. Chef Ramsay shocks everyone when he sends them both back to the line and announces that it was another chef who had the worst service tonight: Salvatore. He tells him his time has run out and sends him home.
9 Chefs Complete
Now that Salvatore is gone, the teams are in a tizzy. Benjamin is frustrated with Siobhan and full of negative comments, while the Blue Team is concerned about only having four members compared to the Red Team's five. The next morning, Scott calls the dorm with some news: Chef Ramsay is taking everyone to one of Los Angeles' oldest and most famous French restaurants. The contestants put on their snazziest attire and are surprised when they end up at an old sandwich shop. Turns out Chef Ramsay has brought them to Philippe's, a Los Angeles institution, because the 100-year-old restaurant lays claim to inventing the French dip sandwich.
After they sit down and dig in, Chef Ramsay gives them their next challenge: Back in "Hell's Kitchen," they'll each have 30 minutes to create an amazing gourmet sandwich. As they get cooking, Benjamin continues to criticize Siobhan and what she's making. After the 30 minutes is up, Chef Ramsay asks the Red Team to choose the person with the worst sandwich to sit out in order to even up the number of competitors.
The Red Team agrees Siobhan's looks and sounds the worst and knocks her out of the competition. First up is Benjamin's pan-seared ahi tuna on ciabatta. Chef Ramsay enjoys it, but he also likes Ed's open-faced grilled ahi sandwich. He gives both teams a point.
The second round presents two more stellar sandwiches -- Holli's smoked duck breast on pumpernickel and Jason's sloppy joe with lobster. Again, both teams score. Next, Jay's country pork pate sandwich beats out Fran's balsamic chicken with roasted peppers because of her soggy bread. And finally, Nilka's roasted pork with truffle mayo wins over Autumn's pork loin with sauteed vegetables. Chef Ramsay says Autumn's presentation is like the work of a first-year culinary student. Ouch.
To break the tie, Chef Ramsay tries Siobhan's "worst" sandwich, ahi tuna on challah bread. Chef Ramsay announces he prefers it over Fran's and scolds the Red Team for disqualifying Siobhan's sammy over Fran's, making the Blue Team the winners. Turns out Siobhan got to prove herself after all. As punishment, the Red Team must make homemade peanut butter from scratch, while the Blue Team is rewarded with a private jet ride to a winery for a day of wine tasting.
Back upstairs, Siobhan lets her teammates have it and says she's sick of being underestimated, but Benjamin sticks to his guns and tells Siobhan her sandwich wasn't up to par. Later in the day, as the Red Team continues cranking out their peanut butter, the Blue Team members come stumbling back in drunk. Fran says she hopes that their high will come back to bite them the next day. Later, Holli and Ed drink even more while they're in the hot tub. After she dares him to get naked, he shocks everyone and drops his trunks. So much for being the reserved contestant!
The next morning, the Red Team is raring to go, but the Blue Team is struggling just to get out of bed. When they finally make it downstairs, they're way behind in prep and begin making simple mistakes, leading the Red Team to believe they may just have an advantage this time around.
When the season's eighth dinner service kicks off, Holli admits she's concerned about Fran making risotto on the appetizer station, but right off the bat, Fran lands a compliment from Chef Ramsay. Unfortunately for the Blue Team, the guys don't get those same appetizer accolades when Jason delivers overcooked scallops to the pass and Jason doesn't salt his risotto enough. Chef Ramsay gives them a stern pep talk and explains that he thought he got rid of the team's weakest link. Speaking of weak links, Siobhan stirs up more trouble when she messes up her scallops, but she tries to convince Chef Ramsay that a few of them are salvageable. Angry, he kicks her out of the kitchen and makes her eat the scallops she cooked.
Back in the kitchen, Benjamin takes over the fish station and tells Siobhan to stay out of the way when she returns.
But it's not just the chefs who are angry. When one customer gets an undercooked steak, he takes matters into his own hands and delivers it back to the kitchen himself (in a none-too-pleasant way). Chef Ramsay doesn't have patience for the customer's attitude, hurls a few insults at him, and moves on.
At the end of his rope with his proteges, Chef Ramsay gathers the five Red Team chefs and yells at them for Nilka's raw chicken, before laying into Ed for being slow and calling out the Blue Team for not communicating. When Ed finally delivers undercooked duck, Chef Ramsay snaps and kicks out the entire Blue Team.
While the Red Team should be using this opportunity to pull ahead, Fran only angers Chef Ramsay further when she delivers a risotto full of raw lobster, prompting him to kick the Red Team out too.
Later on, Chef Ramsay wants answers about what went wrong. Siobhan, Nilka, and Fran admit they made mistakes, but Chef decides not to declare one a winner or the loser. He implores each team to choose two nominees for elimination. After much debate in the dorms, they report back downstairs with their decisions. The Blue Team has chosen Autumn and Ed, while the Red Team has nominated Siobhan and Fran. Chef Ramsay tells Ed that at this point he should be able to cook a duck, and calls Autumn the weakest chef during tonight's service. As for Fran, he simply can't believe how many times she's been on the chopping block, and expresses his disappointment in Siobhan for letting Benjamin kick her off her station.
Chef Ramsay says Siobhan works hard and means well, but she simply doesn't have the experience and he can't carry her any longer. Benjamin, of course, is all smiles.
With half the contestants now left, Chef Ramsay tells them they've got to prove their worth.