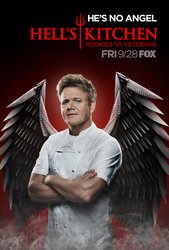 TV Info
---
Episode Premiere
October 13, 2009

Distributor
FOX

Genre
Reality

Show Period
2005 - now

Production Company
Upper Ground Enterprises, A. Smith & Co., Granada


Synopsis
---
Dave and Kevin are the Hell's Kitchen Final Two! But there is still one more dinner service which will determine who will become the Head Chef at Araxi Restaurant and Bar in Whistler, British Columbia. For their final dinner service, Hell's Kitchen will be divided in two and they will each design their own menus and run their own kitchens. The chef who impresses the customers and Chef Ramsay the most will walk away the winner. This will be the most important dinner service of their careers.
BUT, the night is not over. Dave and Kevin are whisked away to a hotel in downtown Los Angeles where, to their surprise, there is a huge crowd cheering for them. Chef Ramsay informs the finalists that for their final HK Challenge, they need to make a dish worthy of Araxi and that award-winning chefs and critics will judge their dishes. Dave's venison creation goes head to head with Kevin's lobster dish, and the votes of the guest judges make Dave the winner, much to Kevin's dismay. Meanwhile, back at HK, a divider is going up and the stage is being set for the final dinner service showdown.
Early the next morning, the chefs wake up to plan their menus. Kevin has complex ideas he is hoping will prove to Chef Ramsay that he is creative and has a strong vision. Dave, on the other hand, is planning a very simple menu focusing on dishes inspired by Whistler. Whether his menu is too simple or not, only time will tell...
In the kitchens, Chef Ramsay informs Kevin and Dave that their deliveries have arrived. When they open the delivery truck, they find 6 of their former competitors who have returned to cook in the final dinner service. As a reward for winning the challenge, Dave gets the first draft pick and chooses Ariel, Robert and Suzanne for his team. Kevin selects Van, Amanda and Sabrina.
The teams get straight to prepping their new menus. Kevin's team is confused, but eager to please. Dave's team is confident, but concerned their menu is too simple. Chef Ramsay offers a few key suggestions and approves both menus. He gives Kevin and Dave their head chef's jackets, wishes them well and instructs JP to open the doors to Hell's Kitchen for the final time!
Dinner service has a rocky start for Kevin when Amanda cannot deliver a properly prepared scallop appetizer. Kevin loses his patience and instructs Van to switch stations with Amanda. Amanda seems to do a better job with Kevin's risotto and some appetizers go to the diners. When the risotto comes back, Kevin loses it and tells Van to take over all the stations, which he does, and appetizers keep moving out of the kitchen. Amanda fails on fish entrees as well, but thanks to Van, entrees manage to get out of the kitchen.
Dave's kitchen gets off to a strong start thanks to Robert's mushroom risotto. But when Robert skimps on the mushrooms, Chef Ramsay is less than pleased. Dave stays on his quality control and the rest of his appetizers go out with approval. When it's Ariel's turn to deliver on the meat station, she runs into problems and puts Dave's kitchen behind. The team does rally together and completes service neck in neck with Kevin's kitchen.
Chef Ramsay's deliberation is difficult with such talented chefs to choose between, but he's made his decision. Kevin and Dave's friends and families along with the returning chefs and former HK winners all wait with baited breath. But it is Dave who is named Hell's Kitchen Winner and the next Head Chef at Araxi Restaurant and Bar in Whistler, British Columbia. He is tearful, grateful and proud to be Chef Ramsay's choice and the new Hell's Kitchen Winner!