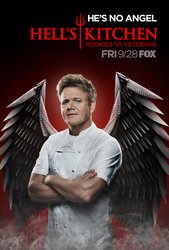 TV Info
---
Episode Premiere
July 28, 2009

Distributor
FOX

Genre
Reality

Show Period
2005 - now

Production Company
Upper Ground Enterprises, A. Smith & Co., Granada


Synopsis
---
Continued from the previous night's elimination, Chef Ramsay attacks Joseph on his inability to follow simple directions. Joseph doesn't back down, in fact he blows up, tearing off his jacket and charging towards Chef Ramsay. Joseph stands in Chef Ramsay's face, nose to nose, enraged and repeating "I ain't no bitch!". Chef Ramsay stands his ground before telling Joseph to get out, eliminating him from Hell's Kitchen forever.
With Joseph gone, Chef Ramsay isn't through. He turns to Kevin to name two members of the Blue Team for elimination. Andy and Tony are nominated to stand along side Lovely and Tennille, already selected from the Red Team. After each nominee pleads their case, Gordon wastes no time sending Tony home following his unconvincing plea. Tony is eliminated, ending his dream of becoming the Head Chef at Araxi Restaurant and Bar in Whistler, British Columbia. Chef Ramsay throws one last twist on top of an already action packed night by sending Robert back to the Blue Team to even things out.
Both teams try to get some rest after discussing Joseph's blow up, only to be woken up in the middle of the night by a fire alarm. Scott rushes into the dorms and corrals the contestants outside, where a cavalcade of fire trucks and firefighters line the front steps of Hell's Kitchen. Chef Ramsay informs the cast that while this was just a fire drill, a challenge awaits.
Each team must feed all the firefighters on their side of the dining room; the first team to finish will win the Pasta Service Challenge. Both teams get off to a slow start on their garlic bread appetizer. The red team pulls ahead when Lovely slowly but surely brings her garlic bread to the pass before Andy does on the blue side. But when both teams finally move on to the pasta entree, the race is on. Pasta dishes are flying out of both kitchens until the Red Team gets a dish sent back undercooked. The women rush to get their re-fired dish cooked and thanks to great teamwork, the Red Team manages to serves their final table of firefighters to win the Pasta Service Challenge.
As their punishment, the Blue Team must clean the fire trucks, a task that proves surprisingly hazardous. Kevin hurts both his ankles while Dave tweaks an old injury in his wrist. Kevin and Dave are forced to leave their team in the middle of punishment to go to the hospital with their fate in Hell's Kitchen unknown. While the Red Team enjoys an exciting helicopter ride over the southern California coast followed by a relaxing spa day, the two men return from the hospital, both in casts, but outwardly confident that they can continue in the competition and inwardly afraid their injuries will force them to go home.
For dinner service one member from each team is asked to wait tables in the dining room. Dave jumps at the chance to rest his gimpy arm while Lovely is chosen to wait tables for the Red Team. During service, Lovely is asked to go get a special bottle of wine in chef's office and she is slow in doing so, which puts her behind. Chef Ramsay yells at her for taking too long. In the red kitchen, Tennille has trouble on scallops and Amanda can't get it together on the meat station but Ariel emerges as a leader. On the blue side Kevin takes charge but can't seem to pull the rest of his team together. The Red Team completes dinner service first but the diners will decide the winner. Chef Ramsay tallies the comment cards and reveals, by the narrowest of margins, the Blue Team wins!
As best of the worst, Ariel chooses Tennille and Lovely to face Chef Ramsay for elimination. After listening to their pleas Chef Ramsay sends Lovely back in line but before Tennille can take her jacket off she is sent back in line with Lovely. Because Hell's Kitchen had already lost two contestants in the last elimination Chef Ramsay decides not to eliminate anyone on this night. Chef Ramsay tells everyone to pull it together before offering one last warning, "I'm nobody's bitch." Tennille and Lovely's dream of becoming the Head Chef at Araxi Restaurant and Bar in Whistler, British Columbia, remain alive... for now.