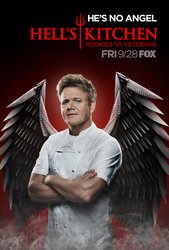 TV Info
---
Episode Premiere
March 05, 2009

Distributor
FOX

Genre
Reality

Show Period
2005 - now

Production Company
Upper Ground Enterprises, A. Smith & Co., Granada


Synopsis
---
The shock from eliminations was not from Seth leaving, but from Lacey moving to the blue team. The red team couldn't be happier, and they do not hide their joy. The blue team on the other hand, tries to welcome Lacey with open arms, but gives her the warning that they won't carry her to the finish line.
As morning comes, it is the blue team's first chance to see how Lacey is as a teammate. Chef Ramsay meets the teams at a local Asian market, where they are told their challenge is all about fusion cuisine: making one dish from multiple ethnic influences. So, they are to purchase all of the ingredients they will need to make Asian Fusion dishes. Each team is responsible for making 3 dishes, a chicken dish, a meat dish, and a fish dish. During the shopping, Lacey reads loud and clear that the blue team does not respect her, and her role is going to be the same as it was on the red team: low man on the totem pole.
After returning to Hell's Kitchen and cooking in pairs, Chef Ramsay introduces the aspiring chefs to a guest judge: Tanya Steel, the editor and chief for the Epicurious.com website. Together, they will taste the Asian fusion creations.
Robert and Danny's "Fat Man Slim's Asian BBQ Chicken" dish beat out Carol and Coi's Pomegranate Chicken dish. Ben and Lacey's Scallops with Sea Urchin and Caviar lost out to Paula and LA's Tuna Tempura. So now, the score was tied. The beef dishes were going to serve as the tie breaker. J and Giovanni's Dual Beef dish was competition for Andrea and Colleen's Kobe Beef Sashimi, but ultimately lost out. It was a red team victory, and Lacey found herself on the losing team again.
As the red team prepares for their reward, a day of surprises with Asian influence, Ben has a heart to heart with Lacey and lets her know that she is needed on the team, and he is going to help her however he can, so long as she puts in the effort.
After a day of inflatable sumo wresting and sake tasting, the red team returns to have an early night back at the dorms. While they were out, the blue team made fortune cookies and struggled through the night on making 1,000 paper origami cranes. Surprisingly, the teammate who pulled the Blue Team out of the muck in folding origami was Lacey. Perhaps Ben's talk worked.
As the teams prep for dinner service, Ben still has Lacey tucked under his wing and the blue team apprehensively readies for the doors to open. Once they do, the teams spring to action. Andrea struggles on the meat station, hiding her burnt Wellingtons and incorrectly prepared lamb racks under her station. When Chef Ramsay finds her secret stash, he lets his rage loose. On the blue side, J is struggling with the meat station as well, and shockingly, Lacey is keeping pace and helping to keep the blue kitchen moving and communicating.
Robert is struggling with the fish station, but something else is on his mind. It's the fact that Chef Ramsay has taken to calling him Bobby instead of Robert, and Bobby is the name of Robert's dad, with whom Robert does NOT want to be associated. But Robert keeps this mum for now, and discusses it with him once service has ended. Progressively as service goes on, more and more problems are developing on the various stations and after much effort, Chef Ramsay shuts down the kitchen.
Chef Ramsay is very disappointed in both teams. Because stations were falling apart on both sides, there is no winner. With strong starts on appetizers, Giovanni and LA are named Best of the Worst and are each told to nominate one member of their respective teams for elimination. As they head to the dorms, the red team congregates and Andrea admits she had a horrible night. She tells LA that she will understand if she is nominated. LA does not make her choice clear, but she is contemplating Colleen as well for her weak performance on desserts (she sent guest judge Tanya Steel a raw dessert). On the blue side, Robert is concerned that Giovanni will nominate him. Giovanni tells Robert he cannot nominate Lacey because she was a rock star tonight. J sits by himself upstairs knowing that he had a bad night and worried that he might be Giovanni's target.
As the aspiring chefs stand before Chef Ramsay, LA announces she is nominating Colleen. Giovanni says that his choice is J. Chef Ramsay wonders why he selected J over Robert, and warns that Robert might not be as safe as he may think he is. After a moment, Chef Ramsay calls up Colleen and J to give their final pleas. And, after a long and tiring night, Chef sends Colleen home. J knows he was lucky, and the teams both breathe a collective sigh of relief and head upstairs for bed.