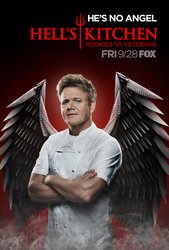 TV Info
---
Episode Premiere
June 20, 2013

Distributor
FOX

Genre
Reality

Show Period
2005 - now

Production Company
Upper Ground Enterprises, A. Smith & Co., Granada


Synopsis
---
The five chefs have only one thing on their minds - the coveted black jacket. But before they get down to business, Chef Ramsay shows the contestants videos of their families and friends from home.
He then informs them that their next challenge is to spend time with their loved ones. Jon, Mary, Ja'Nel, Cyndi and Susan share stories of their journeys with the people who matter most to them. But Chef Ramsay interrupts their time together to tell them he has decided to give black jackets to all five of them.
It's time for the families to leave Hell's Kitchen so the contestants can tackle the next challenge as individuals. The winner will get to spend the rest of afternoon with his or her family.
Chef Ramsay brings out a table full of pressure cookers. Mary is the only one of the five who has ever used one. They are asked to create a five-star dish from an inexpensive cut of meat. One by one, they open the lid of their pressure cooker to find out which protein they will prepare.
Cyndi discovers she'll be making pork roast, while Jon finds lamb leg, Susan gets pork belly, Ja'Nel has goat ribs and Mary ends up with short ribs. They have 45 minutes to prepare their dish. Susan continuously opens her pressure cooker, and Jon leaves his protein to cook too long and burns it.
Joining Chef Ramsay at the judges' table is Nancy Silverton, owner of Osteria Mozza, and Lesley Bargar Suter, a food editor at Los Angeles magazine. They will rate each dish on a scale of one to five stars. The chef with the highest score will win the challenge and be awarded more family time.
Susan makes pork belly with fennel and leek slaw, but the judges think the pork is undercooked. She gets three stars from each judge, combining for a total of nine.
Jon presents his lamb leg with rutabaga and potatoes. The judges are impressed with the way the dish looks but think it would have been better with more time in the pressure cooker. He earns ten stars.
Cyndi brings her pork roast with acorn squash puree to the judges. They like the flavors but feel it is visually unappealing. She gets only seven stars.
Ja'Nel's goat ribs with okra and sweet potato gets raves from the judges. Lesley says, "It's better than great," and Gordon calls it "phenomenal." She earns 14 stars.
Last up is Mary with her beef bourguignon and freshly made pasta. The judges are impressed with the effort put into the dish and a taste that matches. Mary claims victory with a perfect score of 15. She and her family are rewarded with lunch at Wolfgang Puck's WP24.
The remaining four chefs are left behind to spend the afternoon doing maintenance work for Tree People - digging in hillsides and shoveling mulch. In addition, it's recycling day, so they must dive into the Hell's Kitchen dumpsters and pull out all of the recyclables from the trash and put them in the proper bins.
After a rewarding day with her family, Mary's limo pulls up as her competitors are knee-deep in trash and maggots. They finish up and head up to the dorms to shower.
All of the chefs are ready to call it a night, but Chef Ramsay has other plans and asks them all to join him in the dining room. He tells them that at tomorrow evening's dinner service, they will compete as one team against some of the culinary world's finest masters. Check back next week to see whom they will be competing against and how they fare.