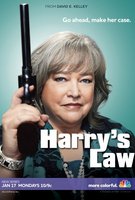 TV Info
---
Episode Premiere
October 05, 2011

Distributor
NBC

Genre
Drama

Show Period
2011 - 2012

Production Company
Bonanza Productions Inc., Warner Bros. Television


Cast and Crew
---
Director
Mike Listo
Screenwriter
David E. Kelley
Main Cast
Synopsis
---
Harry appeals to suspect Eric Sanders' daughter Bethany to appear as a witness for the defense. Her brother James will be testifying for the prosecution. She won't lie, Bethany tells Harry and her father, but she will appear. She leaves, and Harry and her team strategize. Sanders tells a lawyer joke, trying to cheer himself in spite of the specter of a possible death sentence.
The trial is set to begin. Judge Kirkland asks D.A. Remmick if she's ready, and she confirms that she is. When he poses the same question to Harry, she's got a bombshell: she's not. In chambers, Harry asks for a dismissal based on prosecutorial misconduct. She produces an affidavit from the deliveryman who testified that he heard Mrs. Sanders referring to an affair. Since the D.A. had the same information six months prior and didn't share it with the defense, Harry would like the case dismissed. The judge admonishes the D.A. but won't dismiss the charges.
Remmick opens the trial, riveting the jury with a reading from Sanders' journal in which he fantasizes about crushing his wife's skull "like a melon." Harry responds that the prosecution failed to investigate any possible suspects other than Eric. She explains that the real murderer must have read the journal as part of an attempt to frame her client for the killing. "I will be asking you to bring to this case something that the police and the prosecution never did," Harry tells them, "an open mind."
James Sanders takes the stand against his father. He tells the jury that his father hated his mother and most likely snapped. Harry cross-examines. She asks James if he considers himself mentally balanced. "Does anyone?" he replies, to the chuckle of the courtroom. He adds, "He killed her for the money." The damage done to the jury, Harry wants to let it pass, but Ollie insists on pursuing James further. Ollie tries to explain that, since Ellen died intestate (without a will), James had a motive to kill his mother: he would inherit his family share by probate. He replies that, unlike his father, he loved her - and he has an alibi.
Harry's livid at Ollie for pursuing the cross-examination and playing into Remmick's hands. Back at the office, the team argues loudly. Cassie suggests they go after the son as someone who may have hired the murder out. Harry demands that they stick to their plan to introduce the housekeeper as the potential killer unless they can uncover the victim's lover. At Harry's request, Ollie turns up the heat on Vinnie, the private investigator charged with finding evidence that could free their client.
Back at trial, Remmick examines the lead detective in the case. He testifies that the grisly murder was perpetrated by someone with rage. He explains that the blood spatters are consistent with the crowbar as the murder weapon. On cross, Harry gets him to admit that the physical evidence at the scene doesn't point to who perpetrated the crime.
Adam preps Bethany to testify. She'll need to keep her testimony focused on her belief that her father couldn't have killed her mother and to avoid opinions about his character. Adam's nervous, but he has done all he can. Harry's also nervous. She's got Cassie slotted to cross-examine a police witness the next day. Adam assures Harry that Cassie will be tough and incisive.
Tommy pulls a stressed Harry aside. He tells her he doesn't think she's enjoying the experience enough. This is a major trial with huge publicity and scrutiny. "Trust me, you do not want to wake up 10 years down the road and say, 'My God, why didn't I savor it some?'"
Remmick meets with Harry's housekeeper witness, Xenia Torres. The D.A. tells Torres that Harry is likely to try to paint her as the real killer. Remmick tells her therefore that they share a common interest in seeing Eric Sanders convicted. She wants to know how she'll testify the following day. The housekeeper is nervous and begins to sob. Remmick apologizes, telling Torres that she's not very good at small talk and wants to start over with her. "How's your immigration status, dear?" she asks.
The trial resumes. Cassie cross-examines a detective and reveals that the security cameras did not fully cover the grounds of the house. Someone could have sneaked along the edge of the house undetected, she gets him to admit. The victim's former boss and close friend Corrine Waters takes the stand. Remmick leads her on, and Harry objects. The two attorneys continue to bait each other until the judge calls them to the bench and warns them to behave.
Corrine Waters testifies that her friend Ellen Sanders felt scared. On cross-examination, Harry gets Waters to reveal that she never heard of any specific threats from Eric. Then, out of the blue, Harry asks Corrine if she murdered her friend. Harry explains that the victim tore up her will shortly before she died - and that Waters' foundation had been a major beneficiary. Harry goes on to explain that Waters has access to the house and a motive. Harry tells the jury: while she doesn't think that Corrine killed her best friend, she's appalled that the D.A. never investigated her.
Harry puts Eric Sanders on the stand. He explains away the journal entries as a form of release from the strain of his difficulties with his wife. I could never act on them, he tells the jury. The D.A. goes on the offensive. She finds it extremely far-fetched that someone else would have read his journals and framed Eric for the killing.
Eric's daughter, Bethany, takes the stand for the defense and explains that her father was incapable of killing her mother. She explains that he stuck it out in a difficult marriage for many years and could simply never do such a thing. Remmick cross-examines. She gets Bethany to reveal that in her last conversation with her mother, her mother told her that she was planning to divorce her father - and that she would be telling him the very night she was murdered.
Harry and the team are shocked. Eric had never heard this information - and Bethany swears she hadn't told anyone before today, not the D.A., not her father, not even her psychologist. Adam wonders how Remmick found out.
Harry recalls Corrine Waters to the stand and bluntly asks her if she was the victim's lover. The courtroom murmurs, and the judge intones them to settle down. Waters admits that she was involved romantically with Ellen, but she doesn't understand why it's material. She is incensed. You may have just destroyed my family, she tells Harry. She remains adamant that Eric killed his wife for the money.
Xenia Torres takes the stand. She worked as the Sanders' housekeeper for 18 years. She was fired by Mrs. Sanders the day of the murder. Harry asks if she did something to get fired, but she can't think of anything. Harry confers with Cassie. She's lying, Cassie tells her. Torres had told Cassie that she put a dead rat in Mrs. Sanders' bed, so she would fire her and give her a severance. Harry asks her why she told Cassie one thing and is testifying to another. Xenia tearfully explains that the district attorney threatened her family with deportation if she testified about the rat.
Judge Kirkland halts the testimony. He composes himself and then declares the trial over. The charges are dismissed due to the district attorney's extreme prosecutorial misconduct. Eric Sanders is free to go. The judge will recommend disbarment for the district attorney.
Harry, her team, Eric and Bethany gather in Harry's offices. They can't believe Remmick took such a grave risk with one of her witnesses. Eric's obviously relieved and hopes that Harry can assist with pursuing the real killer. Eric thinks it was the housekeeper, but Harry knows otherwise. Her investigator Vinnie has turned up phone records that show Bethany made several calls to the D.A. recently. She was planting the divorce story to strengthen the case against her father. Harry reveals that Bethany, in fact, was the killer of Ellen Sanders.
But Bethany denies it all; she thinks Harry is just fantasizing. With a deranged look in her eyes, Bethany tells her father and the assembled lawyers that she's been abused. She tells them how she suffered as she watched her mother mistreat her father - and how she suffered as her mother smothered her with love. "I was doubly blessed," she says sarcastically before turning and marching out the door.