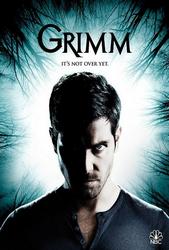 TV Info
---
Episode Premiere
March 08, 2013

Distributor
NBC

Genre
Drama, Fantasy

Show Period
2011 - Now

Production Company
Hazy Mills Productions, Universal Media Studios


Cast and Crew
---
Director
Terrence O'Hara
Screenwriter
Jim Kouf, David Greenwalt
Main Cast
David Giuntoli as Nick Burkhardt
Russell Hornsby as Hank Green
Reggie Lee
Silas Weir Mitchell
Sasha Roiz
Bitsie Tulloch
Bree Turner
Claire Coffee
Kate Burton
Synopsis
---
Monroe enlightens Nick about Juliette's romantic entanglement - with none other than Nick's boss, Renard. Nick sets off to handle the situation, against Monroe's will, but at the last second is called to a crime scene; four people have been murdered near a hotel. Nick knows it's the Hundjagers he just killed in self-defense. Meanwhile, Renard breaks into the trailer, and despite finding a treasure trove of information on Grimms, he can't seem to track down the key. He's called to the same crime scene.
Nick does his best to keep the investigators at the scene off his scent, but when Renard shows up, they have an awkward encounter. Nick knows about Renard and Juliette, and he obviously doesn't like it. Suddenly, Juliette calls Renard and asks him to come over. Nick's just moved out and she's having a hard time dealing with her conflicting feelings. Nick and Renard leave in different directions from the crime scene but share the determination to get to the bottom of what the now dead Hundjagers wanted.
Back at his house, Monroe gets a call from Rosalee. The two piece together the facts surrounding Juliette's situation and realize Renard is the prince who broke her spell and woke her from the coma. Monroe is relieved to find out Rosalee will be back in town tomorrow morning. Elsewhere, Nick is spying on Renard and watches him enter Juliette's house. Enraged to see the two kiss on the porch, Nick hops out of his car with bad intentions, but an urgent call from Monroe stops him in his tracks.
Nick rushes back to Monroe's on the news of Rosalee's discovery. It seems as if Juliette and Renard are both at least trying to rid themselves of the spell. Monroe suggests that there may be an antidote recipe at the spice shop. Back at Juliette's, Renard and Juliette fight their sexual impulses as much as they can, but they're no match for the spell. Trying to put a stop to it all, Juliette shoots off a gun into the ceiling, and Renard runs away.
While searching through the spice shop, Monroe and Nick find out that Adalind is responsible for the spell on Juliette and Renard. Sgt. Wu calls Nick to tell him about the shots fired at his house. When Nick arrives, Juliette is oddly mum about the details of what went down and is confused and visibly upset. Nick confesses to Juliette that he knows about Renard before leaving her in the lurch.
Adalind is unexpectedly released from her holding cell at the police station, but when she walks outside to freedom, Renard apprehends her to tell her about Nick's trailer and his plan of action. Renard recruits Adalind to help break the spell - and while she's powerless to help with the curse, she does know a way to ease the pain. Adalind seduces Renard in his Hexenbiest form.
Monroe and Rosalee have a sweet, romantic reunion when he picks her up at the bus station. But back at the spice shop, it's down to business. The spell has taken a sour turn; if they don't put an end to it soon, Juliette and Renard are going to end up killing one another. Rosalee does manage to track down a cure, but Nick, Juliette and Renard all need to play a part. She prepares a purification potion, but before Nick can drink it, he needs to run back to the station.
It's pivotal that Renard and Adalind get their hands on the key; both have their own motivations. Renard remembers Nick hiding something in his desk, and he desperately searches Nick's drawer for the key. Remarkably, it's there. A suspicious Hank interrupts just as Renard puts the key in his pocket. As Renard goes back to his office to investigate the key, Hank informs Nick of the captain's nosy behavior.
Hank tries to keep Renard at the office while Nick hurries over, but the captain leaves just before Nick arrives. When Renard gets home, Juliette calls to inform him that Nick knows everything. Things are coming to a head! When Nick realizes the key is missing, he rushes off to confront Renard. They decide to meet up, man to man, at a secret location.
Nick and Renard face off at the postman's abandoned house. When Renard's rage morphs him into a Hexenbiest, Nick is shocked to finally discover his secret identity. After some hand-to-hand combat, Renard surprises Nick by offering up the key as a sign of goodwill. They both know Adalind getting the key will mean chaos for everyone - maybe it's time they join forces. Nick then convinces Renard and Juliette to accompany him to the spice shop to put the spell reversal in motion. But when Nick drinks the concoction, he crumbles to the ground and begins convulsing! Meanwhile, in Vienna, Adalind takes a pregnancy test, and it turns up positive!