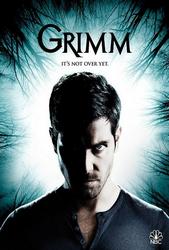 TV Info
---
Episode Premiere
August 20, 2012

Distributor
NBC

Genre
Drama, Fantasy

Show Period
2011 - Now

Production Company
Hazy Mills Productions, Universal Media Studios


Cast and Crew
---
Director
Terrence O'Hara
Screenwriter
Jim Kouf, David Greenwalt
Main Cast
David Giuntoli as Nick Burkhardt
Russell Hornsby as Hank Green
Reggie Lee
Silas Weir Mitchell
Sasha Roiz
Bitsie Tulloch
Bree Turner
Claire Coffee
Kate Burton
Additional Cast
Mary Elizabeth Mastrantonio
Mike Dopud
James Frain as Eric Renard
Synopsis
---
Trouble awaits Nick and his mother, Kelly, as the two Grimms carefully walk inside the warehouse where two FBI agents were murdered. Marnassier, the Mauvais Dente, lurks in the darkness and suddenly appears to attack Nick. The creature is too strong for Nick to handle after he loses his gun underneath a machine. Kelly appears ready for battle and joins the fight to harm Marnassier. Nick and his mom manage to insert a knife into the creature's neck, killing him, but there's little time to clean up the mess because Juliette is at the hospital and needs some important medicine.
Nick and Kelly meet up with Monroe and Rosalee, who have both been waiting anxiously outside Treeview Hospital for their arrival. The clock is ticking to deliver a specific potion to Juliette, in hopes of waking her up. Despite the hospital staff's orders, Nick manages to follow Rosalee's directions by shaking the liquid and adding six drops to each of Juliette's discolored eyes. As the group leaves the hospital, Nick receives a phone call from Hank asking him to come down to the warehouse to investigate a horrific crime. Rosalee and Monroe hesitantly drive Kelly home.
As soon as Nick arrives back at the warehouse, Hank fills him in, claiming three bodies have been found with two identified as FBI agents. The other body is referred to as John Doe even though Nick knows the body is that of the Mauvais Dente. Before the agents search for evidence at the scene, Nick secretly picks up the gun he left underneath the machine. He later drives off and throws it into a large body of water, hoping nobody will locate it during the investigation.
Late into the night, Nick and Hank continue to analyze evidence, including prints left at the scene of the crime. They discover the prints of the unknown victim match those found on the cargo ship. Before they leave the office for the evening, Agent Lofthouse and Kosloski arrive, suspicious another man is involved with the crime. They interrogate Nick about his recent phone call to Detective Burkhardt that lasted a short 27 seconds. Soon after, they demand his gun, but Nick isn't wearing one. Finally, they ask for a DNA test that Nick can't help but volunteer for. "I've got nothing to hide," Nick calmly tells the agents.
Hank follows Nick out of work where his suspicions begin to rise. He tells Nick it looked like he went up against somebody when he arrived at the warehouse. Despite his strong loyalty, Hank's not so sure about how much Nick was or wasn't involved with the murder. "Whatever you do, don't hang me out to dry," Hank says. Meanwhile, Captain Renard continues to investigate and calls his brother Eric, who is sleeping in a castle. He tells Eric that the young man who was murdered arrived on a ship, registered to a front company in Rotterdam. The exchange is mysterious and cryptic as both men ask if they were involved in the crime. Each of the men fails to share a definite answer.
Rosalee is working inside the spice shop when Catherine enters the building to pick up her vial. When Rosalee tells her it costs $300, Catherine morphs into her hexenbiest self in a fit of anger. She walks out with what she asked for after the price is cut to $250. Soon after, Nick visits his mom, alerting her he is meeting with Catherine, whose daughter poisoned Juliette. Kelly suggests she talk to Catherine one on one, mother to mother. Nick agrees but warns her the FBI is watching their every move.
Back inside her home, Catherine calls Captain Renard, ordering him to pick up the vile immediately. Once he arrives, she warns the captain he is in for quite the ride. In order for the potion to work and give him a pure heart, the captain must endure some serious pain. He leaves Catherine's home where Kelly appears to have been spying the entire time. Once Renard is out of sight, Kelly enters Catherine's house for a friendly chat. To no surprise, they each have different plans. Kelly starts demanding information about the Portland Prince. Before releasing any details, Catherine morphs and lunges forward. A war breaks out with knives, broken glass and Hexenbiest screeches. When asked how to save Juliette, Catherine responds, "You can't... only he can." Before we find out who "he" is, Catherine dies and sirens are heard in the distance.
Once again, the Feds arrive unannounced at Nick's office. This time, however, they are here to arrest Nick on suspicion of murder. Soon after, another interrogation begins between Nick and the agents. It appears a piece of hair was found at the scene that agents believe could be a relative of Nick's. "We want to know who you're covering for," Agent Kosloski says. Nick admits he's helping his mother, but they think it's a joke. After discussing several theories of what could have happened inside the warehouse, the agents agree to let Nick go.
After picking up Nick from the interrogation, Hank travels with his loyal friend to another homicide in the Southwest: the homicide of Catherine. As Nick stares at Catherine's body, he realizes the person likely responsible. When asked if the body has been identified, a sergeant claims it's Catherine Schade, the same last name as Adalind's. Once away from the crime scene, Nick is anxious to know what his mom learned or might have done to the victim. The only information she shares is that royalty from Portland can help save Juliette.
Soon after receiving his potion from Catherine, Captain Renard drinks the mysterious liquid. After a few seconds, he screams as every part of his body begins to hurt. He can barely walk in his apartment as he morphs into a creature we have never seen before. Parts of his body are turned into a strange creature while other parts remain half human. The torture and transformation continues into the night.
In a change of events, Kelly unexpectedly tells Nick it's time for her to go. Inside their trailer where the prized gold coins are stored, the two share a heart-to-heart with Kelly advising her son to never "leave the people you love." Nick then drops Kelly off at the nearby station where he expects her to board a train. As soon as he drives off, however, Kelly heads to the parking lot where she breaks into a car window and drives off to an unknown destination.
Juliette remains in a coma when Captain Renard arrives by her bedside. He gets close enough to kiss the young woman on the lips. She wakes up soon after he leaves and is shocked to find out she is staying in a hospital. Minutes later, Nick heads to the hospital where he spots doctors and nurses gathered around his girlfriend's room. Excited and surprised, he runs up to Juliette to give her a big kiss. She pulls away and responds, "Who are you?"