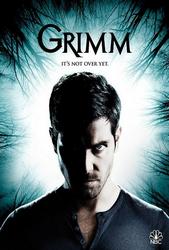 TV Info
---
Episode Premiere
February 24, 2012

Distributor
NBC

Genre
Drama, Fantasy

Show Period
2011 - Now

Production Company
Hazy Mills Productions, Universal Media Studios


Cast and Crew
---
Director
Michael Watkins
Screenwriter
Naren Shankar, Sarah Goldfinger
Main Cast
David Giuntoli as Nick Burkhardt
Russell Hornsby as Hank Green
Reggie Lee
Silas Weir Mitchell
Sasha Roiz
Bitsie Tulloch
Bree Turner
Claire Coffee
Kate Burton
Synopsis
---
Hidden away in the woods, an elderly couple prepares dinner together. Things seem peaceful enough, until the husband goes outside to investigate a suspicious noise and is gutted alive by a fearsome alligator creature. The wife is next, as he slashes her throat and leaves her for dead. Wild and delirious, the creature takes off into the woods only to be captured by mysterious figures on horseback, who lasso him and wrangle him to the ground, dragging him mercilessly behind their horses and into the night.
Hank and Nick arrive on the scene and are stumped by the sloppy nature of this savage attack. Fingerprints are all over the scene; identifying their killer should be easy. They scope out the surrounding area and are surprised to find a number of horse tracks considering the victims didn't have horses.
Meanwhile, Juliette calls Nick for any requests as she plans their anniversary dinner. She's putting away some laundry when she stumbles across a big surprise that puts a smile on her face... Nick's hiding an engagement ring in his sock drawer!
After identifying their prime suspect as Dimitri Skantos, a criminal with three priors who was released on probation last month, they pay a visit to his probation officer, Leo Taymor, who's surprised to hear about his violent tendencies. After learning he was employed at his uncle's boxing gym, Nick and Hank decide to pay a visit.
At the gym, Nick comes across Bryan, Dimitri's workout buddy and a Grimm Rhino creature, a Dickfellig. The last he saw of Dimitri was at the gym a few weeks ago, before he went on a run in Forest Park. Bryan takes Nick and Hank down to the park before taking off on a run of his own. Nick and Hank spot horse manure at the scene, which is only 6 miles away from their crime scene. Meanwhile, as Bryan runs down the trail, he's snatched and dragged away by the same allusive men on horses.
Dimitri's car is discovered out by an abandoned warehouse. Nick and Hank enter the warehouse to find a suspicious scene: blood spattered on the floor of what appears to be a ritualistic fighting area, decorated with Latin phrases. It's too much blood for bare-knuckle fighting... maybe they're using more than their fists. After discovering some ancient weapons, their suspicions are confirmed. Blood at the site matches the blood of Dimitri, tying this fighting ring to their murderer. The question is, how?
When the captain gets wind of this underground fighting ring, his connections to the Grimm world resurface. He tracks down Leo Taymor, Dimitri's parole officer and the man who apparently runs the fight club and demands that he shut it down. The captain had very specific rules for who was allowed to participate, and Dimitri wasn't one of those people. Leo retaliates, claiming that royalty doesn't have the pull it once did; this fighting ring is bigger than he is. The captain holds his threats, demanding that Leo clean up this mess, or he'll clean it up for him.
Nick recruits Monroe to find more information about the location of the next fight. He tracks down a Grimm bookie, who, after a bit of bribing, tells him to meet at a location that night for information on the next fight. Monroe shows up there at the instructed time, but ends up getting kidnapped and dragged off while he's on the phone with Nick. It looks at though this Blutbad is the next victim to enter the ring.
They're caged up like animals, and the fate of Monroe and Dimitri doesn't look great. But the two do share a tender moment, as Monroe attempts to salvage any shred of humanity Dimitri has left by helping him with his injured hand. The "handlers" come by and throw meat into their pens, which Dimitri savagely devours. Monroe is repulsed to discover that the meat is tattooed; this is human flesh.
Shortly after, Monroe finds himself facing Dimitri in the ring, and despite Monroe's plea for mercy, this looks like a fight to the death. Monroe puts up a good fight, but his strength is no match for this fighting veteran.
At the last minute, Nick arrives on the scene and puts a gun to the head of Leo, the ringmaster (and appropriately named Lion creature). Nick demands that he let Monroe go free, but Leo comments that in this ceremonial battle, it's required for someone to die. Carefully noting that he's heavily outnumbered, Nick attempts a new strategy and offers to go in the ring to replace Monroe. The onlookers are thrilled at the idea of a Grimm vs. creature battle, and the fight is on.
Nick proves to be a skilled fighter and actually manages to wrestle Dimitri to the ground after a heated battle. But the onlookers aren't happy with the outcome and start to turn on Nick and Monroe, making their way towards the ring. The police arrive just in time, shutting down the operation and saving Nick and Monroe from an unfair fight.
Meanwhile, Juliette watches the hour pass by at home with her beautiful romantic meal gone to waste. Yet another night alone while Nick is who knows where... yet Nick is apparently planning on proposing. What does it all mean?