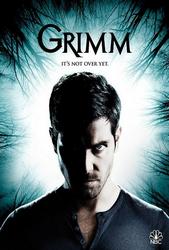 TV Info
---
Episode Premiere
December 08, 2011

Distributor
NBC

Genre
Drama, Fantasy

Show Period
2011 - Now

Production Company
Hazy Mills Productions, Universal Media Studios


Cast and Crew
---
Director
David Solomon
Screenwriter
David Greenwalt, Jim Kouf
Main Cast
David Giuntoli as Nick Burkhardt
Russell Hornsby as Hank Green
Reggie Lee
Silas Weir Mitchell
Sasha Roiz
Bitsie Tulloch
Bree Turner
Claire Coffee
Kate Burton
Synopsis
---
Teenage ravers are crammed into a warehouse, as neon strobe lights fill the dance floor. A chant grows from the anxious teens: "Retchid Kat! Retchid Kat!" Behind the curtained DJ booth, we see Roddy Geiger, a teenage boy, listening to the chanting of his peers. Roddy puts on a huge cartoon-like cat head, which hides his identity, and makes his way to the stage.
Meanwhile, a string quartet of high school students is rehearsing Saint-Saens' "Danse Macabre." Trey, Carter, Sarah and Marvin sound beautiful, until Carter flubs a passage and gets reprimanded by his strict music teacher, Paul Lawson. It looks like they'll be here as long as it takes to get the song right, even if it means all night.Later, Mr. Lawson leaves for the night; practice is long over. Lawson heads to his car in the empty parking lot. As Lawson gets into his car and locks the doors, he feels something scurry past his feet. He looks into the rear view mirror: a herd of very large rats is pouring over the back seat, heading his way. Rats crawl all over him; he screams and pounds on the window, but it's too little too late.
The next morning, the assistant principal arrives early to find Dr. Lawson's car in the parking lot. Curious, she investigates further, only to find Lawson's dead body having been feasted upon by rats. Later that morning, Nick and Hank arrive on the scene. After recovering from the horror of the man's mangled body, the team finds cages strewn haphazardly in the bushes. The cages belong to Geiger Pest Control.
Nick and Hank make their way to one of the student's homes to question Mr. Lawson's four pupils. Sarah lives in a beautiful neighborhood, and it's apparent that her three friends are well off as well. While the students saw nothing suspicious at rehearsal that night, Carter does point out that Roddy Geiger, the son of the Geiger Pest Control owner, went to their school. Roddy was suspended a few days ago for fighting and used to be one of Lawson's music students.
The detectives arrive at Roddy's home, a beat up trailer along the river. They hear a haunting violin melody coming from behind the house, which they follow to find the boy in question. Roddy is playing to a solid wall of cages filled of rats. The rats all seem subdued and are a surprisingly captivated audience. Nick and Hank interrupt to question Roddy, who immediately becomes extremely defensive. When Roddy's father comes to his defense, Nick sees him half-morph into a Reinigen, a rat-like creature. Roddy realizes that Nick sees his father as a Reinigen and takes off running, as his father takes a swing a Hank.
Roddy's father is arrested; he looks like a prime suspect without a solid alibi on the night of Mr. Lawson's attack. While Roddy is reluctant to give it up, he does have an alibi; he was DJ-ing as DJ Retchid Kat. Upset that his father's stuck in jail, Roddy makes an angry and dramatic exit from the police station.
Surprisingly, it's the autopsy of the rat instead of the victim that provides a valuable clue. The rat's stomach has undigested bits of cloth, including nylon fibers that didn't match any of the clothes Mr. Lawson was wearing. The fibers are the kind used in the car carpeting of expensive cars, certainly not the cars that the Giegers drive.
Roddy sneaks up on Sarah outside her house. It's clear he's not supposed to be there, and it's also clear that they also have a romantic history. Roddy tells Sarah that he knows in his heart that she believes his family isn't responsible and asks why she didn't back him up. She claims that Roddy is someone she used to care about; she's with Carter now. But her words clearly don't match the reality of her emotions, and she lets Roddy kiss her.Later, Nick catches up with Monroe to get the 411 on Reinigen. They're at the bottom of the food chain and are rarely violent unless pushed to the limit. Nick explains Roddy's incredible talent and hopes that Monroe will talk to Roddy since he's also a Grimm and a musician. Maybe if Monroe gives him a heart to heart, he'll be able to get the troubled Roddy back on the right track.
Monroe begrudgingly agrees to visit Roddy and arrives at his dilapidated trailer. While at first on edge to get a visit from a Blutbad, Roddy loosens up and actually listens to what Monroe has to say. Later, Monroe tells Nick that he really thinks he made an inroad and gave Roddy a lot to think about. But the reality is a bit different; back at the trailer, Roddy is enraged, trashing his place. This kid is on a rampage, and he's out for revenge.Hanks and Nick were able to trace the nylon fibers to one car in particular, a BMW X5. And the one student who drives that car? None other than Sara's boyfriend, Carter Brimley. Nick and Hank impound the car and find the evidence they need to make Carter a suspect.
Marvin, Carter and Trey get a text about a DJ Retchid Kat rave, tonight! Meanwhile, Roddy grabs his cat head and a violin and heads to the warehouse, as a stream of hundreds of rats follow in tow. DJ Retchid Kat IS performing tonight, but it definitely won't be his usual set.
Carter's parents are unable to track him down; in fact, none of the parents of the four musicians are able to find their kids, who claimed to be seeing a movie. Sarah's mom discovers that she's left her phone and finds a recent text about Retchid Kat's performance tonight. Nick and Hank take the lead and run.
Sarah, Trey, Marvin and Carter arrive at the warehouse location, surprised to see they're the only ones parked outside. But they hear the bumping rave music; it looks like the party's already started. They follow the noise down deep into the warehouse to find candles lit everywhere, but the warehouse is abandoned.
The music suddenly stops and DJ Retchid Kat makes his appearance, only to whip out his violin and begin playing. The kids realize that Retchid Kat is Roddy, and he's out for revenge. As Roddy plays the violin, rats fill the room. The kids scream in fear and desperately try to make their escape. Sarah hits the floor, rats all over her, as the boys run, leaving her to fend for herself. Nick and Hank arrive just in time and stop Roddy, helping Sarah recover from the attack.
In the aftermath, the boys confess to their crime. They explain that they didn't mean to hurt Dr. Lawson; they just wanted to scare him and make Roddy look responsible. Meanwhile, Nick explains to Roddy that Sarah had nothing to do with the attack and didn't know her friends did. Roddy's in the clear since no one got hurt, that is, except Dr. Lawson.