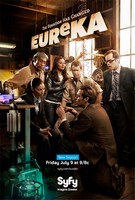 TV Info
---
Episode Premiere
July 30, 2010

Distributor
Syfy

Genre
Sci-Fi, Comedy, Drama

Show Period
2006 - 2012

Production Company
NBC Universal


Cast and Crew
---
Director
Colin Ferguson
Screenwriter
Eric Tuchman
Main Cast
Additional Cast
Synopsis
---
It's space week in Eureka, and everyone is gearing up for the rocket race - except for Carter. He's getting ready to visit Zoe, and is a little apprehensive of any changes that may have happened because of the time travel.
General Mansfield is in town for the big Race to the Moon, and is debriefed on a new oxygen-generating fluid designed, called TAP, for colonizing Mars. The race begins impressively, but is soon sidelined by Zane, flying erratically on the sky cruiser. Zane blames a malfunction, but the General wants him locked up. Jo rushes to his defense, and narrowly gains approval for an investigation. Allison can't find any sign of inebriation, but Henry finds something strange - the sky cruiser's fuel tank is empty.
Zoe is surprised by her father's visit, and excited to receive a care package including cheese snacks and "Match Mist," a spray that matches clothing to its surroundings. She and Carter head out for dinner, leaving Zoe's test subject, an angry cat named Mabel, alone in her dorm room. Upon their return, they find that Mabel has coated herself with the match mist, and is now completely invisible. They corner her in a bathroom, but still can't grab hold of her until they can see her. Before long, Zoe grows frustrated with her dad and leaves him on his own. Luckily, he discovers that Match Mist washes off.
Kevin tells Grant that he credits hydrogen peroxide boosters for his lead in the rocket race, but Grant informs Allison that if that were the case, the plume of his rocket wouldn't be the color it is.
Zane asks Jo why she's standing up for him, and she dodges the question by giving him the choice of running, or staying to fight - and he leaves. Andy, investigating the crash site, discovers some strange signs, and back at GD, Jo learns that the TAP has been stolen. Just then, Zane returns, and the two head up to the crash site to investigate. As they do, they're overcome by dizziness and almost careen of a cliff. Andy, his hand mysteriously singed, finds them and brings them back to GD, where they link the clues together to discover that someone must've used the TAP at the launch site. Since it's self-propagating, it'll spread to town before long - when the rockets hit it, the whole town will explode.
At Harvard, a caring Zoe returns to her dad, and together they hatch a plan and get Mabel, and their relationship, back to normal.
When they question Kevin about using TAP to fuel his rocket, Allison reveals that she stole it to boost his rocket - she didn't want him to be disappointed if he lost. They try to destroy the rockets, but one is out of range, meaning they must reduce the oxygen to save the town. Unbeknownst to his mom, Kevin heads to the launch site with a plan to release hydrogen and create H2O, a process that could be explosive. Terrified, she rushes to save him, but he convinces her to trust him. They set the plan in motion, and it works!
The lone rocket, however, destroys Jo's house, but she has two comforts: Carter offers her a spot in his home, and Zane uses her old nickname - Jo Jo.