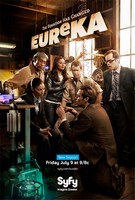 TV Info
---
Episode Premiere
September 23, 2008

Distributor
Syfy

Genre
Sci-Fi, Comedy, Drama

Show Period
2006 - 2012

Production Company
NBC Universal


Cast and Crew
---
Director
Eric Laneuville
Screenwriter
Thania St. John
Main Cast
Additional Cast
Synopsis
---
When a potentially world-altering scientific discovery from Eureka's past finally comes to light, can anyone be trusted with it? The question is far from rhetorical for Carter: Zoe's life is in immediate danger and Eva Thorne knows why.
Trust is becoming a rare commodity in Eureka. Jo is unsure of her relationship with Zane while Carter and Allison wonder why Eva Thorne (Frances Fisher) is so secretive about the underground bunker. The bodies that were found there are to be shipped out, by Thorne's orders, before Henry can examine them. Thorne has ordered Dr. Hendricks to use his mysterious security system to defend the entire area. Carter hopes a photo from the Cafe Diem collection will supply a clue. Adding to the uncertainty, S.A.R.A.H. suddenly says Zoe is an intruder and cages her, claiming her DNA has been changed. Lexi thinks this proves that having an "intelligent" house is not very intelligent, but Fargo insists S.A.R.A.H. cannot make a mistake.
While Jo and Zane try to find out what Hendricks has put into thousands of remotely triggered canisters, Allison diverts the bodies to Henry's garage where he uncovers something very disturbing about their deaths. He also discovers something Allison may have suspected but certainly did not know. Carter experiments with one of the canisters, accidentally trapping a feuding Jo and Zane at the foot with a super adhesive. When their help is most urgently needed, they are forced to work together - but it is not easy.
What Fargo finds in the Café Diem photo leads Carter to Thorne. When he reveals he's called in General Mansfield, she is rattled. But when he tells her that Zoe was exposed to whatever is in the bunker, she is deeply shaken. As Carter and Thorne form a tentative alliance to save Zoe, Hendricks' canisters activate and seal them in the bunker. Unless Jo and Zane can defeat Dr. Hendricks' bonding agent, Zoe - and all of Eureka - will come to a swift and devastating end.