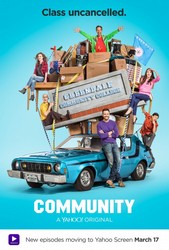 TV Info
---
Episode Premiere
February 24, 2011

Distributor
Yahoo, NBC

Genre
Comedy, Drama

Show Period
2009 - 2015

Production Company
Krasnoff Foster, Sony Pictures Television


Cast and Crew
---
Director
Jay Chandrasekhar
Screenwriter
Adam Countee
Main Cast
Synopsis
---
With Pierce back from rehab, all is well with the group again. It seems that, regrettably, all they have left to do is study. Dean Pelton saves the day when he interrupts with big news: Vice President Joe Biden is visiting campus as a part of his Biden-Time Talkin' Bout Teachin' Tour. Abed comments that that would explain the people he's noticed observing campus; it must be Secret Service. The group laughs off his remark, while we cut to a man in a janitor's outfit speaking into a hidden microphone. During his visit, Biden plans to meet with the president as well as the student body president. This presents them with a problem; Greendale never elected a student body president, and now has only seven hours to do so. Annie is excited at the prospect of running. Unsurprisingly, she has a long list of ideas for bettering the school.
The elections are underway, and Dean Pelton is celebrating the occasion by wearing a woman's Uncle Sam costume (his sister's, he claims). He says that anyone who wants to run can come up to the podium and make a speech, and it's decided by applause if they qualify for the primaries. Meanwhile, Annie is frustrated with Jeff's complete ambivalence towards the election and unwillingness to help her with her campaign. He's convinced that politics are all about ego, popularity, and parlor tricks, while Annie truly believes that she can make a difference.
Abed is approached by two Secret Service agents, who search him and ask how he knew they were observing the campus. He comments that he's just an observant person. When he comes out clean, with the exception of a bootleg copy of "The Last Airbender," they let him off. The female agent appears to have taken a special interest in Abed because they both have the same personality; intelligent, but seemingly lacking normal human emotions. She performs a "random spot check" on Abed's apartment and he calls her out on just looking for reasons to spend more time with him. She tells him that she's sorry he wasn't a more obvious potential threat to the country.
The primaries are moving along, and so far every candidate has made it to the next round despite being completely under-qualified. Except for Brita, whose anti-establishment speech pleases no one. Annie, the only one prepared, is delighted to move forward. However, her celebration is cut short when Jeff makes a very cliche speech at the podium and immediately wins over the audience. It's clear that he's hatching a plan to unfairly win the election just to prove a point to Annie.
Next is the debate. Annie's arguments are structured and rational, while Jeff spews nonsense that the crowd loves. She becomes fixated on cleaning the mold off of the east stairwell, leading a chant: "No matter what you're told, you have to clean the mold!" When Jeff still refuses to back off, Annie warns him that the gloves are coming off. She shows a video of Jeff's audition tape for "The Real World" in 1997, in which he does an embarrassing rendition of "Faith" by George Michael. Jeff is humiliated and runs off the stage.
Annie finds Jeff and apologizes; admitting that showing the video was out of line. He says that he deserved it; he's just a jaded adult. Annie reveals that she pulled out of the race because she was running for all the wrong reasons. The two admit that they care a lot about what the other thinks of them, and they embrace.
The race is down to two extremely unqualified candidates: Magnitude, the crowd pleaser, who only says "Pop, Pop!" and Leonard, the old man, who only makes farting noises. A whopping 11 people voted, and with seven votes the landslide winner is... South Park. The television show. This, Dean Pelton announces, is why student government at Greendale was abolished in the first place.