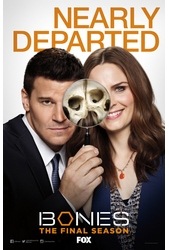 TV Info
---
Episode Premiere
November 18, 2010

Distributor
Fox TV

Genre
Drama, Crime

Show Period
2005 - now

Production Company
Far Field, Josephson Ent., Fox TV


Cast and Crew
---
Director
Tim Southam
Screenwriter
Karine Rosenthal
Main Cast
Emily Deschanel as Dr. Temperance 'Bones' Brennan
David Boreanaz as Special Agent Seeley Booth
Michaela Conlin
T.J. Thyne
Tamara Taylor
John Francis Daley
Additional Cast
Ryan Cartwright
Wayne Knight
Tiffany Hines
Synopsis
---
ACT 1

An excited crowd watches as Jimmy Walpert, owner of Walpert Chocolates, unveils the World's Largest Chocolate Bar. Everyone is eager to get a taste of the confection. As Walpert employees cut the chocolate bar in half, their saw gets stuck. What's the matter? It looks like this chocolate bar has a creamy human center!
Brennan peers inside the chocolate bar and determines that the victim is a female in her late twenties. Cam is concerned that she will have trouble separating the victim from her chocolate shell. Gases were trapped by the chocolate during decomposition and reduced the soft tissue to mush. Jimmy Walpert approaches with Scott Kimper, Chief Chococlate Engineer. Both men were there the day the bar was poured and there was no dead body. Cam doesn't think she will ever eat chocolate again.
ACT 2

Brennan, Cam and Vincent Nigel-Murray watch as the chocolate bar undergoes a CT Scan. Vincent has squandered the money he won on Jeopardy so he has returned to the Lab.
Cam meets with Michelle in the Lounge. She has a mountain of college catalogs spread over the table. With Michelle's grades and SAT scores, she can get into any of these schools. Michelle has other plans: she wants to attend Central Maine State University with Derrick. Cam isn't thrilled about the idea so Michelle stalks off.
Booth and Brennan have coffee at the Diner while Vincent cleans the bones. Brennan believes fractures to the skeleton indicate a struggle but they won't know more until Vincent has completed his task. Angela calls, having completed the victim's facial reconstruction. However, she didn't get any hits from Missing Persons. Brennan shows the photo to Booth. He thinks the victim was very attractive. Yowza!
Hodgins finds Angela working on 3D images of the remains. He is ready to tell everyone about the pregnancy. He wants to throw a party at the Founding Fathers to announce the news. He can't wait to see their faces. Angela offers to invite the guests. She doesn't want Hodgins to give away the secret. Cam arrives as Hodgins leaves. Angela explains that they are throwing a party and Cam has to act surprised when Hodgins reveals they are going to have a baby. Cam promises to do her best.
At the Walpert Factory, Jimmy Walpert and Scott Kimper identify the victim as Harriet Soloway, an employee who worked in R&D. They thought she was away at a Cocoa Bean Symposium in Baltimore. Jimmy and Scott last saw her on Monday morning. Scott leaves to retrieve Harriet's personnel file.
At the Lab, Hodgins and Vincent disagree on how to remove the chocolate from the bones. Vincent wants to use hairdryers while Hodgins wants to melt the chocolate with heat lamps. Cam stops them before they do anything. According to the 3D images of the remains, there are two bubbles in the chocolate above the victim's mandible. This could be her final breath. Cam doesn't want the chocolate to melt because then she will lose any information from the bubbles. Vincent suggests that they cut the bubbles out and freeze them until they find a way to extract the gas inside.
Booth sits with Geneva Soloway. She and her sister were so busy they barely talked but she is visibly upset by the news of her death. Geneva is confused about Walpert Chocolates. Booth reminds her that Harriet worked there since graduating from culinary school. Geneva asserts that Harriet went to Penn State, not culinary school. None of this information is correct.
ACT 3

Booth and Sweets agree that Harriet Soloway lied extensively to get her job. Booth checked on her employment records through her social security number. She changed jobs and industries every year. She created a new resume for each position, each filled with false information. Their victim is clearly intelligent to be able to plant herself as the "ideal candidate." Maybe she lied to the wrong person.
In the Autopsy Room, Cam uses a syringe to extract the gases and aerated fluid from the chocolate air bubbles. She is upset that Michelle is following a boy to Central Maine State University. Angela advises Cam to let Michelle make her own decisions. She's almost an adult. Cam still feels the need to guide her. Angela suggests that she talk to Sweets.
Vincent works with the bones, still sticky from the chocolate. He has confirmed that the contusion on the skull matches the edge of the chocolate mold. Someone held the victim down forcefully and Harriet suffocated while she was submerged. Brennan reexamines the radial trauma. This injury occurred six months ago and was never properly treated.
Booth drives as he explains to Brennan that Harriet had a reputation for seducing men on the job. Each of her employers has said as much. Perhaps she was involved with a Walpert employee? Booth doesn't know but she was involved with her boss at Bellomo Sparkling Wines: Lawrence Bellomo. It didn't end well and six months ago Bellomo was making threatening phone calls to her. Hodgins and Cam call: there was an extremely high concentration of carbon dioxide in the first air bubble as well as traces of a number of acids and sugars. It was a burp caused by champagne...more specifically Bellomo Sparkling Wine.
In the Interrogation Room, Lawrence Bellomo denies drinking champagne with Harriet. He hired her about a year ago and they started dating. Lawrence thought they were going to get married so he was blindsided when she dumped him six months later and quit. A month later, Lawrence lost his biggest distributor. Talk about bad luck. Lawrence admits that he slept with Geneva too. He met Harriet through her sister. Geneva was not too happy when she found out about the relationship between Harriet and Lawrence. She tried to attack him. Harriet and Geneva hated each other.
ACT 4

Booth interrogates a nervous Geneva Soloway. She claims that Lawrence is ancient history but she couldn't believe that he fell for Harriet's "act." Her sister was a total phony. She could easily manipulate people and so everybody loved her. Only Geneva knew the truth. She doesn't know who stabbed Harriet in the arm six months ago but she doesn't have any sympathy.
Vincent presents Brennan with a clean skeleton. He reports that the murderer held the victim down with one hand and suffocated her with the other hand. He also shows her a magnified image of the radial trauma. The bone formed a callus around a foreign object embedded in the stab wound. She instructs Vincent to send a sample to Hodgins for identification.
Cam speaks with Sweets at the FBI. Sweets believes Cam is overreacting. Michelle needs to make mistakes. Otherwise, she won't grow. Also, Michelle may feel differently about school in the next few months. Cam argues that deadlines are approaching. They are running out of time. Sweets thinks Michelle is worthy of trust. Let this play out.
Hodgins has identified the foreign object in the victim's bone: helopeltis theobromae. It's a bug! They are from Indonesia and love to snack on cocoa plants.
Booth and Brennan discuss the new turn in the case. Harriet was in Indonesia six months ago. Booth pulls out a file on Ambrosia Chocolates. Every employee of Ambrosia Chocolates is sent to Indonesia for a program to learn about cocoa. But Harriet didn't work for Ambrosia Chocolates...did she? Booth realizes that every company Harriet work for suffered a major setback after she left: corporate espionage. Harriet really worked for Ambrosia Chocolates as a spy.
ACT 5

Booth meets with Gail Slevin, president of Ambrosia Chocolates. She has been trying to buy out Walpert Chocolates for years. Walpert won't sell. Booth threatens Gail with prison if she illegally obtained secrets about her competitor. Gail comes clean. Harriet worked for Ambrosia. She was sent to Indonesia and that is where she injured her arm. It was difficult to get medical care on the remote plantation. Gail heard from Harriet last week. Harriet said she was going to quit because she thought Jimmy was onto her.
In the Autopsy Room, Michelle interrupts Cam with a peace offering: a sweatshirt from Central Maine State University. Cam takes the sweatshirt and tells Michelle she supports her Cam goes back to work and Vincent interrupts. One of the victim's fingers was twisted and dislocated before she died.
At Walpert Chocolates, Jimmy Walpert is losing his temper. The unexplained murder and Booth's investigation are ruining his business. He orders Booth and Brennan off the premises. Booth arrests Jimmy after he threatens to call the dogs. Can you believe this guy?
ACT 6

Booth and Brennan question Walpert at the FBI. He is shocked to learn that Harriet was a spy. He demands to talk to Scott Kimper and find out what he showed her. Scott was in charge of all new formulations. Booth and Brennan wonder about the relationship between Harriet and Scott. Walpert suggests that something was going on between them.
Booth and Brennan review Scott Kimper's credit card charges. He bought something from the liquor store, likely Bellomo Sparkling Wine. And then there is the $2000.00 he spent on an engagement ring, which he probably yanked off of Harriet's finger. Too bad they don't have anything but circumstantial evidence.
At the Lab, Hodgins brings the results of the final air bubble to Cam. He sees Michelle's college application essay to Johns Hopkins. Is Cam applying to schools on Michelle's behalf? Cam asks him to keep it a secret. Hodgins agrees though he disapproves.
Cam gives Brennan the results from the second air bubble. This was indeed the victim's last breath. It contained trace amounts of blood...the blood of the murderer.
Scott Kimper confesses to the murder. He loved Harriet...he trusted her and she betrayed him. If Harriet wasn't inside the World's Largest Chocolate Bar, it would have been the World's Most Delicious Chocolate Bar.
Booth and Brennan head to the Founding Fathers when Booth gets a message from Hannah. She is back in town and Booth desperately wants to see her. Brennan agrees to cover for him. Inside the Founding Fathers, Angela encourages Hodgins to start. Hodgins announces that a baby is on the way and the Squints clap and cheer. Hodgins catches on. They already knew! Hodgins confronts Angela and she tells him that they all guessed. But the point is they are all together and ready to celebrate. To the Hodgins family!