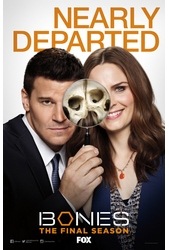 TV Info
---
Episode Premiere
April 29, 2010

Distributor
Fox TV

Genre
Drama, Crime

Show Period
2005 - now

Production Company
Far Field, Josephson Ent., Fox TV


Cast and Crew
---
Director
Jeff Woolnough
Screenwriter
Karine Rosenthal
Main Cast
Emily Deschanel as Dr. Temperance 'Bones' Brennan
David Boreanaz as Special Agent Seeley Booth
Michaela Conlin
T.J. Thyne
Tamara Taylor
John Francis Daley
Additional Cast
Pej Vahdat
Tiffany Hines
Elon Gold
Josh Todd
Michael Des Barres
Molly Morgan
John Wynn
Steven Hack
Synopsis
---
The MANAGER of a fancy hotel shows his date the facility's new and improved laundry room. The manager's date is not impressed with the large, industrial sized washers and dryers. While the manager spits out dull facts about the washer, his date notices a large object rolling around in the suds. The two lean closer and are shocked to see a goopy skull rolling around with the laundry!
BRENNAN and BOOTH arrive on scene and wonder if the body was thrown down the laundry chute. Brennan notices Booth's new tie, which is a gift from Catherine. CAM climbs into the large washing machine to collect more of the remains and notices that the body tissue is mangled from being in the washer. Brennan determines the victim is middle aged. While scraping the sides of the machine, Cam asks Brennan about her gynecologist since Michelle will need to start seeing one soon. Booth immediately tries to change the subject as fleshy goop falls onto Cam and rolls out of the washer. Booth is disgusted by what he believes is an eyeball, but Cam and Brennan tell Booth it is in fact a testicle.
At the lab, Brennan and ARASTOO examine the victim's maxilla (mustache bone) noticing a hole in the bone caused by oral cancer. They conclude that the victim smoked cigars. He also has a number of fractures on his right hand, which are commonly seen in baseball players. However, there are compression fractures on the tibia, tarsus, and hyoid all occurring after the fractures on the hand. The compression fractures are common in rock climbers, but Brennan also determines that the victim was in a high-speed collision while wearing a helmet from X-rays of the skull. Cam walks up to the platform looking for the victim's second testicle.
At the Diner, Brennan, Booth, and SWEETS discuss the victim, whom they believe is a thrill seeker born without a testicle. Brennan believes that he may have had two and lost one during his adventures. Brennan tells Sweets about Booth's relationship with Catherine. Sweets is happy to see the two of them happy and dating.
Cam meets DR. PAUL LINDER a potential gynecologist for Michelle. The two seem to hit it off. Cam returns to the Lab, where HODGINS shows her fingernails, clothing remnants, and molded silicone. Cam grabs the dish with the silicon, realizing that prosthetic testicles are made with silicone and saline. Now that they have the second testicle, they can ID the victim. Cam and ANGELA use the Angelatron to get the serial number from the testicle.
At the FBI, Booth shows Brennan the victim: millionaire business tycoon RICHARD COLE. Richard Cole said in an interview that every year for his birthday he would attend fantasy camps, places that allow adults to pretend to be whomever they want. Booth and Brennan watch the ad for this week's event, a rock-n-roll camp run by legendary SIMON GRAHAM. They decide to check it out and are prepared for screaming people, pushing, and loud music, but when they get there everyone is in line, waiting patiently.
Booth and Brennan watch the campers file into their rocker seminars. One of the purple-haired campers, GINO, points them to Simon Graham. According to Gino, Simon and Richard had been fighting. Famous rocker ERIK DALTON begins a guitar solo and everyone hurries into the ballroom, including Booth. Erik starts shredding his guitar and everyone goes wild. Booth dances and plays along while Brennan insists they focus on the case. She unplugs Erik's guitar. Everyone is silent. Booth is shocked. Simon rushes out and is confronted by Booth and Brennan.
Sweets meets with Booth and asks him to be there when he questions Simon. Sweets promises to be professional, even though he is a rock fan. Simon believed that Richard was an amateur and poser. Richard blackmailed Simon to play a solo with Erik Dalton or he threatened to tear down Simon's old rock club, The Stockyard.
Hodgins brings Arastoo and Angela a piece of bone he found during his research. But it isn't human. It's the bone of a woolly mammoth. The Squints meet Brennan at the Angelatron and discover that the woolly mammoth bone is a piece of a guitar pick. Angela pulls up a video of a past concert where Erik punches a fan for getting on stage.
Booth and Brennan meet with Erik Dalton in his hotel room. Brennan examines the room while Booth questions him. Erik thought Richard was a fake and wasn't concerned when Richard stopped coming to practice. As for his violent past, Erik has been clean and sober for two years. Brennan finds splintering on a side table and scuffs that resemble a fight. She also notices blood on the carpet. Erik explains that the campers had a party here a few nights ago and when things started to get a little crazy, Erik left to see a girlfriend.
At Dr. Linder's Office, Michelle joins Cam in the waiting room after her appointment. Cam is happy that Michelle liked her new doctor. Dr. Linder asks to speak with Cam privately. He shyly asks her out on a date and Cam happily accepts before running back to work.
Brennan, Arastoo and Angela examine all the fractures on the body using the Angelatron. Many of these were on the skull, sternum, scapula, and ilium, meaning Richard died from being beaten to death. Angela gives Arastoo 3D scans of the other injuries so he can determine a murder weapon. Brennan finds Cam to discuss the blood in the hotel room. Cam found two different DNA types: one from the victim and one presumably from the killer.
Brennan meets Booth back at the hotel. He is in full rock-n-roll mode, playing the guitar by the stage and wearing his tie on his head. Booth convinces Brennan to relax and enjoy the camp while they wait to hear about the blood. Booth and Brennan get up on stage and sing "Hot Blooded" by Foreigner. Brennan's PDA goes off: the blood belonged to camper, Fred Keaton.
In the Interrogation Room, Booth and Brennan question FRED KEATON. Fred tells them he is a fantastic guitar player waiting to be discovered. He did not like that Richard was a poser. One day during camp, a reporter from Rolling Stone told Fred he wanted to include him in an article about great guitarists. Fred was ecstatic. However, it all turned out to be a cruel joke concocted by Richard. Fred claims he didn't kill Richard and that he went back home. Booth and Brennan aren't sure they believe him.
Brennan heads back to the Jeffersonian where Hodgins, Arastoo and Angela examine scans of what they believe could be pieces of the murder weapon. Angela realizes that each part represents a piece of a guitar and concludes that the victim was beaten to death with a 1957 Gibson Les Paul, which is worth more than a quarter of a million dollars. Meanwhile, Cam and Dr. Linder get to know each other on a lunch date.
Sweets, Brennan and Booth have a bite at the Diner while discussing the guitar. Booth gets a lead from a local guitar dealer. A woman with a pierced eyebrow brought in the Gibson Les Paul. Brennan and Booth head back to the hotel and find, BEBE KASARDA, a rocker chick with a pierced eyebrow.
Booth interrogates Bebe and she admits she broke into Richard's room and stole the guitar from him. She was completely unaware that the guitar was worth so much. She only stole it to get back at Richard for dumping her. Booth meets with Brennan and Sweets, who agree that Bebe is innocent. However, Sweets concludes that Richard was a poser and only liked the external lifestyle of rock-n-roll: the girls, the clothes and the instruments. Sweets also states that because the killer put the guitar back in Cole's room rather than destroy it, it shows his true love for music, leading Sweets to believe that music was the killer's motive.
Cam, Angela, Arastoo and Hodgins admire the Gibson Les Paul on the Forensic Platform. Cam instructs Arastoo and Hodgins to take apart the guitar and see if the killer missed anything after returning it to Cole's room. Cam notices Michelle in the doorway and greets her. Michelle confronts Cam about dating Dr. Linder and to Cam's surprise Michelle supports her decision to date him. However, she wants a new gynecologist, one that isn't dating her mother.
Brennan checks in with Arastoo and Hodgins. They report that the guitar was thoroughly cleaned and restrung. Hodgins notices a piece of hair from the person who restrung it...and it's purple.
Booth and Brennan return to the hotel where a concert is full swing. Gino, the purple haired camper, rocks on his guitar with Erik Dalton. After the concert is finished, Gino is ready to be cuffed. They have the killer.
At the Founding Fathers, Booth and Brennan celebrate and talk about their rock solid partnership.