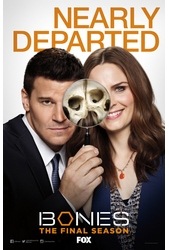 TV Info
---
Episode Premiere
December 13, 2006

Distributor
Fox TV

Genre
Drama, Crime

Show Period
2005 - now

Production Company
Far Field, Josephson Ent., Fox TV


Cast and Crew
---
Director
David Duchovny
Screenwriter
Hart Hanson
Main Cast
Emily Deschanel as Dr. Temperance 'Bones' Brennan
David Boreanaz as Special Agent Seeley Booth
Michaela Conlin
T.J. Thyne
Tamara Taylor
John Francis Daley
Additional Cast
Patricia Belcher
Kathy Reichs
Joseph E. Davis
Joseph Ruskin
Bryan Cuprill
Barbara Williams
Madison Mason
Synopsis
---
TEASER
A man is shot dead on the rooftop of a hotel. The shooter, in a hood, straps the victim to a cross, guts him, and then lights him on fire. The shooter leaves him to burn.Meanwhile, at the Jeffersonian, Zack sits before the school board defending his dissertation. Brennan seems to help him along as one of the board members herself. Then Booth enters to take Brennan to the crucifixion crime scene.
B&B arrive to inspect the victim and right off the bat Booth knows that the guy was a rat. His guts were spilled because he "spilled his guts" and it's no coincidence that the hotel they stand on is used to house witnesses. This murder was a warning. Brennan notices something jammed in the victim's trachea.
At the lab, Cam, Hodgins, and Zack look at the body. From the trachea Cam removes a slip of paper the says, "My name is Garrett Delaney." She also removes a Christopher Columbus commemorative coin.
In Brennan's office, Brennan sits with her brother Russ. Russ explains that their father called him and said that they were both in danger. Russ adds that he feels like he's been followed lately. Brennan doesn't really buy it, but she convinces Russ to stay the night so they can catch up. Booth enters with information that the victim they found was a former FBI agent. They go to inspect his apartment.
At Delaney's apartment they find a locked room and when Booth kicks the door down they find an entire wall covered in surveillance pics of Brennan's brother Russ.
ACT ONE
B&B sit with Russ and show him the photos. Booth explains that the photos prove Delaney was planning on killing him. The pictures are basically different angles from were he could gun Russ down.
In Angela's office, Angela examines the note found in Delaney's throat. On the back of the note is writing exonerating Marvin Beckett, a civil rights activist from the 60's who was sent to prison for life in '78 for supposedly killing FBI Agent Augustus Harper. Angela magnifies the note and is able to make out "Aug... Harp..." signed at the bottom. She cross references these names with existing case files and finds a possible cover up conspiracy.
Hodgins bring this info to Booth and explains that in Ohio in the 60's there was a group of corrupt FBI agents and local police. They start taking money from the very bank robbers that they are supposed to be catching. One agent was going to out them, Augustus Harper. So they killed him and framed Marvin Beckett.
B&B sit with Augustus Harper's wife and she tells them that he was collecting a lot of information on the corrupt cops before he passed. He stored most of his findings in a safety deposit box at Ohio First Savings and Loan in Dayton, OH. This strikes Brennan as odd because that is the very same bank that her parents robbed the day after Augustus Harper was killed.
In Zack's office, he tells Angela that the board seemed worried about his appearance as a serious doctor. She advices him to consider making some wardrobe changes.
At Brennan's house, she sits with Russ and he mentions that his daughter has some lung problems. Booth storms in with a file on Gus Harper. Explains that Harper once supervised Garrett Delaney and he shows them the code name that they used for the bank robbers they were tracking. Brennan notes that they're all explorers, including Christopher Columbus and with all of the bank robbers now dead, we realize that the man who brutally murdered Delaney was Brennan's father.
ACT TWO
Russ chews Brennan out because originally their father said to stop looking for him and Brennan didn't stop, so now people are dying.
Booth joins AUSA Caroline Julian at a diner to see if she will assist them on the case. She knows it'll end her career, but she suggests they exhume Gus Harper and see if Brennan confirms that he was killed the way the FBI claims Marvin Beckett killed him.
At the lab, Brennan and Booth are met by Russ and her father's childhood friend, Father Toby Coulter. Father Coulter has a message from their father, "Back off."
Booth was able to get the OK to exhume Gus Harper's body and Brennan and the squints examine it at the lab. Right off the bat Cam can tell that the bullet wounds on the body don't match the guns marked in the report by the FBI.
At the diner, Booth joins Russ and tells him that he got a call from his parole officer saying he left the state without notice. Booth tells him not to slip up and then a shot blasts through the window. Booth pulls him down and they're both OK.
ACT THREE
At the FBI, they find out that Marvin Beckett has been released on the findings at the Jeffersonian, but they're still worried about who tried to kill Russ. They are interrupted by Booth's boss's boss's boss, Robert Kirby. Booth joins him in a separate room where he is questioned about his intensions. Kirby suspends Booth from the FBI.
At the lab, they decide that the only way to get Booth his job back is to solve this case ASAP. Zack shows them a video he constructed showing the type of bullet that killed Gus Harper. Booth knows that that bullet is a military issued bullet for snipers used in the 70's. Brennan has the idea that maybe her father has the evidence from the Ohio bank safety deposit box. They exit to visit Father Coulter.
They press Father Coulter, but he gives up nothing.
At the lab, Zack asks Angela to help give him a make over so that he will be taken seriously by the Jeffersonian board.
AUSA Julian joins Brennan and Booth at the lab and gives them a file of all military snipers from the 70's, on that list is Booth's boss's boss's boss, Robert Kirby. They call Russ to tell him who the sniper is, but can't reach him.
B&B shoot over to Brennan's apartment to look for Russ, but when they arrive they only find a pool of blood.
ACT FOUR
With a sample of the blood found at Brennan's apartment, B&B arrive at the lab and Cam finds that it's not Russ's blood type.
Brennan splits without Booth's knowing.
With Father Coulter, Brennan asks if he can help her. He tells her that Russ is with their father.
Meanwhile Booth gets a tip regarding father Coulter. Apparently he's 90 years old and living in a hospital. Booth needs to know whom they've been dealing with.
Back with Brennan, as she realizes that Father Coulter is actually her father, Max Keenan. He gives Brennan Gus Harper's journal with all the evidence needs to catch the corrupt cops and just as Brennan is about to cuff him because she has to, he switches the move on her and cuffs her to a bench. Russ pulls up, Max gets into his car and they leave. Booth arrives just then and lets them get away. Brennan's at a loss. Her father is gone again.
On the hotel roof where we began this episode, Max Keenan has FBI agent Kirby crucified, as he lights him on fire.
In the lab, we join the squints that marvel at the new and improved Zack, standing before them in a sharp suit and short hair. Cam accepts him as the newest member of their staff, Doctor Zack Addy. They take off to the diner to celebrate.
At the diner, Booth pulls Brennan outside. He tells her that he's been reinstated and also that her father had killed again. Brennan doesn't know what to think.