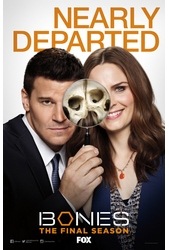 TV Info
---
Episode Premiere
November 08, 2006

Distributor
Fox TV

Genre
Drama, Crime

Show Period
2005 - now

Production Company
Far Field, Josephson Ent., Fox TV


Cast and Crew
---
Director
Kate Woods
Screenwriter
Elizabeth Benjamin
Main Cast
Emily Deschanel as Dr. Temperance 'Bones' Brennan
David Boreanaz as Special Agent Seeley Booth
Michaela Conlin
T.J. Thyne
Tamara Taylor
John Francis Daley
Additional Cast
Jason Windt
Nelson Lee
Billett
Dawn Maree
Theo Rossi
Joe Cortese
Karl Makinen
Synopsis
---
TEASER:
In the desert outside Las Vegas Brennan and Booth are called in to examine the supposed body of Mason Roberts a federal prosecutor that went missing in 2001. They received the tip from a deathbed prostitute that overheard a Las Vegas mobster. At first glance Brennan confirms that the remains are that of a male, beaten with a cylindrical object. Just before they wrap up the crime scene, Brennan spots a vulture. Vultures circle newly dead remains and this body's been here for years. She walks towards the area the vulture is circling and finds a fresh dead body. It's a young female with similar cylindrical injuries to the other remains. Brennan and Booth conclude that the same person must have ditched both bodies.
ACT ONE
Brennan has dental records to confirm that the first body they found was Mason Roberts and he was beaten to death with a baseball bat. Booth goes over files on the local mob bosses, including "Sweet Pete" Arno, gaming exec of the Tangiers Casino. Continuing her analysis of the second body, Brennan confirms similar bat injuries, but also softer blows to the head and body most likely stemming from spousal abuse. Brennan also finds hearing aids in her ears, which could have been a result of too many hits to the head. Angela chimes in via online connection with the name Wilhemina Morgan to match the serial number on the hearing aides. An FBI aide on site Wilhemina's file off his mobile database and reads that she goes by Billie, she's 26, and was reported missing two weeks ago by her husband.
Booth and Brennan question Billie's husband Don Morgan whom has a suspicious cast on his thumb that he swears is from a latter fall. He tells them that he thought Billie left him because he got laid off. He goes onto say that Billie wanted to help get money by stripping and he fought her on that, but then he gave in and borrowed 8 grand from a loan shark, Louis Mackey, to get her breast implants. Don didn't pay up and Mackey broke his thumb. They head off to the casinos to find Mackey.
They arrive at the casino and spot Mackey, but Booth is a little flustered. Brennan remembers that he's an ex-gambling addict. Booth tells her that he can handle it and he goes on to question Mackey. Mackey doesn't give up any info, but Booth plans to keep an eye on him.
At the lab, the squints examine both of the desert remains. Hodgins has found scarab beetles with the Billie's body. The beetles died quickly from eating her flesh, which oddly contained glucocorticoid. Zack adds that the first victim was strangled with a wire the beaten with a bat. Cam has found a punctured lung on Billie, which came from a broken rib. When Brennan joins them via satellite and learns all of their findings, she concludes that Billie Morgan was a bare-knuckle boxer. They decide that if they find out where she was fighting, they might be able to find who the last person that saw her was.
Brennan and Booth are back at Don Morgan's place, shaking him down for more info about the boxing. He claims that she hadn't fought in years. Because of her hearing, the commission took her license away, but he swears he doesn't know anything about any recent fighting Billie was involved with. Hodgins phones in to tell them that he found a chemical found in mechanical greases used on cars on Billie's body. They should check abandoned auto warehouses for underground fighting arenas.
Brennan and Booth enter a garage to find betting slips and blood spatters covering the floor in a circular shape. They've found their arena.
ACT TWO
With info from Brennan, the squints at the lab have found 30 different blood samples from the arena floor, but they're still waiting to see if any match Billie Morgan. Angela has a composite of what Billie would have looked like after her last fight. Now they have a face for their fighter.
In L.V., Booth and Brennan approach Lou Mackey for questioning, but Booth is thrown when he realizes that Lou was just shaking down an old Army/gambling buddy of his, Frankie Daniels. After they've caught up on old times, Booth asks Freddie if he knows anything about underground fight clubs. He tells Booth to ask the ex-prize-fighter-turned-gym-owner, Joe Nolan. Joe'll give him an 800 number for info on the fight, for the right amount of cash. Booth takes this info and tells Brennan that it's time for them to go undercover.
At the hotel, Booth and Brennan dress as classless newlyweds-to-be. Brennan gets a call from Cam with stats on the last fighter that faced Billie Morgan; she was 5'6" and left-handed. Brennan plans on looking for this girl while she and Booth are at the boxing gym trying to get into the underground fight.
B&B arrive to the gym incognito and approach Joe Nolan about bare-knuckle fight info and after they gain his trust he sells them the 800 number.
Fighting is underway as B&B arrive. They get front and center and watch the action, while keeping an eye out for suspects in the crowd. Booth has some choice words with a fighter after he loses a match and catches a fist to the face.
ACT THREE
Later, in a hotel room we discover that Booth was punched by undercover agent, Walt Sugarman. Walt says that he's seen Billie fight before, but doesn't know what happened to her. Last time he saw her fight be crushed her opponent, a left-handed, 5'6" Latina girl named Marisol. B&B suspect that Billie bet on herself to try and make some money and the mobsters refused to pay up, then killed her. Walt explains that he's out of luck because he's sprained his wrist and won't be able to fight any more, which means his undercover gig is up. Brennan suggests that Booth fight him, only to throw the fight letting him win and giving him more time to heal. They think this over while Brennan takes a call from Hodgins. He's found pine oil on both of the bodies. He suspects it was used for the baseball bats, but it could lead them to another clue.
At the gym, Booth and Walt convince Joe to let them fight each other and at the casino Brennan and local FBI question the female boxer, Marisol. She's tight-lipped, but Brennan suggests that they send Marisol to the labs to scan her body and map her injuries.
At the lab, Marisol is put through the thermal image scanner and the squints analyze a virtual recreation of Billie and Marisol's last fight to see if Marisol killed her in the fight. They discover that Marisol lost.
Meanwhile Booth steps into the ring only to find out that Walt is out and that fight has changed. Booth is now fighting Monroe, a man-beast. The fight begins and Booth is done from the get-go. Brennan watches and from analyzing Monrone's body mechanics finds his weak spots. She tells Booth and he attacks them knocks out Monroe. This is bad news though, because now Booth is in the pocket of the fight promoter, "Sweet Pete's" son Nick Arno.
ACT FOUR
Angela sits with Marisol and finds out that, Nick, the fight promoter is dirty and if fights go wrong, he does whatever it takes to set things straight.
At the fight Joe Nolan chews out Booth and Brennan because now that they are in the pocket, he's deeper in the pocket. He urges them to do as told so that he doesn't get hurt or worse. Brennan notices Joe has an itch and she finds out that he uses a certain solve with pine oil to treat it. They put two and two together and milk Joe for info on the body they found in the desert. B&B reveal their true identities and Joe admits to dumping the bodies, but not killing them. He tells them that Nick and "Sweet Pete" did the murders.
Nick and "Sweet Pete" are put under arrest and the case is closed.