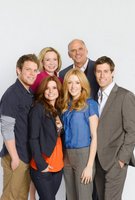 TV Info
---
Episode Premiere
September 22, 2010

Distributor
ABC

Genre
Comedy

Show Period
2010 - 2011

Production Company
Warner Bros. Television


Cast and Crew
---
Director
James Burrows
Screenwriter
Shana Goldberg-Meehan
Main Cast
Additional Cast
Tiya Sircar
Jerrika Hinton
Synopsis
---
Mia (JoAnna Garcia) is a lady gaga in love with her boyfriend, Casey (Jake Lacy). They've been dating for only seven-and-a-half weeks, but this relationship is the real deal. Mia's older sister, Maddie (Jennifer Finnigan) is also in a committed relationship with her own great guy, Ben (Josh Cooke). They've been a couple for nine years. No, they're not married. But as Maddie explains, "It's a valid life choice."
Ben senses a bromance brewing when he first meets Casey. Maddie likes the fact that her sister's new man doesn't travel with a bird. This guy could be a keeper. Casey hopes Mia will feel the same way when he asks her to marry him. He asks Maddie for advice on how to pop the question. Maddie says he should wait until 2012 since it's always been her little sister's dream to get married during the Summer Olympics.
Reports of Mia's desire to have a gold medal-winning wedding have been greatly exaggerated. Maddie was just trying to stall any impending nuptials with an Olympic-sized lie. It doesn't work. Mia bursts in to say that Casey proposed and she said yes. Now all she has to do is tell her parents. Let the games begin!
Ben draws up a note card detailing the rules of conversation with Maddie and Mia's folks. The dad is a grammar snob and may or may not have had plastic surgery on his ears. It's best to avoid the subject altogether. And the mom has never met a cutesy email she didn't forward, so don't let her get hold of your address. Casey appreciates the advice but decides to just be himself. Ben believes he'll be eaten alive.
Joel (Kurt Fuller) and his wife, Vicky (Debra Jo Rupp), have been married for 35 years. As you may have guessed, they're pretty darn set in their ways. Maddie is confident that when Mia springs her big news, mom and dad will do what they do best -- rip apart the guys their daughters date. Nope, not gonna happen. Joel and Vicky are thrilled to hear that a wedding day is headed their way.
Maddie is stunned. Apparently, her "valid life choice" with Ben has been a secret topic of discussion with therapists, clergymen, waiters... Maddie thinks Mia is moving too fast. She wants to know why it is that her little sister has to get married right now. Ben blurts, "Because she's pregnant." Good answer! Again, Maddie is stunned. And again, Joel and Vicky are ecstatic. They're going to be grandparents!
Ben shuffles Maddie into a cab to talk things out with Mia. Maddie learns that her little sister values her opinion more than anyone else out there. She promises to help Mia with all that's ahead. She also wants to know if her life choice is, perhaps, "not" valid. Mia has no idea. She's just happy her big sis is interested in her opinion. It's a very cathartic cab ride.
The guys go on a slightly different journey of self-discovery when Ben says Casey's relationship with Mia is something that could threaten his relationship with Maddie. Casey says, "Sorry, man. Condom broke." Actually, Casey was always going to marry Mia anyway. The baby news just sped things up. Nice.
Ben believes Casey is sincere and is impressed at how he handled himself with Joel and Vicky. He didn't even need the note card. Where is that card anyway? Oops! Ben left it back at the restaurant where Joel and Vicky are reading all about themselves. Think Joel knew that he gets chatty at the urinals? Even if he didn't, it's nothing to be embarrassed about. It's a valid life choice.