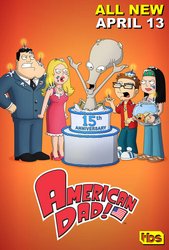 TV Info
---
Episode Premiere
January 28, 2007

Distributor
TBS

Genre
Animation, Comedy

Show Period
2005 - now

Production Company
Fuzzy Door Prod., Atlantic Creative, Fox TV


Cast and Crew
---
Director
Rodney Clouden
Screenwriter
Nahnatchka Khan
Main Cast
Seth MacFarlane as Stan Smith / Roger the Alien (voice)
Wendy Schaal
Rachael MacFarlane
Scott Grimes
Dee Bradley Baker
Additional Cast
Miguel Ferrer
Niecy Nash
Elizabeth Pena
Stark Sands
Synopsis
---
The good news at the CIA is that the staff is getting a ping pong table. The bad news is that it's going to be put where Stan's desk is, so Stan's desk is moved to the restroom.
Stan gets home to find a man lurking in his front yard so he beats him up. Hayley tells him to stop beating up the man because he is the neighbors' dog walker Paco. Stan asks to see his ID but Hayley informs him that Paco is an undocumented alien. Paco grabs the dog and runs away. Stan expresses his disgust at illegal aliens. Meanwhile, Roger is in the walking with an octopus in his hands when he sees Steve with his guitar. Realizing Steve's guitar is more fun than the octopus, he asks Steve if he can have it. Steve says no and goes off to band practice. Stan comes in the front door and tells Francine that the neighbors have an illegal alien as an employee and that he is mad they moved his desk into the bathroom. Francine calls Stan a grumpasauras. Stan says he wants to start his own company but Francine doesn't want to hear about it again. His teddy bear business can't get on track because he can't deliver the teddy bears by any holiday when the bears would sell so he decides to hire some help.
Steve's band is practicing when they get a call to re-form for the Langley Falls Fourth of July Festival, but the band finds out their drummer has a drug problem. Stan is interviewing candidates for his teddy bear business but can't find anyone to work for his low wages until Hayley walks in with Paco. She tells him they are dating and makes out with him in front of Stan. He says that no daughter of his is dating an illegal alien and rips his pocket. Paco runs over and sews up his pocket in a second. Stan is impressed and hires Paco for $2 an hour and two Mr. Pibbs a day.
Paco is doing a great job at making the bears and feels confident that he will be able to deliver them by the next holiday. Steve's band is auditioning new drummers, so Roger disguises himself as Krispy Kreme McDonalds and rocks the audition. Despite Steve's objections, the rest of the band wants to go with Krispy Kreme as their new drummer.
At the local gift shop, Stan's teddy bears a flying off the shelves. The shop owner asks for 2000 more bears and Stan says he will have more for the Fourth of July. He asks Paco is he has any family that he can hire to help with such a large order. Paco replies that is Mexican and therefore has a large family that is willing to work.
Stan is looking over his garage filled with illegal immigrant laborers with pleasure. Francine comes in with groceries and Stan has two of the laborers help her with them. Francie tells Stan Patti LaBelle has come to see him. Stan introduces himself and Patti tells him how much she loves his bears. She says that she wants to sell them on her TV home shopping show. Francine walks in with the two laborers, ordering them around in front of Patti. Steve's band is practicing a new song when Krispy Kreme says that Steve's song is hacky. Steve tells him to try doing his own song but he can't.
On Patti LaBelle's home shopping show, Stan is introducing his bears. Patti brings on a disabled child and tells Stan to give him a bear to try to heal him. The child falls out of his wheelchair trying to grab the bear. Stan pretends that the child said the bear failed to heal him because the viewers didn't buy enough bears.
The next day at the house, Stan is pleased that his business is going so well. Francine is taking advantage of the laborers by having them drop potato chips on the floor in front of her. Stan goes to garage to find the laborers not working so he asks Paco. Paco says it's because he was out late with Hayley. Stan tells him he has a big future and that if he works hard for 10 years, he can earn $5 an hour and have seven Mr. Pibbs a day. He is ecstatic and the other Mexicans go crazy. Steve goes to band practice to find that the band has left his band to form a new band with Roger AKA Krispy Kreme McDonalds. The new band plays covers of public domain songs. Steve is mad so he goes to complain to Francine. Meanwhile, Paco tells Hayley he can't date her because he has to work harder. She gets mad and tells him she is going to get revenge. Later, the INS shows up and tells Stan they have received a tip that he has hired illegal aliens. Stan has hid them so well that the INS agent can't find them, but as he is leaving he finds a chip on the floor. Stan feels the heat from the INS so he decides to hide the laborers in a CIA warehouse. He tries to sneak the Mexicans out in a van at night but is stopped by the INS. Stan lies and tells them that the Mexicans are there to help Steve play at the Fourth of July festival. The INS agent agrees to let them play at the festival before he takes them in.
At the festival, Roger's band is playing but no one likes them. Steve comes on to play with the Mexicans and they play "Country Roads" by John Denver, while Francine and Stan devise a plan to get out of trouble with the INS. Stan realizes that Paco and his family love the USA and tries to help Paco and his family escape the INS. The band finishes playing and the crowd goes crazy. Stan creates a diversion by giving out all of his Fourth of July bears and drives away with the Mexicans. He takes them to West Virginia so they can be free.