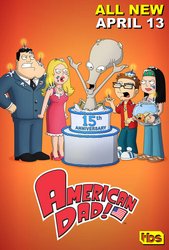 TV Info
---
Episode Premiere
November 26, 2006

Distributor
TBS

Genre
Animation, Comedy

Show Period
2005 - now

Production Company
Fuzzy Door Prod., Atlantic Creative, Fox TV


Cast and Crew
---
Director
John Aoshima
Screenwriter
Brian Boyle
Main Cast
Seth MacFarlane as Stan Smith / Roger the Alien (voice)
Wendy Schaal
Rachael MacFarlane
Scott Grimes
Dee Bradley Baker
Additional Cast
Synopsis
---
Francine wants to pack a picnic and have a nice day. Suddenly, Stan's eyes lock on something outside. It's the first snow. Francine begs Stan to make this year different, but Stan wants to be alone. Francine sobs alone in the kitchen.
Francine tells Hayley and Roger that Stan left in the middle of the night again, but they don't know where. Stan stumbles in with blood dripping from his ankle. Francine pleads with him to know where he was, but Stan refuses.
Steve and the nerds play outside when a delivery truck arrives with a giant crate for them. The front of the crate opens, and a beautiful Russian blonde woman emerges.
Francine pretends to sleep, and when Stan wakes up to leave, she follows him into the bathroom where she finds Stan has created a secret elevator under the bathtub.
She walks through a series of tunnels, hoping to discover Stan's secret. She walks into a large room, and see's Stan near a case displaying several weapons. The weapons then turn around to reveal a strange white outfit with a purple cape.
Francine follows Stan up a ladder that leads to a secret frozen pond. Stan is wearing the outfit and figure skating on the pond. Francine watches in horror. Francine steps in. She wants to know why Stan never told her about his skating. Stan tells her that many years ago, he hurt his figure skating partner very badly at a regional event. Stan only skate alone because he put winning before his partner's safety. But Francine wants to be Stan's skating partner so he'll be happy.
Stan trains Francine, who is now happy because she can spend time with Stan.
Steve and the nerds walk through the high school hallways, showing off Svetlana, their Russian bride. The girls at the school are sad that the nerds aren't stalking them anymore.
Stan skips through the kitchen, happy to be showing off his skills. Stan and Francine are happier than ever. Stan realizes that the skating is just for fun, until Francine tells him she entered them in a local contest. Stan doesn't want to skate, afraid of reliving the past. He tells Roger that Stan was so competitive that he continued their routine even though his partner was unconscious. Stan doesn't want to put Francine's life in danger because he's so competitive.
Stan trains Francine, his competitive nature takes over.
The nerds get ready to skinny dip with Svetlana. When Svetlana comes out of the house, she won't take off her bathing suit. Hayley follows her out, and she's playing the role of Svetlana's agent and tells them that Svetlana won't do anything for them until they marry her.
Stan flips Francine in the air, working on their routine. He shouts at her when she isn't meeting his standards. When Francine skates away, Stan sees a beautiful blonde with great talent across the rink. When she skates near, it's actually Roger in a wig. He's a great skater, and Stan agrees to team up with him to win.
Francine is upset because Stan ditched her for Roger. Stan cares more about the contest than spending time with Francine.
Stan and Roger hone their routine, but Roger begins getting frustrated with Stan's talent. Roger is more competitive about winning the contest than Stan is.
Steve hands Svetlana off to Snot so that they can be wed.
Stan and Roger look over their competition. And older couple takes the ice, and it's clear they're doing it to be with each other. Stan realizes that this is no longer about winning, and Stan runs off to find Francine.
Stan returns home and begs Francine to skate with him.
At the nerd wedding, Snot is about to marry Svetlana. But Toshi speaks up, in Russian, to win Svetlana's heart. Svetlana grabs Toshi and kisses him.
Stan and Francine take the ice, and Francine is furious that he tricked her into doing it. During the routine, Stan apologizes for ditching her not only for the competition, but all the other winters as well. Stan doesn't even want to see his scores, he's happy being with his wife.