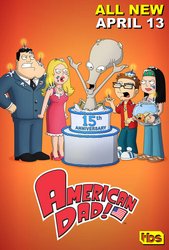 TV Info
---
Episode Premiere
September 17, 2006

Distributor
TBS

Genre
Animation, Comedy

Show Period
2005 - now

Production Company
Fuzzy Door Prod., Atlantic Creative, Fox TV


Cast and Crew
---
Director
Pam Cooke
Screenwriter
Dan Vebber
Main Cast
Seth MacFarlane as Stan Smith / Roger the Alien (voice)
Wendy Schaal
Rachael MacFarlane
Scott Grimes
Dee Bradley Baker
Additional Cast
Synopsis
---
Steve runs down a filthy school hallway, followed closely by two men. Steve eludes them and hides in a vent above the lockers. As he crawls along, he finds a girl hidden away in the vents, watching students in gym class.
Steve comes home and tells his family that he's in love with Debbie, the girl he met in the vents. Stan seems to be obsessed with the fact that Steve is dating a "gorgeous" actress.
Steve asks Stan to help him ask Debbie on a date. Stan affixes an explosive collar to his neck that will detonate in 24 minutes if he doesn't ask Debbie out.
Steve races through the streets to Debbie's house. After she answers the door, he stumbles and the collar begins to beep. Steve closes his eyes...
...a man and woman stand over a grave...then pan to Steve and Debbie having a picnic on a hillside. Steve and Debbie share their first kiss.
Steve anxiously waits at the front door, Debbie is coming for dinner. As Debbie approaches, Stan freaks out knowing that his son is in love with an overweight girl. He grabs the family and takes them to the panic room.
Steve tries to go after Debbie when she doesn't find anyone home and Stan tries to keep them apart. Hayley and Francine turn the tables on Stan and suggest that maybe he's gained some weight too.
The next morning, Francine serves pancakes, but Stan refuses, sticking to his diet. He jogs nearby on a treadmill.
Stan, unhappy with his current workout, heads to the mall and meets Zach, a personal trainer who wants to help Stan.
Stan comes home for dinner, and Hayley tells the family they have to get Stan to eat as much as possible. But Zach's workout plan doesn't give Stan a break.
Steve and Debbie play games in Steve's room. Roger voyeuristically takes photos of them from Steve's closet. He's in love with Debbie too.
Stan jumps rope outside and Zach shows up. Zach tells Stan that his family is keeping him fat. Stan realizes that his family is trying to plump him up like Steve's girlfriend.
Stan sneaks inside and catches Francine and Hayley sabotaging Stan's veggies. They tell him that his diet is making him paranoid. Stan continues on and Hayley pumps lard into the celery.
At the CIA headquarters, Stan and other agents stand before the CIA physical training course. The other agents head off, but Stan passes out only a few steps from the starting line. Stan's boss, Bullock, is forced to suspend Stan until he gets fit again.
Stan tells his family what happened and all they want him to do is listen. The family realizes that Stan is anorexic. He takes off his shirt and has actually withered away to a skeleton, but Stan doesn't see it. In fact, Zach was only hallucination.
The Smiths drags Stan to the community center to join an anorexic help group. The counselor tells the Smiths that anorexia usually comes about from a jarring event. Steve thinks it was bringing Debbie home.
Steve calls Debbie on the phone and breaks up with her. He swears it had nothing to do with Stan. Roger, still hiding in the closet, sees his opportunity.
At dinner, Stan appears to be eating and Steve breaks the news of his break up with Debbie. Stan goes for a walk and drops food in the bushes.
The days go by and Stan isn't gaining any weight. Steve tries to put Debbie behind him and Stan tells Steve that he can introduce him to his anorexic friend, Veronica.
Roger sets up a fake interview at a restaurant with Debbie saying he's with the "Anne Rice Fanclub." However, Steve, Stan and Veronica are at the same restaurant.
At home, Francine falls into the pool while chasing a bottle and sees that the pool is full of discarded food. Francine and Hayley realize that Stan was only hiding his food.
Debbie sees Steve with Veronica and Roger tries to make his move. Francine and Hayley storm into the restaurant telling Stan that they know his secret. Steve is furious his father because he though breaking up with Debbie was helping his father. Debbie finds Steve and the two embrace. Steve finally realizes his problem and stuffs his face with dinner rolls.