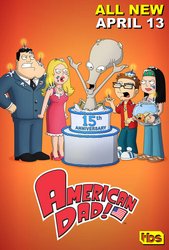 TV Info
---
Episode Premiere
January 08, 2006

Distributor
TBS

Genre
Animation, Comedy

Show Period
2005 - now

Production Company
Fuzzy Door Prod., Atlantic Creative, Fox TV


Cast and Crew
---
Director
Pam Cooke
Screenwriter
David Zuckerman
Main Cast
Seth MacFarlane as Stan Smith / Roger the Alien (voice)
Wendy Schaal
Rachael MacFarlane
Scott Grimes
Dee Bradley Baker
Additional Cast
Megyn Price as Linda Memari (voice)
Andy Richter
Robert Tinkler
Synopsis
---
Roger starts the day off like he always does, with a drink and a smoke. He rolls out of bed and knocks his beloved TV off its stand, bringing a quick death to the TV.
Stan tears apart the kitchen looking for his manual to the "ES Weapon System." Steve asks Stan some advice about how he can ask out Carly Mills, but Stan is preoccupied with trying to find the manual. A monkey screams into the kitchen with the manual in its arms. Hayley explains that the monkey was rescued from product testing lab and her animal protection group is expecting her to take car of it. Finally, Roger stumbles into the kitchen, near drunk, and tells Stan that he needs a new TV. Stan refuses to buy a new one and calls his family "ungrateful babies."
Bullock introduces the new Exoskeletal Weapon System with sitting Stan behind the controls. The weapon is a giant robot suit with massive claws and missiles. Bullock asks a female Senator from California to come up for a demonstration. All Stan has to do is gently remove the pearls from the Senator's neck using the machine. Stan blindly hits a few of the thousand buttons on the control panel. The robot seems to be working perfectly, then goes berserk and severely injures the Senator.
A despondent Stan heads to the local tavern and ends up drinking too much. He calls home and asks Hayley to pick him up. When the car arrives, it's Roger behind the wheel. Instead of driving home, Roger drives to Big Buy so Stan can buy a new TV. Stan refuses and Roger drives off. He doesn't make it far and crashes into some parked cars. Before the cops arrive, Roger hides in the trunk and Stan gets busted for driving drunk.
At home, Stan is under house arrest with a monitor on his ankle. Francine tells him that he can help redecorate. Roger tells Francine and Stan that he's going out to see a show, and Stan tells him he can't stick him with a DUI and then leave. Stan and Roger argue about whether or not they could handle a day in each other's shoes. Roger agrees to get a job and Stan says he'll live in the attic.
The next morning, Roger gets ready for work. Stan doesn't think Roger will make it through the day. But Roger already has a leg up on Stan. He's helping Steve win over Carly, he told Hayley she could keep the monkeys, and he's going to help Francine redecorate the house.
Later, Stan embraces Roger's lifestyle by watching game shows and drinking wine.
Roger gets a job at a local car dealership. There's a sales contest going on and Roger meets Maria, who threatens to win the contest at any cost. After that, Roger meets Phillip, who befriends Roger and tells him that Maria is ruthless.
The family loves Roger playing the part of father. Steve says he's ready for the next step in winning Carly, and Roger suggests they'll take some suggestive photos of him later.
Stan sits in the attic, starting to think that maybe Roger is right and he's feeling useless.
Roger falls asleep at work. The boss wakes him up and tells him that he has yet to sell a car. Either he sells, or he's fired. Phillip overhears and tells Roger he'll help Roger win the sales contest.
The next morning, the chaos is getting to Roger. He's been up all night reading up on cars, Francine is nagging him about paint colors and the monkeys are running wild. Finally, Steve comes in furious. Calry took the photos of Steve and posted them on the internet. In frustration, Roger accidentally strikes Francine in the face and gives her a black eye. Roger tells her that Stan can't know the truth.
At the car dealership, Roger is a selling-machine. He's making deals all day.
The cops show up at the Smith household. Francine answers and they see her black eye, followed by Stan telling them that she "walked into a door." Francine excuses herself and Stan to the kitchen. The cops find the pictures of Steve and accidentally let the monkeys loose. They draw their guns and go to arrest Stan. Francine tells Stan the truth about Roger hitting her and he tries to leave the house but the ankle monitor electrocutes him and slows him down.
At the car dealership, the boss announces the winner of the sales contest. It's Phillip. Both Maria and Roger are stunned. Phillip had tricked Roger into using Phillip's sales ID, therefore it appears as though Phillip had sold twice as many cars. The boss fires Roger.
Roger visits Stan in jail and Roger admits that the Smith family is lucky to have Stan as the bread winner. They put aside their differences and conspire to use Phillip as a cover for all the stuff the cops found in the Smith home. The cops take Phillip away and set Stan free.