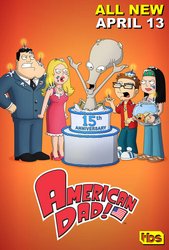 TV Info
---
Episode Premiere
June 05, 2005

Distributor
TBS

Genre
Animation, Comedy

Show Period
2005 - now

Production Company
Fuzzy Door Prod., Atlantic Creative, Fox TV


Cast and Crew
---
Director
Albert Calleros
Screenwriter
Dan Vebber
Main Cast
Seth MacFarlane as Stan Smith / Roger the Alien (voice)
Wendy Schaal
Rachael MacFarlane
Scott Grimes
Dee Bradley Baker
Additional Cast
Synopsis
---
Stan goes through a training session and thinks he did amazingly, but Deputy Director Bullock introduces Stan to Agent Duper, who went through the course even faster. At home, Francine is conducting her Bible study class for young children when Hayley comes home with her boyfriend, Jeff. Hayley mocks the existence of God in front of the kids, and then heads upstairs.
That night, Stan is complaining about Agent Duper when Francine suggests inviting Bullock over for a kiss-up dinner. Soon enough, it's dinner time. Stan shoos Roger up into the attic before welcoming Bullock into the house. Impressed by Stan's attempts to discredit Duper, Bullock wants to discuss a promotion for Stan. But before he can, Stan notices Roger in the kitchen. Stan quickly ushers Roger into the bathroom, where he begins to expel goo. Thinking Stan is under attack, Bullock bursts into the bathroom, slips on the goo and conks his head. Later, Stan yells at Roger for being such a burden. Roger spasms and then collapses on the floor. Stan thinks he's acting, so the family leaves him on the floor all night.
The next morning, the family realizes that Roger is dead. Stan dumps Roger's body in a fast food Dumpster. Eventually, Roger comes to at the dump. Upset that he was dumped into the trash after falling into a stress-induced hibernation cycle, Roger finds some discarded clothes and sets off for home.
Upset at Roger's death, Francine goes to her church and asks the reverend to say a prayer for her..."pet." The reverend callously explains that pets aren't allowed into heaven, further upsetting Francine. Meanwhile, as he's walking home, Roger is corralled by a volunteer who thinks Roger is Mrs. Nessbaum, a woman from the Dignity Towers Retirement Home. The volunteer quickly ushers Roger onto the home's shuttle, which is headed for D.C.
During the next Bible class, Francine starts telling the kids that God doesn't exist. Over at CIA HQ, Bullock presents the group with surveillance footage of the White House and says they have to find the people that were harboring the alien so they can punish them. Roger was spotted in the tour group. Stan rushes out to find him. While driving, Stan receives an angry, drunken phone call from Roger. Stan decides he has to kill Roger to save his family from CIA wrath.
Desperate, Roger calls home and asks Hayley to rescue him from the Smithsonian. Hayley asks Francine to drive her to the Smithsonian for something that will restore her faith. Stan gets to the museum and sees CIA agents outside. He rushes inside to beat them and finds Roger at the same time as the rest of his family. Rogers runs, setting off a race through the exhibits. Stan finally corners Roger in a closet, and they're quickly closed in on by the CIA. Stan is about to shoot Roger when he realizes his feelings are getting in the way. So Stan takes an old woman from Roger's tour group, takes off her wig so she looks like an alien and hands her over to the CIA.