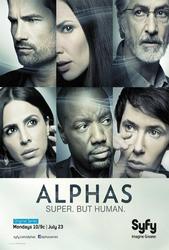 TV Info
---
Episode Premiere
August 27, 2012

Distributor
Syfy

Genre
Drama, Sci-Fi

Show Period
2011 - 2012

Production Company
BermanBraun, Universal Cable Productions


Cast and Crew
---
Director
Nick Copus
Screenwriter
Michael Chamoy
Main Cast
David Strathairn as Dr. Lee Rosen
Malik Yoba
Warren Christie
Laura Mennell
Ryan Cartwright
Azita Ghanizada
Additional Cast
Synopsis
---
INCIDENT REPORT: Photic Stimulator Theft
LOCATION: Outskirts of Dubb Forest, Route 11, Upstate New York
DETAILS:
Dr. Rosen is still very concerned with finding the true purpose of the Photic Stimulators that Stanton Parish worked so hard to get distributed at hospitals all over the world. So, instead of turning the device over to Agent Cley, Rosen decides to seek out Skylar, a reclusive Alpha who can fix and and/or create anything mechanical, to see if she can figure what it does.
To better ensure their safety, Rosen decides to take the whole team along for the ride. When Cameron calls Rosen's daughter Dani to let her know he'll be out of pocket for a while, Dani overhears Nina in the background and gets jealous. She then decides to send a text to Stanton Parish, alerting him to Rosen's whereabouts.
Gary uses his ability to help track Skylar down, but soon runs out of electromagnetic waves to scan way out in the woods. Soon, the team has bigger issues when they are confronted by a hostile group of Alphas. It turns out that Skylar has taken up with a group of Alpha outcasts who have been trying to live off the grid since Rosen blew their cover.
Although Skylar wants nothing to do with Rosen, she decides to help when she sees how well Rosen handles her daughter, Zoe. When Rosen tries to hide the Photic Stimulator for the night, he is attacked by a villager who blames Rosen for the dark turn his life has taken since Rosen's announcement about the existence of Alphas. In the process, the device is damaged and Rachel helps Skylar rebuild it.
Unfortunately, the device is accidentally turned on and, after causing Rachel to have a seizure, it shifts her Alpha powers into overdrive. By complete accident, Rosen now knows what the device is intended to do: Increase Alpha powers. While the team helps Rachel, Skylar tries to find her missing daughter and instead finds Cornell Scipio, one of Stanton Parish's lieutenants. Cornell wants the device back and is holding Skylar's daughter Zoe until he gets it.
Rosen and the Alpha team swing into action to help find Zoe but Rosen has to use the Photic Stimulator on Cornell, which increases his alpha powers to dangerous levels. When Bill and Cameron find Zoe, they have to fight to get her back and Cameron is badly wounded in the melee. Bill, Cameron, Zoe and Skylar all end up trapped inside a burning basement, courtesy of Cornell, and it's up to Skylar to invent a device to save them. Skylar escapes with her daughter and is later approached by Stanton Parish himself. Will she join him and let her daughter's power become a tool of Red Flag?
Back at home, Dani is horrified to realize that her text message to Stanton Parish nearly cost Cameron his life. Likewise, Bill and Dr. Rosen realize that someone must have tipped Stanton Parish off and they vow to find out who. Of course, Rosen would never suspect that his own daughter is the leak.
Meanwhile, Rachel's heightened powers have somehow made it easier to focus, which is great news for her and John, and Gary discovers that nature has a softer frequency that he can tune into as well.